The Secret Way Little Caesars Saves So Much Money On Cheese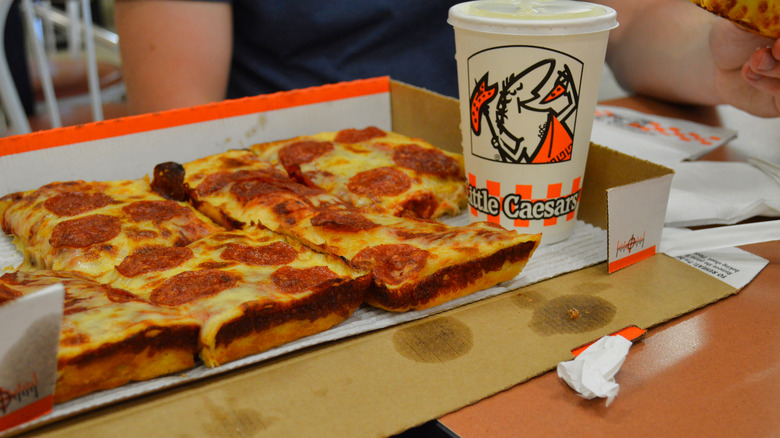 ScannableZebra/Shutterstock
In a market where Pizza Hut can brag about its "$10 Tastemaker" and Domino's raves about its "Mix & Match Deals," it seems that sometimes the little guys can be forgotten. Little guys such as Little Caesar's, for example. Despite having "little" in its name, the Michigan-based pizza company is well-known for its pretty enormous deals.
It was all the way back in 1997 when Little Caesars introduced its Hot-N-Ready Pizza to the world. The concept of the Hot-N-Ready Pizza was simple: For only five dollars, a customer can walk in, grab a pizza that was not only ready but piping hot, and leave in just under a few minutes. While recent economic struggles have forced the company to up the cost of the pizza by 55 cents (via FOX Business), less than six bucks for a pizza isn't too bad of a deal all things considered. While some may say that you "get what you pay for" in terms of quality when ordering Little Caesars, the cheap deal and promise of hot pizza that's ready to go as soon as you walk in have made the chain a big deal in the world of fast-food pizza.
But how exactly can Little Caesars sell its pizza so cheap? Doesn't the restaurant have other overhead expenses to worry about? Perhaps the answer can be found in how much money the company saves on cheese that allows them to sell its products so cheaply.
Little Caesar's shreds its own cheese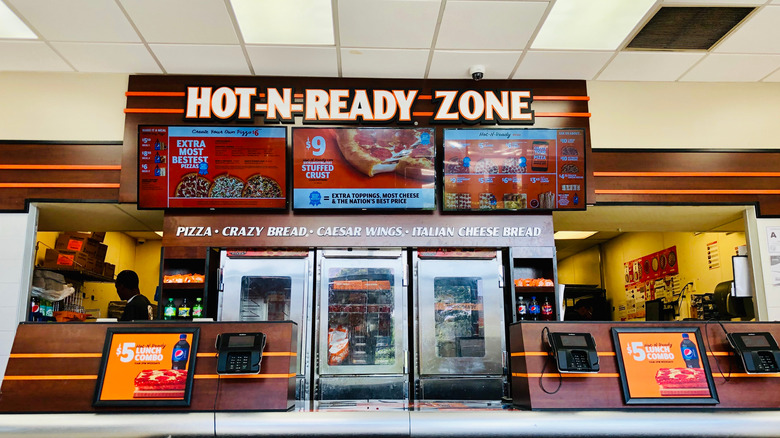 ZikG/Shutterstock
On the subreddit r/IAmA, a Little Caesars Shift Manager by the name of Noah made a post about how he was willing to take questions about anything related to his work at Little Caesars. Among questions of whether he would eat Little Caesars (which he replied he does) and how much he makes, someone asked Noah the all-important question: how can Little Caesars sell its pizzas for half the price of the competition? Noah explained that not only does the chain make its own dough from scratch, employees also cut their own cheese (don't laugh!).
"Instead of pre-shredded cheese," Noah explains, "we get 40 lb blocks of mozzarella and [Muenster] cheese and diced it [using] a machine call the Vertical Mixing and Cutting Machine (VMC for short.)" As the dough and cheese would be the highest expenses, he continues, preparing the ingredients in-store allows the company to keep the price low rather than spend more money on pre-prepared or frozen items.
To back up Noah's claims, other employees on Quora have said that the dough is prepared in-store and the cheese is shredded by employees. It would seem that Little Caesars, despite being cheap, can actually boast that its ingredients are prepared fresh by employees — something that would certainly attract many more customers. The chain may very well be anticipating an increase in customers — despite the hardships of the past few years, Little Caesars still has plans to expand all across the country.