Del Taco Wants To Add Some Crispiness To Your Week With A National Drive-Thru Day Deal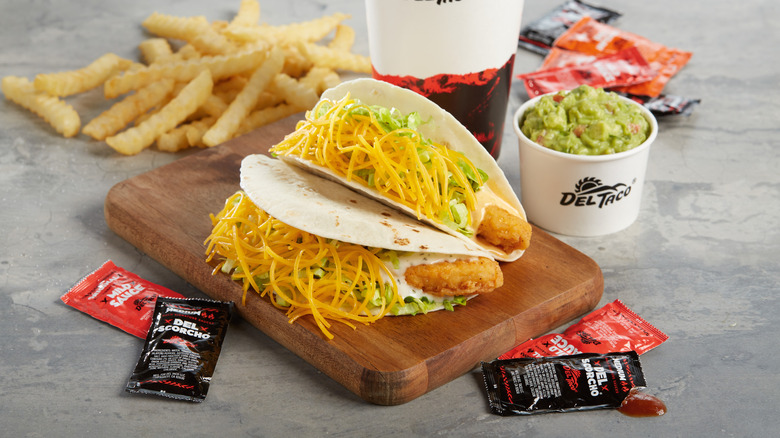 Del Taco
Del Taco's 20 under $2 menu is definitely one of the restaurant's strongest assets. Its current lineup includes chicken cheddar rollers and mini cinnamon churros, which are among some of the most popular dishes at Del Taco. The chain also offers another favorite: crispy chicken tacos, which are warm flour tortillas with crispy chicken, crisp shredded lettuce, freshly grated cheddar cheese, and guacamole, with creamy ranch sauce, creamy habanero sauce, or chipotle sauce (via Del Taco).
When Del Taco added its $1 crispy chicken tacos to the menu in July 2020 (via Thrillist), fans were pleased with the item's affordability and solid taste. One Reddit user offered their own review on a subreddit dedicated to the chain, noting, "The regular chicken taco is my go to when I go to Del Taco. But the crispy is tasty." Thankfully for crispy chicken fans, Del Taco has the perfect deal for National Drive-Thru Day on Sunday.
Customers can get double the tacos during the last week of July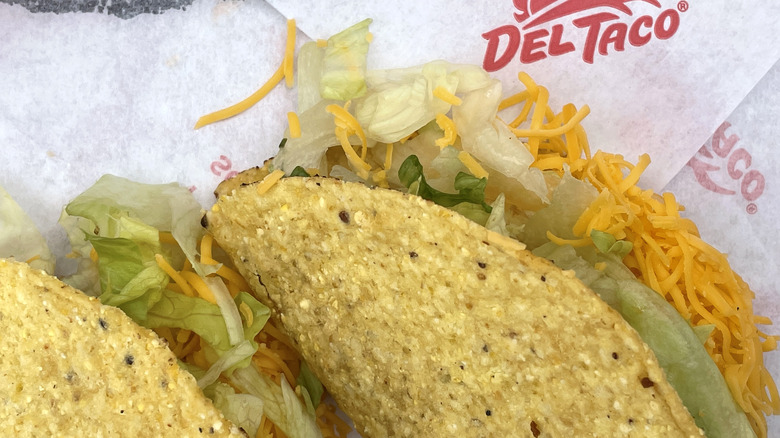 Justin Sullivan/Getty Images
Del Taco is celebrating National Drive-Thru Day on Sunday, July 24 with a buy one, get one free deal on its crispy chicken tacos (per Chew Boom). While the deal only lasts through Sunday, July 31, customers will have an easy time taking advantage of this deal. That's because customers technically don't even need to go through a drive-thru for the offer. To grab BOGO crispy chicken tacos, customers can order online or via the Del Yeah! Rewards mobile app.
The California-based chain has definitely been prioritizing its drive-thru services over the past few years, and has even spoken about moving exclusively to this model (via Forbes). However, Del Taco still has a handful of restaurants that operate with traditional cashiers and indoor service. Whether your local Del Taco has a drive-thru or indoor seating, you can rest assured that you won't be left out of free crispy chicken tacos on this National Drive-Thru Day.