The Tragic Death Of Mexican Cookbook Author Diana Kennedy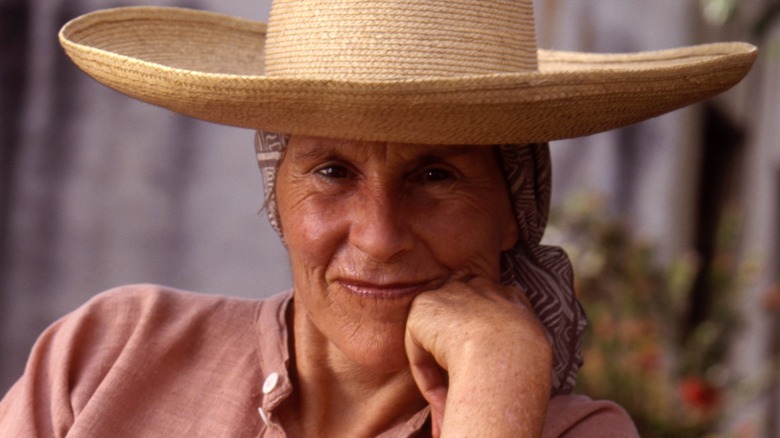 Ann Summa/Getty Images
The world lost a culinary giant this weekend: In a tweet on Sunday, the government of Mexico shared that author, advocate, and documentarian of Mexican cuisine Diana Kennedy passed away in her sleep at her home. She was 99. Los Angeles Times shares that Kennedy did for Mexican food what Julia Child did for French food, teaching Americans and the world about Mexico's authentic cuisine and ingredients. "She was the first person to write in English about the diversity of Mexican food," her friend chef Gabriela Cámara said. "So she deserves that honor." Chef José Andrés (via YouTube) even called her an "Indiana Jones of food."
Kennedy was born in England in 1923, and in the early 1960s moved to Mexico with her husband, journalist Paul Kennedy. After her husband's death in 1967, Kennedy stayed in Mexico, making her home in the state of Michoacán where she lived for the rest of her life. She took it upon herself to document dishes and ingredients from across the country as she visited markets and joined people in their homes to learn traditional cooking methods. Her first cookbook, "The Cuisines of Mexico" published in 1972, was followed by several more over the course of her life including "Oaxaca Al Gusto" for which she won the James Beard "Cookbook Of The Year" Award in 2011.
Tributes for Diana Kennedy are pouring in from the many chefs she inspired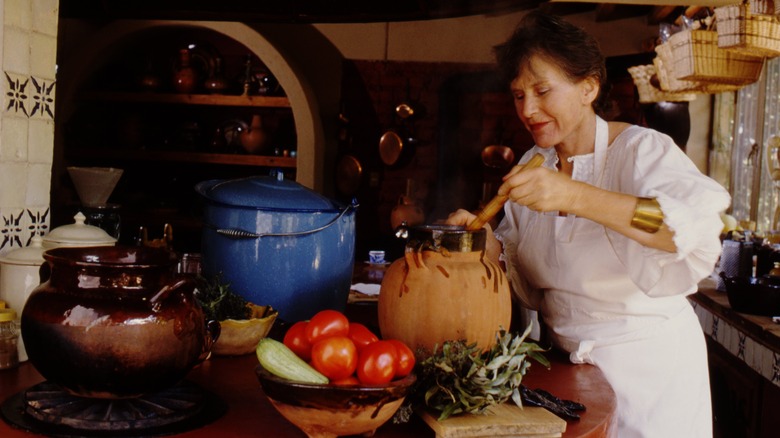 Ann Summa/Getty Images
Diana Kennedy's passion for preserving the traditional methods and foods of Mexico was unparalleled and fierce. In the foreword to her 1986 book "The Cuisines Of Mexico," food journalist Craig Claiborne wrote, "If her enthusiasm were not beautiful, it would border on mania." Kennedy explored familiar dishes like enchiladas, but also introduced Americans to new foods like mole, authentic tamales, homemade tortillas, and more unfamiliar regional dishes like iguana stew (via Los Angeles Times).
Tributes to Kennedy's influence and dedication are pouring in since the news of her death. Chef José Andrés shared on Twitter, "She gave voice to the many Mexican cooks, especially women. She was my teacher and [I] already miss her." New York Times food writer Tejal Rao who wrote about Kennedy in 2019 also took to Twitter, describing her as "brilliant, impatient, full of urgent purpose." Padma Lakshmi tweeted, "She was warm, feisty, opinionated, cantankerous at times, but always witty and interesting." 
One particularly poignant Instagram post honoring the author came from Chef Rick Bayless, a fellow passionate devotee of authentic Mexican cuisine. He wrote, "She was the first to take Mexican cooking seriously and show the real cooking of the country rather than interpreted American versions. Without that model, I never would have been as attracted to studying Mexican cuisine as I was in my early years."