How Man V Food Impacted Today's Restaurant Food Challenges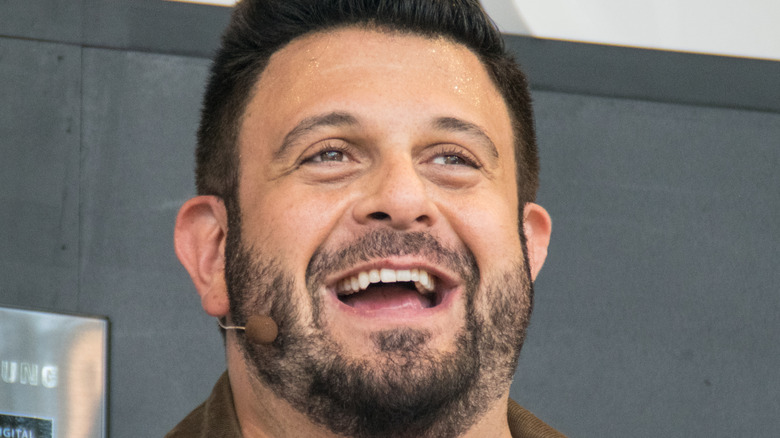 agwilson/Shutterstock
Unscripted television shows that revolve around cooking, dining, and eating (often featuring travel and competitions) were traditionally the domain of the Discovery Media-owned Food Network, but the 2008 debut of the Travel Channel's "Man v. Food" marked a new direction for the genre – and the entry of other networks into the game.
A year after the show's premiere, the Los Angeles Times spotlighted it as an example of how new entrants were encroaching on the Food Network's turf with novel premises, formats, and spins on programs that had become, arguably, pretty formulaic. And this was long before streaming services like Netflix began debuting original food-related content in addition to airing programming from channels like the Food Network.
The Travel Channel scored its highest-ever ratings with its debut of "Man v. Food," which was premised around a then-novel concept: Host Adam Richman traveled across the country to sample regional cuisines and participate in an eating contest at a local restaurant. (Eating contests are competitions whose winners eat the greatest volume of food – like the famous Nathan's Hot Dog Eating Contest in Coney Island, where Joey Chestnut took home the Mustard Belt for the fifteenth consecutive time this year after consuming 41 hot dogs and buns, according to CBS Sports.)
So, a decade after the last episode of "Man v. Food" aired in April 2012, what is the show's legacy and how did it transform the landscape of unscripted food-oriented programs?
'Man v. Food' made competitive eating an enduring, international phenomenon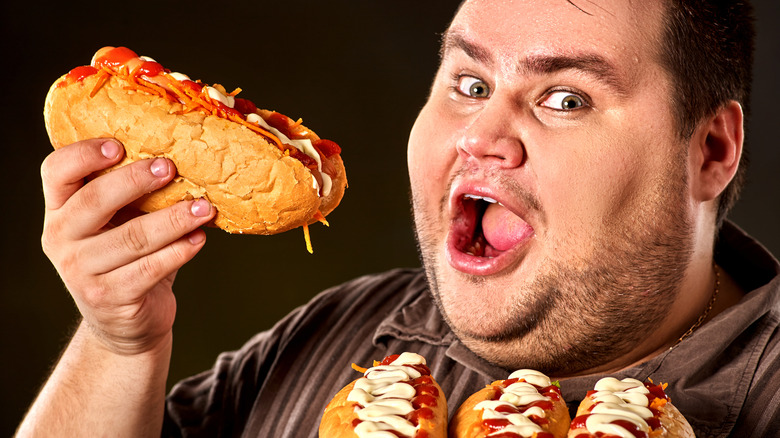 Poznyakov/Shutterstock
According to the Chicago Sun-Times, Adam Richman was perhaps the perfect host for the Travel Channel's wildly successful unscripted show "Man v. Food." Among other accomplishments on his resume, including appearances on "All My Children" and "Law and Order: Trial by Jury," the actor and television personality once ate a 20-ounce (1.25-pound) burrito in less than 20 minutes. And his capacious stomach would transform food programs as we once knew them.
The first episode featured Richman's visit to Amarillo, Texas, where he squared off in a competition to eat the "Burger from Hell" served at the Big Texan Steak Ranch (per IMDb). Publicity for the restaurant and its legendarily spicy burger did not end there, however, as it was subsequently featured on "Anthony Bourdain: No Reservations." Soon, according to Food Challenges, other restaurants were clamoring to get in the game, while those featured on the show saw guests traveling hours to sample their menus or participate in their signature eating contests.
"Man v. Food" not only inspired restaurants to create their own competitions, but it also brought eating contests to countries overseas like England and Australia, where audiences are seeing unaired episodes of the show. Suffice it to say that while it seems there is a surfeit of food-oriented shows, there always remains space to innovate and create something entirely new.