Joey Chestnut Has A New Challenge With Raising Cane's On The Horizon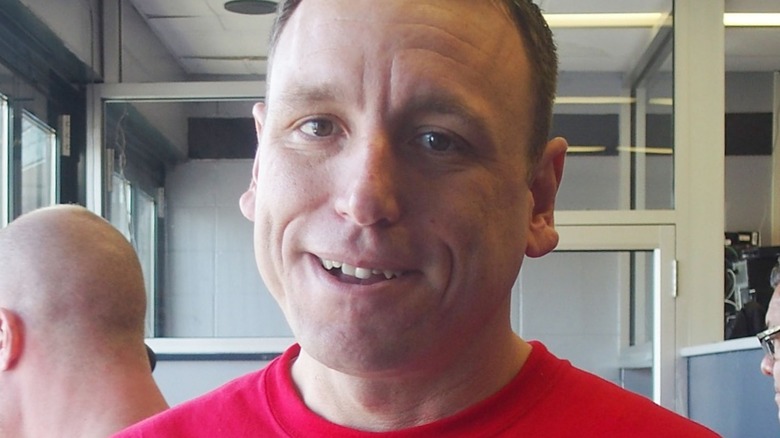 Bobby Bank/Getty
Summer is prime time for many competitive eating challenges. From the iconic Nathan's Famous International Hot Dog Eating Contest on Coney Island to the Mattituck Lions Club World Strawberry Shortcake Eating Championship in New York, and more (via Major League Eating). With National Chicken Finger Day on July 27, it only makes sense that some savvy brands might want to get in on the fun. Enter into the competitive eating ring, Raising Cane's.
The fast-food restaurant that specializes in chicken fingers and is known for it's "Cane's Sauce" is throwing down a chicken finger eating challenge. First, customers who are members of Raising Cane's "Caniac Club" loyalty program will be able to get one free chicken finger with any order from July 27 to 30. Then, in celebration of National Chicken Finger Day on Wednesday, the chain will be hosting world-famous competitive eater Joey Chestnut at a new location on the Las Vegas Strip (per Raising Cane's), where he'll attempt to set a new chicken finger eating record. But can he do it?
Can Chestnut set a record?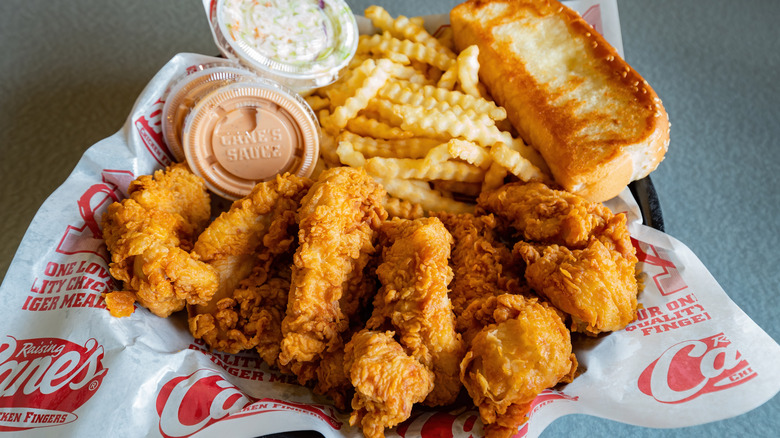 Kit Leong/Shutterstock
Competitive eater Joey Chestnut is known for his 14 wins at the Nathan's Famous Hot Dog Eating Contest. But he actually holds 55 competitive eating world records in all, making him the world record holder for holding world records (via Major League Eating). So can he add another record when he takes his seat at Raising Cane's new Las Vegas restaurant on Wednesday? We'll all just have to wait and see if he can take home the chain's chicken finger record (per Raising Cane's) in celebration of National Chicken Finger Day.
While there isn't currently a Guinness World Record on the books for eating chicken fingers, the chicken nugget record was just broken in March 2022 by Leah Shutkever, who ate 19 nuggets in one minute. Looking at some of Chestnut's past wins — 7.61 pounds of Buffalo wings in 12 minutes, 182 chicken wings in 30 minutes, 10 cups of ramen noodles in 1.5 minutes (per Major League Eating) — we're willing to gamble that no matter what time is on the clock, he'll set a high bar. The real question is, who will eventually try to take down "Joey Jaws" and eat even more chicken fingers?