The Chicken Nugget Guinness World Record That Was Just Broken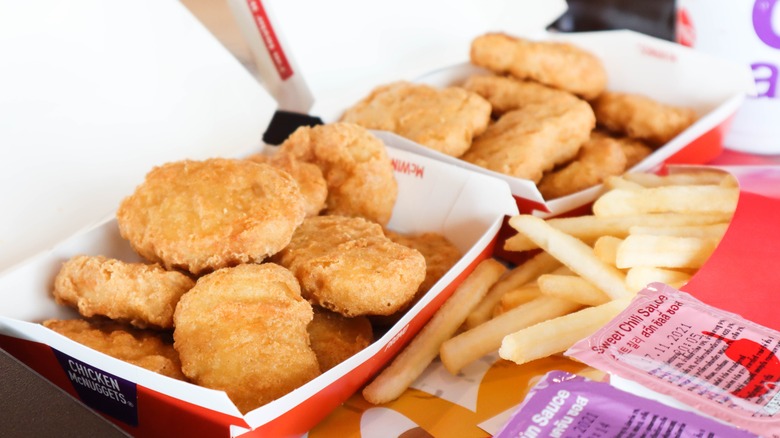 bbearlyam/Shutterstock
The Guinness World record for eating McDonald's nuggs was shattered last week. Competitive eater Leah Shutkever broke the record for the largest amount of Chicken McNuggets eaten in one minute, Guinness World Records announced on its website. She ate 12.42 ounces of chicken, which equates to 19 nuggets. Even though she was disappointed in failing to reach her goal of 20 nuggets, Shutkever still beat the previous record of 10.51 ounces that Nela Ziser ate in November 2020.
Shutkever is prolific in the world of competitive eating — she holds 27 eating-related world records, including the mark for most non-McDonald's chicken nuggets eaten in three minutes. In 2020, she consumed 26.31 ounces worth of the stuff, Food & Wine reports. Her other records include eating the most tomatoes in one minute with eight, the fastest time to consume a muffin without using hands at 21.95 seconds, and the most mini gherkins/pickles eaten in one minute with 23.
"When you set goals and achieve them, your confidence grows and I think that was just a massive turning point in my life," Shutkever said in a statement.
Being a champion has come with risks
Eating large quantities of food in short time increments will not always turn out well. In January, LADbible covered how Leah Shutkever was once sent to the hospital after she passed out during one challenge.
She was performing for a Japanese TV show when suddenly she blacked out. "I got taken to A&E and the doctor basically said because [I'd] ingested so much food the oxygen went from my brain to my stomach to digest and I passed out," Shutkever explained to the publication. Thankfully, the doctor deemed there was nothing else wrong with her. In an earlier article published by LADbible, Shutkever admits that she does "feel tired and often heavy and bloated, but nothing that some cardio and plenty of water can't alleviate." 
With a new title added to her list, it looks like Shutkever will continue to attempt to break competitive eating records. That is, if the previous McNugget titleholder Nela Zisser — who also recently ate 10 Big Macs in 15 minutes (via Yahoo!) — doesn't attempt to retake her title.