Traditional Gluhwein Recipe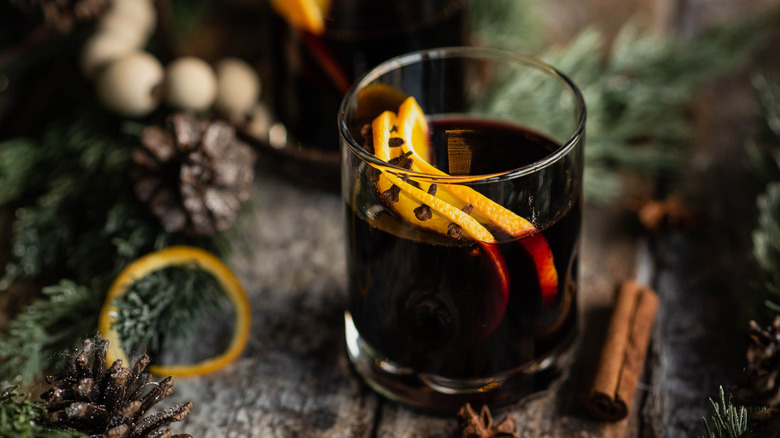 Michelle McGlinn/Mashed
If you're looking for a cocktail that's warm, flavorful, and delicious, look no further than this delightful and traditional Gluhwein recipe. According to Culture Trip, Germany first made this beverage popular, and people love to enjoy it around the holidays. The name literally translates to "glow wine," as the German people used to heat it up with hot red irons. Today, there is a much easier method that you can find detailed in the instructions, and the wine tastes is just as good, even without a hot iron. 
Recipe developer Michelle McGlinn is the brains behind this delicious recipe, and if you've ever gone to Christkindlmarket around the holidays and enjoyed mulled wine from little boot cups, then you've experienced Gluhwein just as McGlinn has. "This recipe recreates a traditional gluhwein, using dark dry red wine and warming spices," McGlinn explains. Another plus? Its simplicity. "This recipe is so easy — if you are short on time, you can heat the wine for a few minutes and serve with some of the spices in it for a similar effect, but even just a half hour will yield a beautifully sweet, smooth wine," she raves. "It's perfect for a cozy night in or for a party with loved ones — mulled wine really defines love and comfort!" Sounds good to us! 
Gather the ingredients for the traditional gluhwein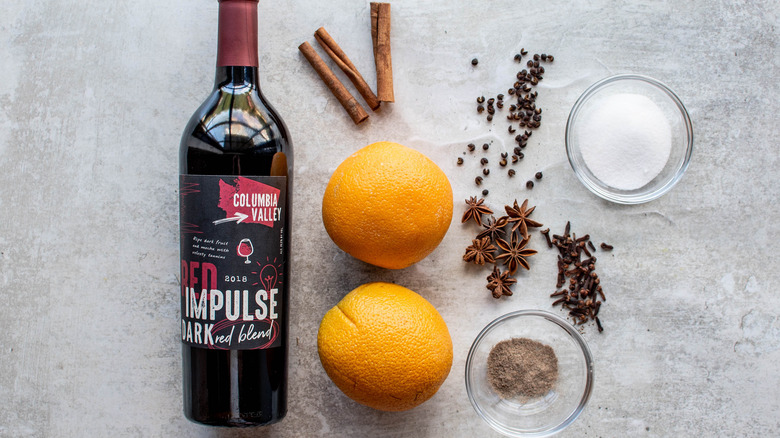 Michelle McGlinn/Mashed
Pour the wine and sugar into a pot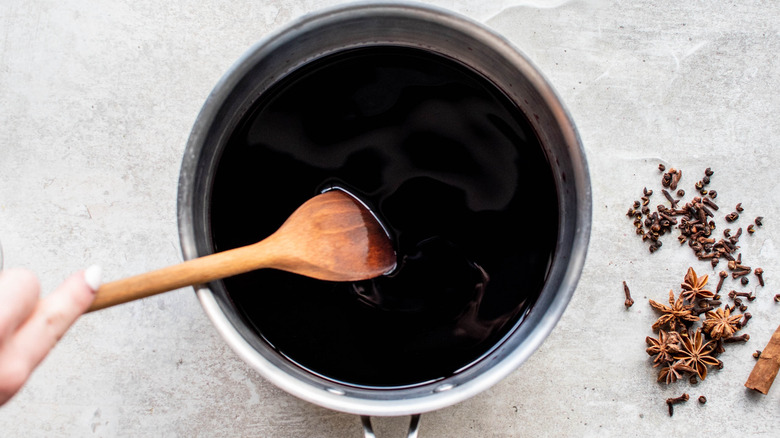 Michelle McGlinn/Mashed
For this recipe, select your favorite pot or a Dutch oven. Place it on your stove and turn the heat on low. First, add the wine to the pot. "Choose a dark red wine that is labeled as 'jammy', 'dry', and has tasting notes of richly flavored fruits," McGlinn notes. "Avoid wines labeled as 'oaky' or 'sweet.'"
Next, toss the sugar in with the wine, and continue stirring until it fully dissolves.
Add cinnamon, star anise, cloves, peppercorns, and orange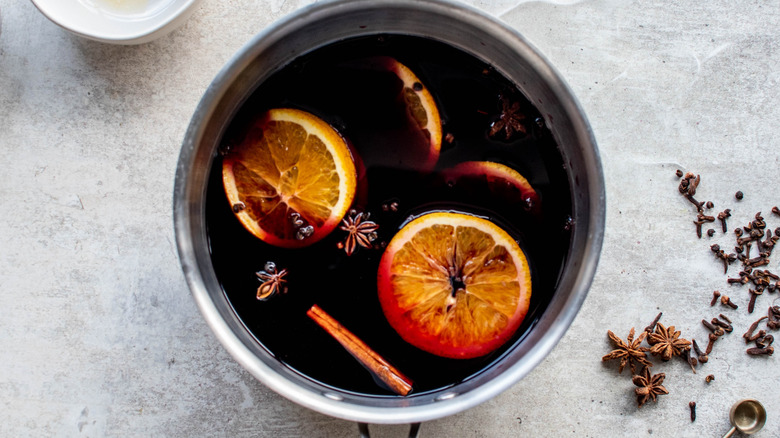 Michelle McGlinn/Mashed
There are still a few more items that you will need to add to the mix. Toss in the cinnamon, star anise, a few whole cloves, black peppercorns, and one sliced orange. "I added black peppercorns for added depth. The spices, sugar, and oranges make the wine very sweet, and the peppers balance it out nicely," McGlinn shares. "A half teaspoon is around 15-20 peppercorns — more than you'd think! But you are welcome to add a whole teaspoon for an extra peppery kick. It will not make the wine spicy." Stir the contents together before you place the lid on. Continue cooking for about 30 minutes to an hour.
Keep an eye on the mixture as you don't want anything to boil, you just want the spices to steep.
Prep the garnish and strain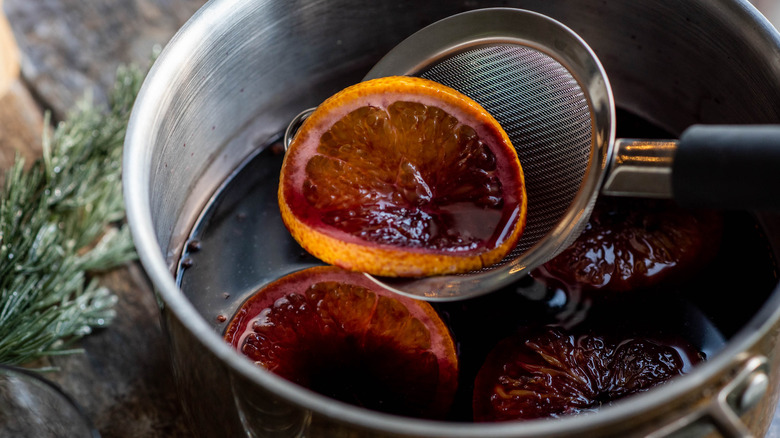 Michelle McGlinn/Mashed
While the spices steep, you can prep the rest of the garnish. Just poke the remaining cloves into the rinds of the remaining orange sleeves.
Once the drink is good to go, use a strainer to get all the non-liquid goodies out of the pot — but don't worry, those flavors will remain.
Serve your traditional gluhwein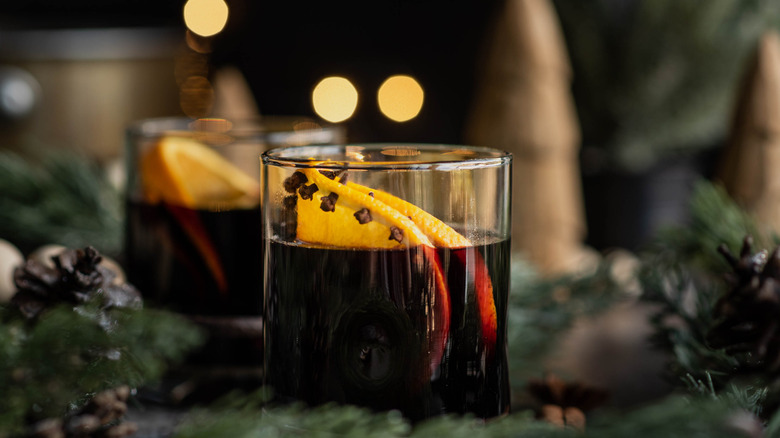 Michelle McGlinn/Mashed
Once you pour the wine into mugs or glasses, add the orange and the clove-studded garnishes, and optionally sprinkle some cardamom over the top. This drink is best when enjoyed warm. If you wanted to serve this gluhwein with food, McGlinn provides a few fun serving suggestions. "We have gluhwein while eating pork schnitzel, spaetzle, potato pancakes, sausages and sourdough pretzels," she says, adding that heavy German foods are ideal, especially since this wine is often enjoyed in colder months. "Holding a steaming mug of gluhwein warms your fingers and your face and the salty, filling meats and potatoes to warm you inside, too," McGlinn says. "We also have a mug of gluhwein with dessert, which is always warm sugared almonds, but gluhwein is delicious with chocolates, too." So, basically, whichever way you serve up this gluhwein, you can't really go wrong.
Traditional Gluhwein Recipe
Nothing will warm you up better than this traditional Gluhwein.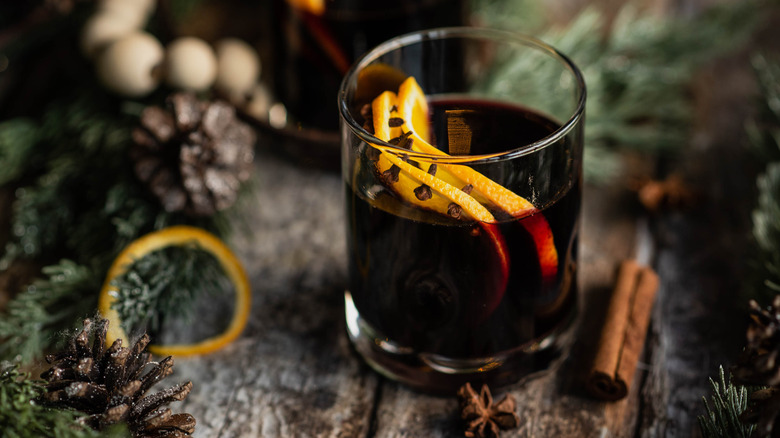 Ingredients
1 (750 milliliter) bottle dry, dark red wine
3 tablespoons granulated white sugar
3 cinnamon sticks
3 star anise pods
15 whole cloves, divided
½ teaspoon black peppercorns
2 oranges, thinly sliced, divided
Optional Ingredients
Directions
Pour the wine into a pot or Dutch oven over low heat. Add the sugar and stir until dissolved.
Add the cinnamon, star anise, 3 cloves, black peppercorns, and 1 sliced orange to the wine. Stir, cover, and heat over low heat for 30 minutes to an hour. Do not allow to boil; simply keep warm on low to allow the spices to steep.
In the meantime, prepare the garnish by poking remaining cloves into the rind of the remaining orange slices.
Once ready to drink, strain solids out of wine and discard. Pour wine into mugs or glasses and garnish with prepared clove-studded orange slices. Optionally sprinkle cardamom into the wine. Enjoy warm.
Nutrition
| | |
| --- | --- |
| Calories per Serving | 317 |
| Total Fat | 0.6 g |
| Saturated Fat | 0.1 g |
| Trans Fat | 0.0 g |
| Cholesterol | 0.0 mg |
| | |
| --- | --- |
| Total Carbohydrates | 33.1 g |
| Dietary Fiber | 4.1 g |
| Total Sugars | 22.3 g |
| Sodium | 12.8 mg |
| Protein | 1.5 g |