The Correct Way To Slice Pizza, According To A James Beard Awarded Chef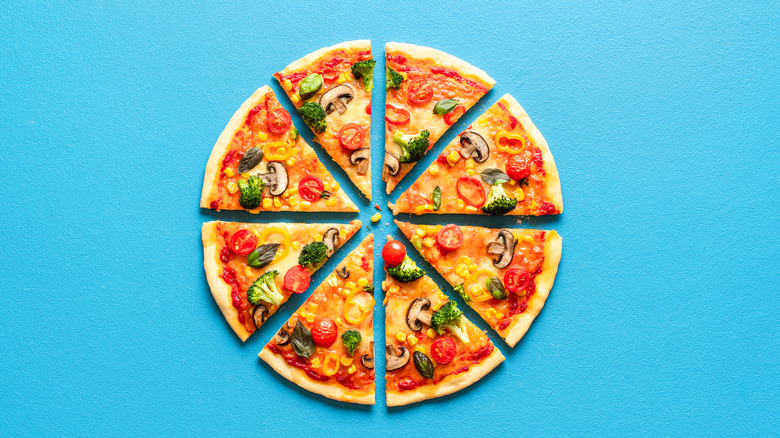 YesPhotographers/Shutterstock
If you could make a list of foods that can bring a smile to anyone's face, it would be incomplete without a deliciously gooey pizza. With so many impressive flavors, toppings, sizes, and shapes, it's the ideal food for pretty much every occasion. And don't get us started on the taste. Pizza toppings such as cheese, tomatoes, pepperoni, and sausage are rich in glutamate (an amino acid), which makes pizza umami heaven (per The Washington Post).  
Whether you're ordering a pizza from your favorite pizzeria or opting for a homemade pizza recipe, you have to consider many factors, such as deciding the size, sauce, toppings, and crust style. Once the selection process is over and the pizza is ready to be devoured, there's one more decision you'd have to make: selecting how you want your pizza sliced. (Let's be honest — you won't like it if someone else gets the biggest slice.) And you don't want to argue with a friend who eats two slices of pizza without separating them and counts them as one slice.
Cutting this cheese-topped dough can be frustrating; you want to ensure everyone gets equal-sized slices and keep the toppings where they belong. Fortunately, there are some effortless ways to slice pizza. And you have to sit up and take notice when a James Beard-awarded chef shares them.       
The many correct ways to slice pizza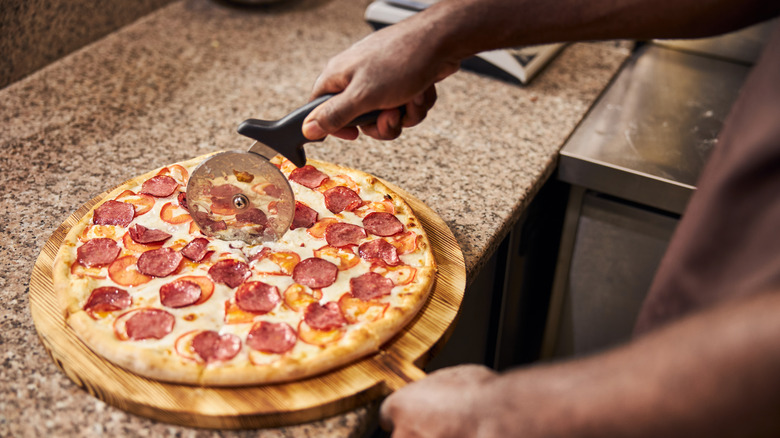 YAKOBCHUK VIACHESLAV/Shutterstock
Chef Ann Kim of Minneapolis institution Young Joni told Food & Wine the most effective ways to slice pizza. According to Kim, it's important to use a "nice, sharp cutter" to get clean slices of pizza. She recommends cutting the pizza soon after it's out of the oven. "This is based on our experience at the restaurant, we cut immediately as it comes out of the oven," said the winner of the James Beard Award for Best Chef: Midwest. "Once you let it settle, it starts to toughen up and it's actually more challenging." It's best to let the pizza sit for a few seconds before slicing it.  
Kim talked about how a chef's knife can make a great substitute for a pizza cutter. However, the knife should be big enough to cover the diameter of your pizza. You'll want to let the pizza sit for a few minutes before rocking the knife back and forth, as it will prevent the cheese from sticking to the knife. 
You can also consider using shears, also known as kitchen scissors. According to Love Food, using kitchen scissors can help get a clean pizza cut and ensure everything on top of the pizza remains intact. The Kitchn calls shears one of the most underrated tools when it comes to slicing pizza. Try these ways the next time you order pizza online, make one at home, or even heat a frozen pizza.