Spicy Italian Wedding Soup Recipe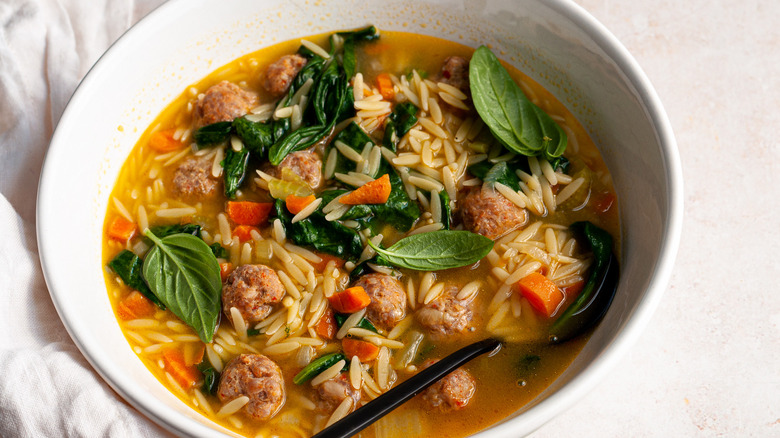 Christina Musgrave/Mashed
Italian wedding soup is the perfect recipe to warm your soul on a cold fall or winter day. The classic Italian soup has been around for ages, and though the name suggests otherwise, it's not necessarily meant to serve at weddings (though, you could serve it at one!). Instead, you could look at the blend of vegetables, meat, and orzo as a sort of "marriage," or at the very least a pretty flavorful union. Whether you want a bowl as a main course or a cup as a side, this dish is plenty filling. 
Recipe developer Christina Musgrave came up with her own spin on the classic recipe, opting to kick up the heat with a little bit of spicy Italian sausage. "I like how simple and easy this Italian Wedding Soup recipe is," Musgrave shares. "Everything is simplified and straightforward and it tastes amazing! I like this for a weeknight dinner or serving as an appetizer or side dish." 
Gather the ingredients for this spicy Italian wedding soup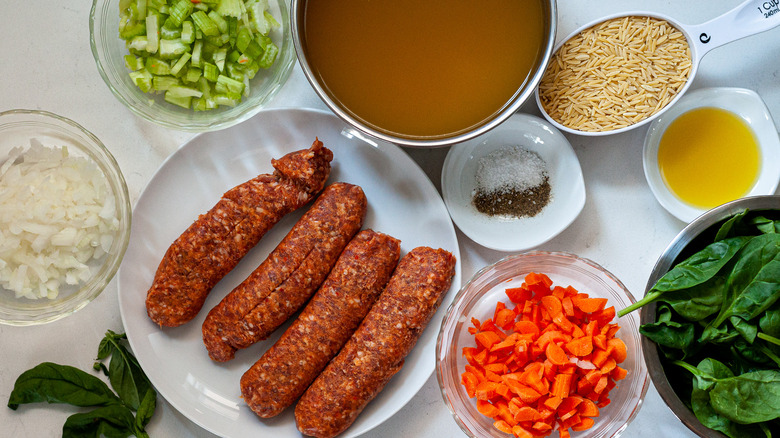 Christina Musgrave/Mashed
Heat the veggies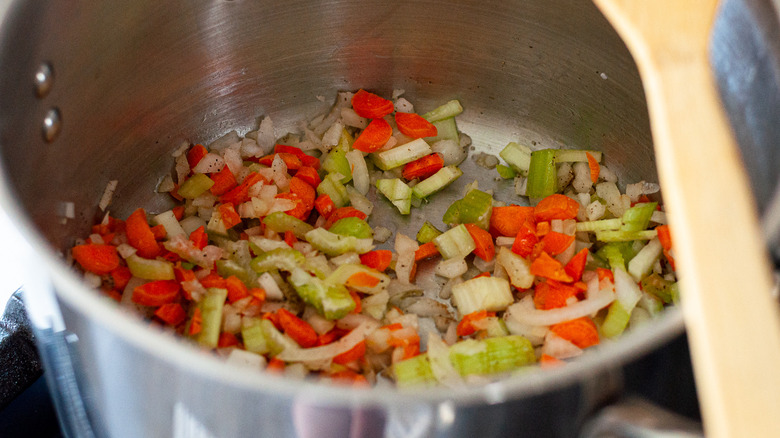 Christina Musgrave/Mashed
Let's get right to it. Grab your trusty Dutch oven and place it on your stove. Turn the heat to medium and drizzle in the olive oil. Next, you can add the carrots, celery, onion, salt, and black pepper. Cook everything together for about 5 minutes and let the veggies soften.
Cut the sausage links and add to the pot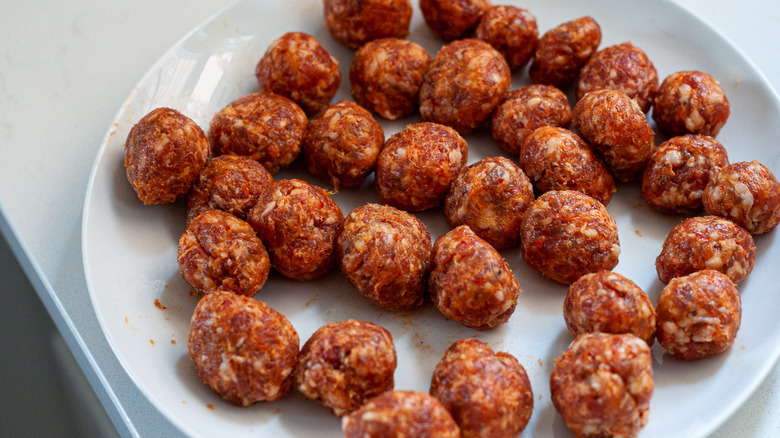 Christina Musgrave/Mashed
While the veggies are cooking, take out the Italian sausage links. Roll them into small meatballs and then toss them in the pot with the veggies. At this point, you can also add 1 cup of pasta and 4 cups of chicken stock or broth. Stir well to combine everything together.
Place the lid back on the Dutch oven and reduce the heat to a simmer. Set your timer for 10 to 15 minutes, so the meatballs and pasta thoroughly cook. "The special ingredient is the spicy Italian sausage that you make the meatballs with," Musgrave notes. "The spicy sausage adds a kick to the whole soup recipe." 
Add the spinach and stir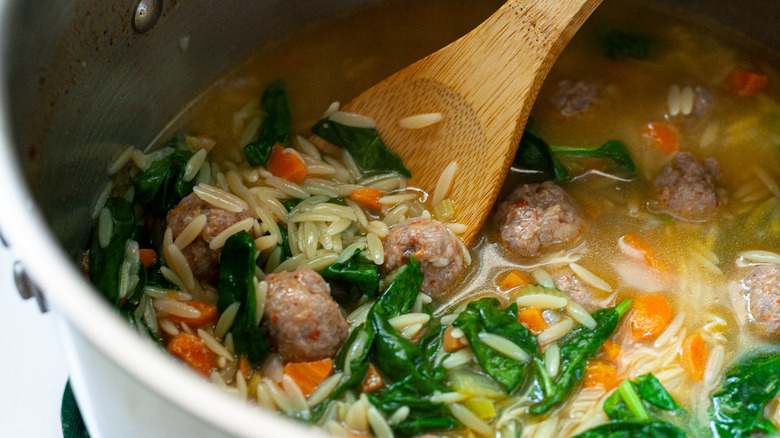 Christina Musgrave/Mashed
Once the meatballs and pasta are cooked, remove the Dutch oven from heat. Add 2 cups of spinach and stir well. The heat from the soup should wilt the spinach in no time. 
Add the finishing touches and serve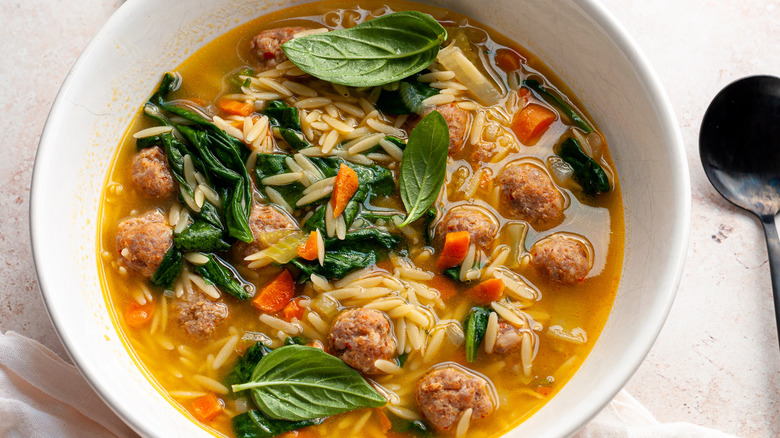 Christina Musgrave/Mashed
Transfer the soup into a bowl or cup and top with fresh herbs to complete this dish. Thanks to the meatballs and veggies, this soup is pretty filling on its own, but Musgrave provides a few additional serving suggestions if you wish. "This soup is great as a side dish or as a main dish," Musgrave says. "It's delicious with an Italian side salad and some fresh bread." 
Anything left? Don't sweat it! "Leftovers will keep for 3-4 days. You can freeze as well!" Musgrave shares.
Spicy Italian Wedding Soup Recipe
This recipe puts a spicy spin on classic Italian wedding soup.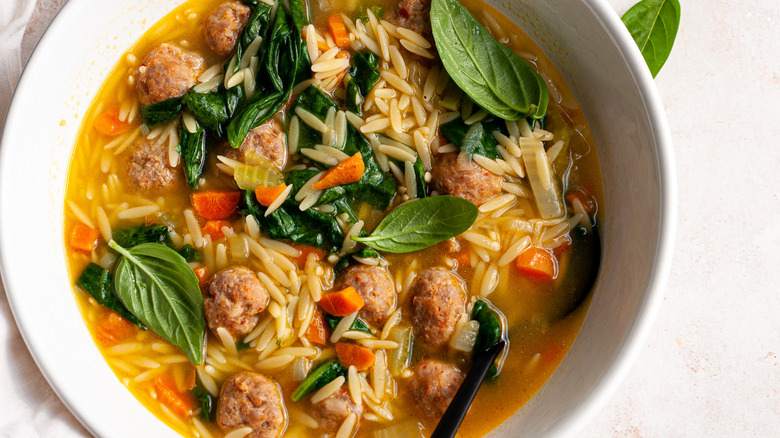 Ingredients
1 tablespoon olive oil
1 cup carrots, chopped
1 cup celery, chopped
½ cup onion, chopped
½ teaspoon salt
½ teaspoon black pepper
4 hot Italian sausage links, casings removed
1 cup orzo or small pasta
4 cups chicken stock or broth
2 cups spinach
Optional Ingredients
fresh basil or thyme, for serving
Directions
Heat the olive oil in a large Dutch oven over medium heat. Add the carrots, celery, onion, salt, and pepper, and cook for 5 minutes, until the vegetables soften.
Meanwhile, roll 4 spicy Italian sausage links into small meatballs. Add the meatballs, orzo, and chicken stock to the pot. Stir well, cover, and simmer for 10 to 15 minutes, until the pasta and meatballs are cooked.
Remove from heat. Add in the spinach, stir, and serve with fresh herbs.
Nutrition
| | |
| --- | --- |
| Calories per Serving | 423 |
| Total Fat | 28.2 g |
| Saturated Fat | 9.4 g |
| Trans Fat | 0.0 g |
| Cholesterol | 62.1 mg |
| | |
| --- | --- |
| Total Carbohydrates | 23.5 g |
| Dietary Fiber | 1.9 g |
| Total Sugars | 4.8 g |
| Sodium | 817.3 mg |
| Protein | 17.8 g |