Why A Wisconsin Dunkin's Iced Coffee TikTok Went Viral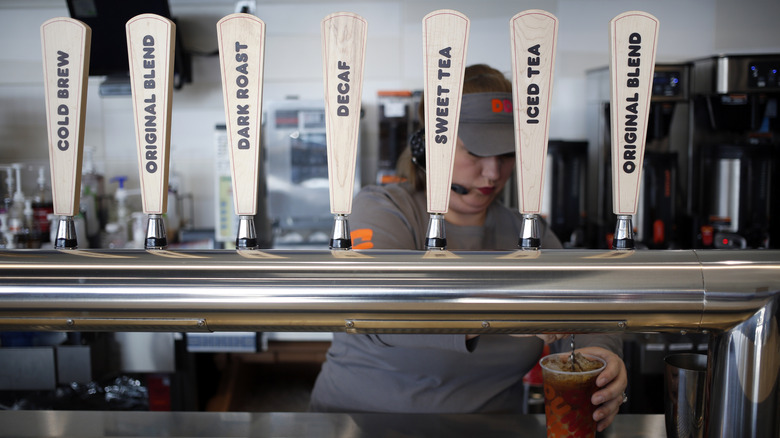 Bloomberg/Getty Images
Working at a great coffee shop has its perks: tasty beverages, simple café eats, a cozy atmosphere, and generally positive vibes. As with any type of establishment, though, not every coffee shop is built or run in the same fashion. For example, your local Dunkin' probably looks, feels, and smells a whole lot different than the elegant, pretentious bistros that sell fancy menu items for questionable amounts of money. 
The Dunkin' brand has been strategically designed to ensure customers of all ages, backgrounds, and socioeconomic statuses feel welcome. The company released a statement in 2018 to announce its rebrand, explaining that its focus has always been and will continue to be creating value and convenience.
A coffee shop gig can be as energizing as it is rewarding. Just ask the employees at Dunkin' stores across Kenosha and Racine Counties in Wisconsin, who seem to have fun on the job while doing exactly what they were hired to do: make delicious pick-me-up drinks quickly and to perfection. But what makes these staffers so special?
Baristas at Wisconsin Dunkin' locations whip up iced coffees at lightning speed
A TikTok account run by workers at the Dunkin' locations in southeastern Wisconsin has coffee lovers wildly impressed. A series of videos shows workers preparing iced coffees at super-fast speeds — in 15 seconds or less, to be exact — with minimal room for error. 
The first video to kick off the account's barista competition theme features a worker named Uni, who navigates the coffee making stations to concoct an iced caramel latte in 15 seconds flat. From there, even more "speed test" videos have been uploaded, garnering tons of engagement from fans who cheer them on (or feel compelled to point out their minor flaws). The ultimate challenge is for workers to beat their managers' time. If they can successfully whip up a drink in 13 seconds or less, they win $50. If they can accomplish the feat in 15 seconds, $25 is all theirs. Not too shabby!
It's pretty amazing how an upbeat, friendly workplace culture can spark inspiration, make people's careers more rewarding, and create an even better customer experience.