The Truth About Gordon Ramsay's First Job In A Kitchen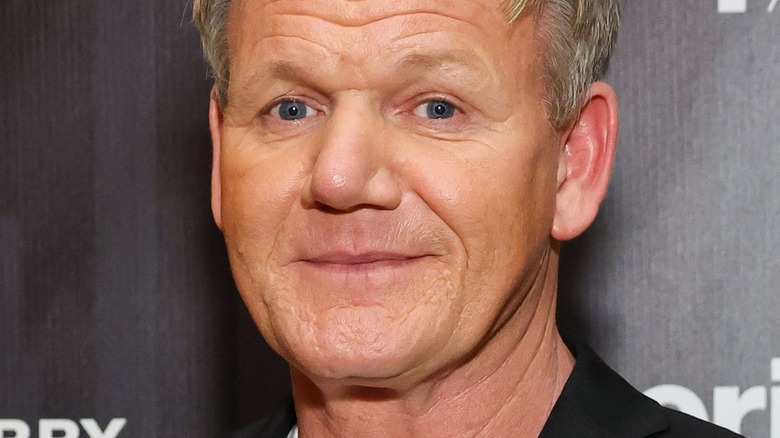 Mike Coppola/Getty Images
There was once a time when Gordon Ramsay wasn't a household name. His ruffled locks didn't grace television sets, the cookbook aisle didn't have a single offering bearing his name, and poorly run restaurants fed customers sub-par food without fear of an angry Brit cursing them out. Yes, Ramsay wasn't born with a myriad of successful restaurants, his own Royal Doulton houseware line, and a lengthy lineup of highly rated TV shows on both sides of the Atlantic. Like many famous chefs, he started from humble beginnings. And he wasn't the only one.
Julia Child's first job was writing advertising copy for a furniture store, per the Julia Child Foundation. According to the Daily News, Bobby Flay's working life began with stints as both an ice cream scooper and a pizza delivery guy. The Food Network reveals that Rachael Ray started out hocking candy at Macy's. When Guy Fieri was just 10 years old, he opened he his first entrepreneurial effort, a pretzel cart (per Biography). And the humble origins of Duff Goldman's cake business started with him baking goods in his apartment oven and delivering them to customers in his Volkswagen, per the Food Network. Plenty of culinary celebrities started out as ordinary people with very ordinary jobs. 
So, what was Gordon Ramsay's first job?
Gordon Ramsay's first job was far from glamorous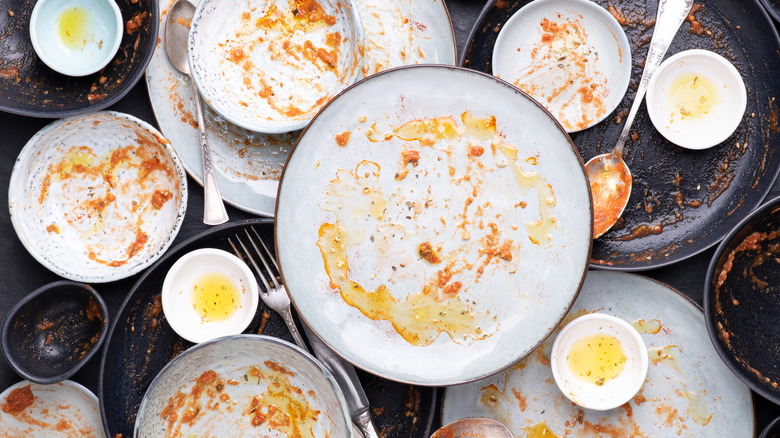 photka/Shutterstock
Despite watching him on multiple TV shows over the years, there are many things that the public doesn't know about Gordon Ramsay's life. While it may not be difficult to imagine the chef yelling expletives at a pile of dirty dishes, it's hard to envision him actually digging in and scrubbing them. You may be surprised to learn, however, that this is exactly how the culinary genius began his illustrious career. 
The Travel explains that his first job was washing dishes at a local Indian eatery. Yes, he likely even had dish pan hands. A YouTube video of his guest appearance on "The Jonathan Ross Show" features Ramsay discussing his tenure as a pot scrubber. While he says he only made £1.75 per hour, he credited the Tandoori restaurant with being a great place to learn. 
Very few can say that their first job was well-paying, prestigious, or even all that enjoyable. Every experience, however, can be a great way to collect skills, develop a strong work ethic, and figure out what careers most appeal to you. Thankfully, even a mountain of greasy dinnerware couldn't extinguish Ramsay's love for the kitchen. His humble beginnings were a mere stepping stone on a path would that eventually become paved with gold.