Creamy Nacho Cheese Sauce Recipe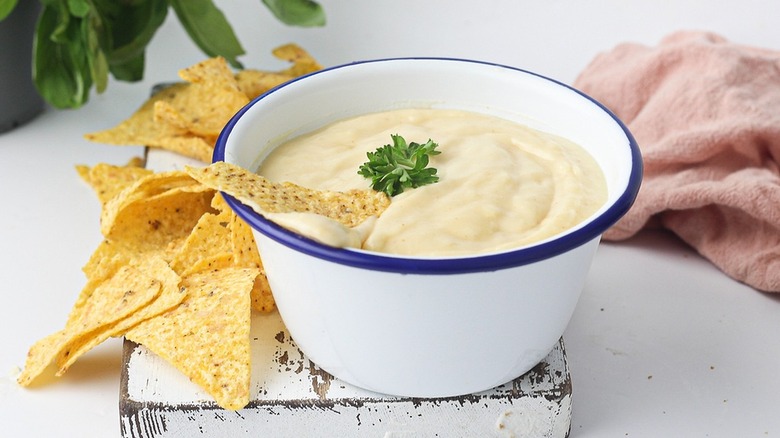 Susan Olayinka/Mashed
There's a time and place for nachos, but have you ever noticed that the place never seems to be at home? You might enjoy nachos as an appetizer at a restaurant, indulge in some at a movie theater, or grab some as a special treat at a carnival or fair. Nachos are pretty inundated in our lives (something that we are deeply grateful for), but many people become discouraged at the thought of making nacho cheese sauce at home. It can be pretty difficult to get that cheesy, savory flavor just right, and more often than not, inspired home chefs end up with a clumpy, overly-gooey, or possibly even burnt mess.
Thanks to this recipe from developer Susan Olayinka, you can say goodbye to burnt cheese and hello to rich and creamy nacho cheese sauce. "This nacho cheese sauce recipe is absolutely delicious," Olayinka raves. She also loves "how fast and easy it is to make," explaining that "it only takes a few minutes to prepare." And yes, it is perfectly cheesy, creamy, and has just the right amount of gooeyness — so get your chips ready, because you'll want to make this nacho cheese again and again.
Gather the ingredients for creamy nacho cheese sauce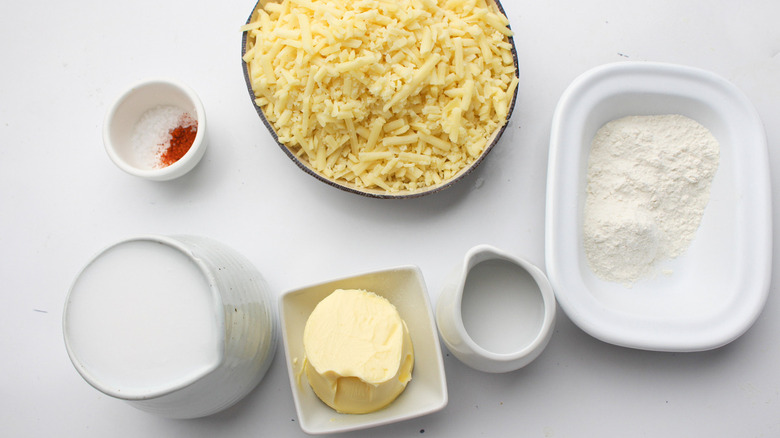 Susan Olayinka/Mashed
Unsurprisingly, the main ingredient in nacho cheese sauce is, well, cheese. Olayinka uses shredded medium cheddar cheese, though she does note that you can absolutely use a different kind. "I would suggest using a sharp cheddar for best results," she suggests. "Or, you could try a blend of cheeses for a different flavor."
Aside from the cheese, you'll need a few other ingredients to round out the savoriness, including whole milk, half and half, all-purpose flour, salt, unsalted butter, and chili powder. "The half and half milk creates a really smooth and creamy sauce," Olayinka explains, adding that "the milk provides creaminess while the half and half adds richness." She also likes to add "a little bit of a kick," and we can thank the chili powder for providing a subtly spicy profile. 
Start by making a roux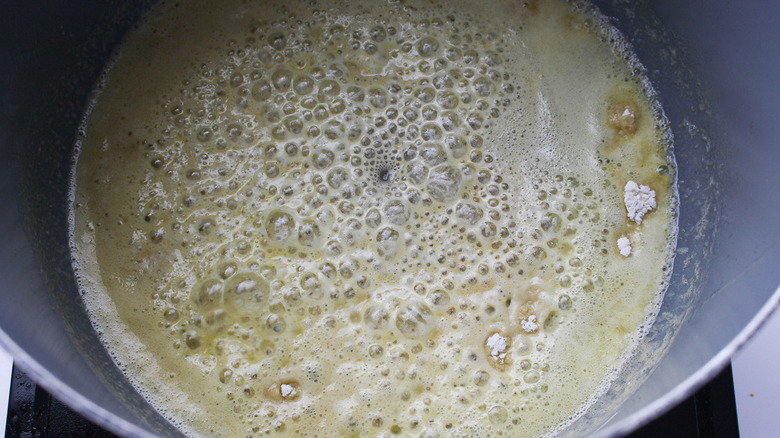 Susan Olayinka/Mashed
To get started, place a saucepan on the stovetop over medium heat and add in the butter. Once that melts, whisk in the flour, salt, and chili powder, thus forming a roux — keep whisking this mixture until it's smooth. Then, add in both the milk and half and half, and continuously whisk until the mixture comes to a boil, which should take about 4 minutes. 
It's time to get cheesy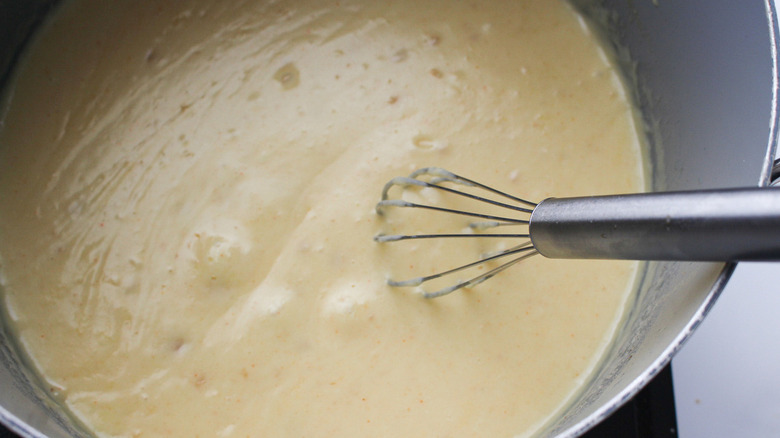 Susan Olayinka/Mashed
It simply wouldn't be nacho cheese sauce without the cheese, so now it's time to add in the shredded cheddar. Keep whisking the whole mixture, until the cheese melts down and thoroughly combines with the rest of the ingredients. At this point, your sauce should be pretty liquidy, but not too runny — the roux helps it retain a certain amount of thickness. 
Serve the nacho cheese with chips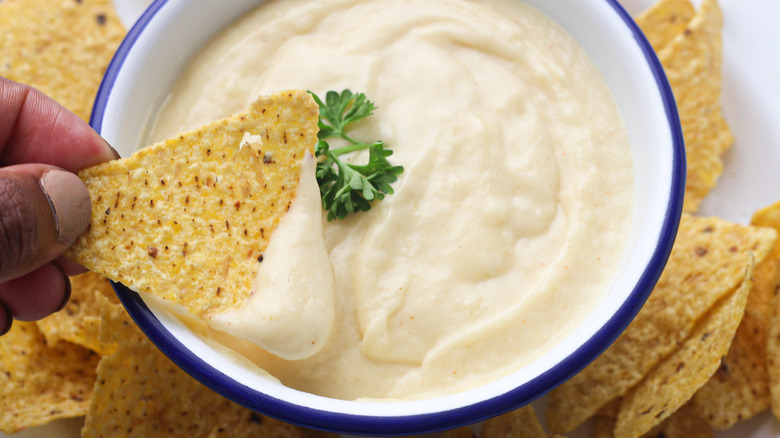 Susan Olayinka/Mashed
Once the cheese is melted into the sauce, there's only one thing left to do: Bust out the tortilla chips! Yes, there really is no better match for nacho cheese than chips, but who's stopping you from using it for chili cheese fries? We'd even go as far as to say that a soft pretzel would be divine with some of these cheese sauce. Get creative, serve up this sauce in your favorite way, and just remember that you can easily whip up another batch when this one runs dry. If you happen to have leftovers, Olayinka notes that you can keep it for up to 2 weeks — now home is officially the best place to enjoy some good old nachos! 
Creamy Nacho Cheese Sauce Recipe
Learn how to make this creamy nacho cheese sauce that comes with a bit of an extra spicy kick to bring your tortilla chips to the next level.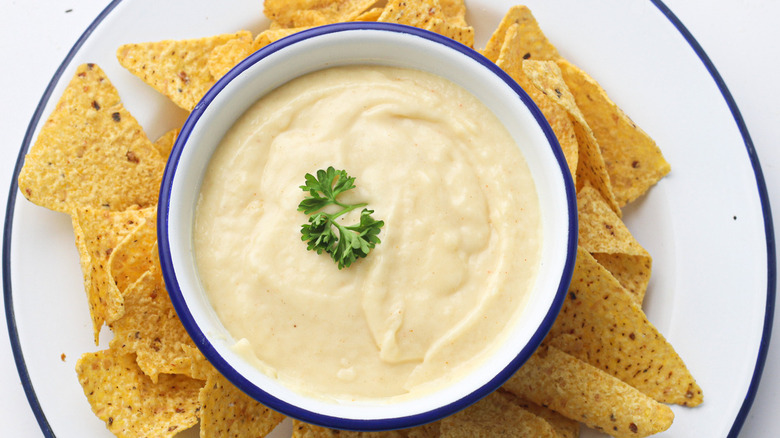 Ingredients
¼ cup unsalted butter
3 tablespoons all-purpose flour
½ teaspoon salt
¼ teaspoon chili powder
1 ½ cup whole milk
¼ cup half and half
1 cups medium cheddar cheese
Directions
In a saucepan over medium heat, melt the butter.
Whisk in the flour, salt, and chili powder until smooth.
Pour in the milk and half and half, whisking constantly until the mixture comes to a boil. This will take 4 minutes.
Add the cheddar cheese and continue whisking until the sauce is smooth and the cheese is melted.
Serve immediately or store in a covered container in the fridge for up to 2 weeks.
Nutrition
| | |
| --- | --- |
| Calories per Serving | 333 |
| Total Fat | 27.5 g |
| Saturated Fat | 16.5 g |
| Trans Fat | 0.9 g |
| Cholesterol | 78.9 mg |
| | |
| --- | --- |
| Total Carbohydrates | 10.0 g |
| Dietary Fiber | 0.2 g |
| Total Sugars | 5.4 g |
| Sodium | 371.7 mg |
| Protein | 12.0 g |