Why Domino's Continues To Struggle With Its Delivery Methods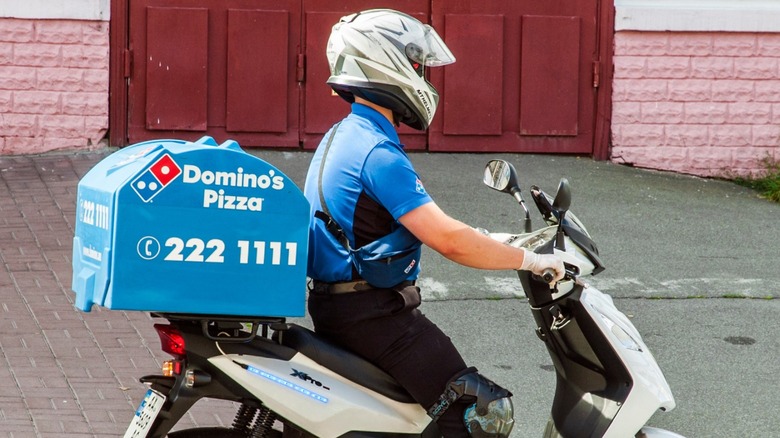 Pavelskyi Vladyslav/Shutterstock
Domino's Pizza became a national brand, in part, due to the success of its delivery strategy, but lately, that element of its business hasn't risen like a pizza crust in an oven. In fact, it's been more like an underbaked pie of late. The reason behind the slump in delivery sales isn't about a lapse in the pizza chain's ability to pump out the pies, though. It's more about difficulties in getting them to the people who placed the orders.
As Ranker explains, Domino's established itself nationally using a "30 minutes or less" guarantee on its pizza delivery in the 1970s. The restaurant chain ended that policy in 1993 (per Ranker), but by that time, Domino's had grown to thousands more locations and established a reputation for fast delivery. In the near three decades since Domino's made that policy change, the fast food chain has continued to provide delivery service, albeit without any time guarantee. As 2022 wanes on, providing that service has become more problematic for Domino's. One executive with the company says it is working on ways to overcome the difficulties.
Could changes be on the horizon for Domino's?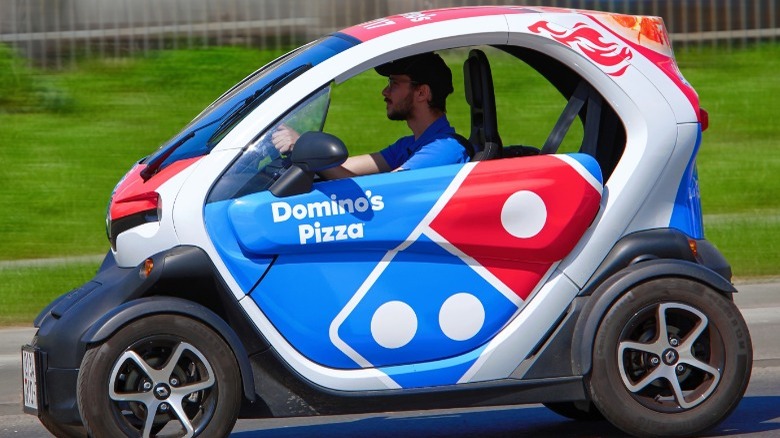 Tricky_Shark/Shutterstock
QSR Magazine shared comments that Domino's CEO, Russell Weiner, made during the company's recent earnings call. Weiner pointed to struggles in finding delivery drivers, elevated costs, and a downturn in orders as reasons behind questions over "whether it [Domino's] can return to fully meeting demand using its current delivery model." A February 2021 Restaurant Business article pointed out how Domino's sales spiked during 2020 due to people spending government stimulus payments on orders for its pan pizzas and other items. Weiner stated on the earnings call that sales have now returned to a more normal level. The Food Institute explains that food producers' inability to return to pre-pandemic levels of distribution is a major force behind restaurants like Domino's having higher costs. Essentially, these problems have come together like the toppings on a pizza to make life difficult at Domino's right now.
Weiner stressed that all options are on the table to address the situation. Restaurant Dive says Domino's is looking at making working as a delivery driver for the company more appealing, for starters, by making scheduling more flexible. Restaurant Business explains that Domino's Pizza hasn't ruled out potentially using third-party services like Door Dash and GrubHub to augment its delivery services. Some of Domino's competitors, like Papa John's, have already gone that way (per QSR Magazine). You might not see Domino's on Door Dash soon, but if the problems persist, it might not be entirely out of the question.