Survey Reveals 40% Of Americans Prefer This Frozen Yogurt Chain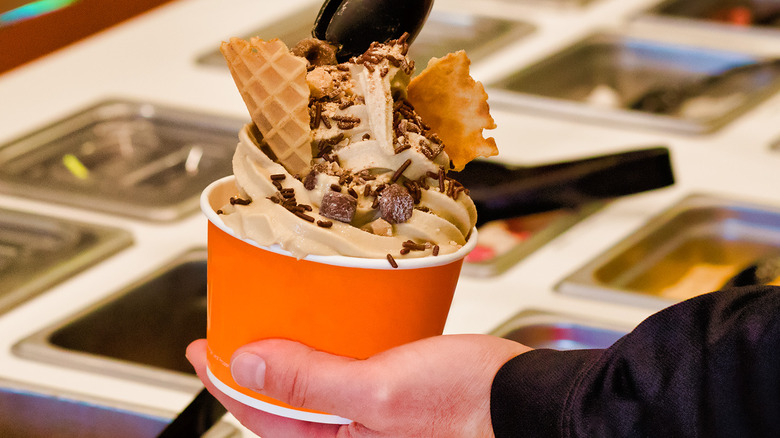 EvengiiAnd/Getty Images
Other than taking a dip in the pool, what's the best way to cool down in the summer? Eating frozen treats, of course! Refreshing and delicious, frozen snacks are perfect for warm weather, from popsicles to ice-cold cocktails (and if you like both, there are also alcoholic popsicles). That said, nothing beats a trip to your local frozen yogurt shop on a swelteringly hot day. With the self-serve format and tasty toppings galore, what more could you possibly want from a summer outing?
As Women's Health notes, some people opt for frozen yogurt because they consider it a better-for-you alternative to ice cream. "Ounce for ounce, frozen yogurt has about 25 fewer calories than ice cream — and only a third of the fat and saturated fat," dietitian Gabby Geerts, RD, said to the outlet.
But of all the frozen yogurt chains, which brand stands above all the rest? To uncover the answer, Mashed surveyed 526 participants across the United States. Between popular chains such as Pinkberry, Yogurtland, TCBY, Menchie's, and Sweet Frog, there was one very obvious fro-yo standout.
TCBY's frozen yogurt has been an American favorite since the 1980s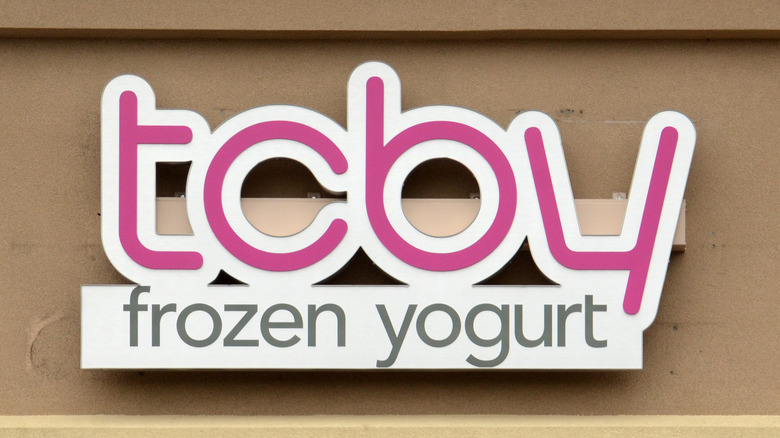 Susan Montgomery/Shutterstock
In the world of frozen yogurt, one chain reigns supreme: TCBY. A whopping 40.9% of the voters selected the Colorado-based chain as their favorite, making this the most popular chain by a landslide. Clearly, TCBY lives up to its title, "The Country's Best Yogurt." 
Yogurtland landed in a distant second place, receiving approximately 17% of the votes. Meanwhile, Sweet Frog, Menchies, and Pinkberry fell into the bottom three spots, garnering 15.5%, 14.6%, and 12% of the votes, respectively.
TCBY launched its first store in 1981, when the fro-yo craze was first amping up in the United States. TCBY quickly became wildly popular, so much so that there were already 100 TCBY locations scattered across the country by 1984, as noted by Frozen Dessert Supplies. Decades later, the fro-yo chain has been able to hold onto its devoted fan base, even offering gluten-free and dairy-free options.
But if you aren't fortunate enough to have a TCBY close by, fret not. Of all of the best frozen yogurt shops in America, there's guaranteed to be at least one near you.