The Fan-Favorite Cookie Chain 41% Of Americans Agree Is The Best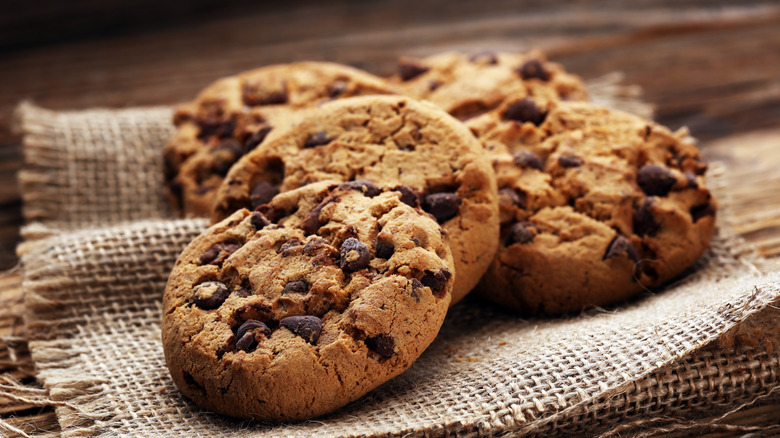 beats1/Shutterstock
While Cookie Monster might say C is for cookie, not all cookies are the same. Even if that sometimes treat brings smiles all around, one fan-favorite cookie chain rises to the top. It could be the aroma wafting in the air, the promise of a sweet, gooey center, or just a taste of childhood. No matter the reason, a freshly baked cookie is the pinnacle of sweet dreams.
A recent survey reported in the New York Post stated that the classic chocolate chip cookie is the flavor that most people want to pull from the oven. With brown sugar sweetness and a chewy, soft center, that treat could test many people's willpower. Although the Toll House chocolate chip cookies might be legendary, it is not the only option in the mixing bowl. Peanut butter, oatmeal, and other innovative flavor combinations can satisfy that sweet craving. When the decision is too hard to make, cookie companies have a bakery case full of options and whether you get two cookies or a baker's dozen, opting to buy instead of baking is sometimes worth the convenience. Still, one cookie chain has Americans making a special trip to indulge in that perfect bite.
Which fan-favorite cookie chain rises to the top?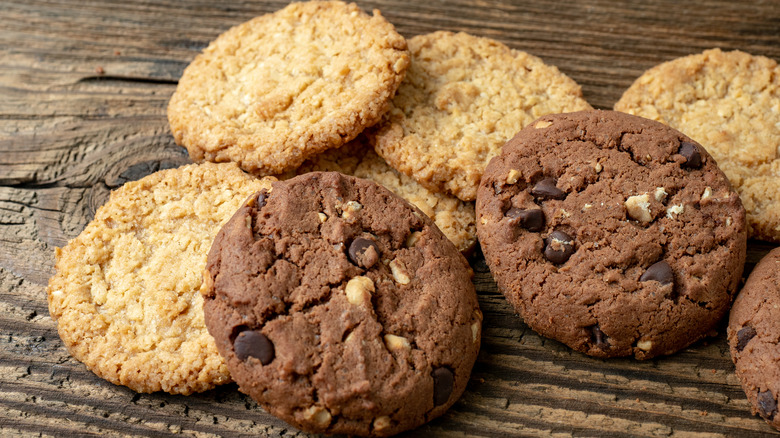 Lubos Chlubny/Shutterstock
While grandma's cookies fresh from the oven might bring the sweetest memory, sometimes all the ingredients are not within reach. Luckily, there are several well-known cookie chains that have been baking up tempting treats that satisfy that craving. But, which company earns consumers' blue ribbon for best cookie? 
According to a recent Mashed survey, 41.83% of total respondents picked Mrs. Fields as the fan-favorite cookie chain. While there have been some urban legends regarding the brand's infamous chocolate chip cookie recipe (via Snopes), the dessert company has been serving treats since 1977. From the chocolate chip cookie that started it all to new Gourmet Mega Cookies, the gift boxes are overflowing and our readers clearly love them.
Coming in behind Mrs. Fields as fan-favorite cookies chains are Crumbl Cookies (22.62%), Great American Cookies (19.39%), and Insomnia Cookies (16.16%). Looking at these findings, it is interesting that newer brand, like Crumble Cookies and Insomnia Cookies have found their audience amongst the classic companies. The strength of Crumbl Cookies' rotating menus and Insomnia Cookies' innovative flavors may appeal to a younger audience who are always looking for the next big flavor. In any case, it seems that there are plenty of desserts to go around. In the words of Cookie Monster, smile because cookie happened, and that is always good enough.