The Restaurant That's Completely Devoted To Cheese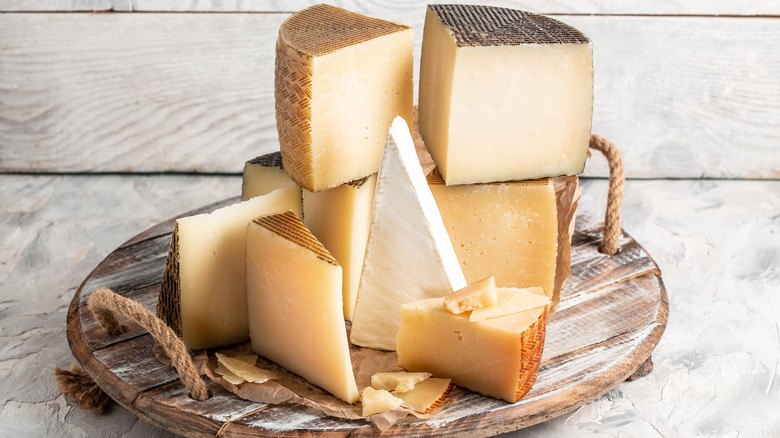 sweet marshmallow/Shutterstock
Whether you consider yourself a connoisseur of cheese, otherwise known as a "turophile," or a casual devourer of this curdled milk product, humans seem to share a universal appreciation for this dairy staple. With varieties ranging from firm parmesan to creamy brie and from the mild akkawi to sharp cheddar, there is something to suit every palate. Yes, somewhere deep inside you resides your inner Wallace (and his canine companion, Gromit), the part of you that would gorge upon the ooey-gooey goodness that is melted cheese at every opportunity. And you're not alone. 
Did you know that in 2020 the typical American gobbled up over 40 pounds of cheese (via Statista)? 40 pounds! That's a heck of a lot of cheese. Cheese is honored across the nation with festivals in California, Vermont, Oregon, Wisconsin, and Illinois (per Dummies). According to Taste of Home, cheese carver, Sarah Nep, has been transforming 40-pound slabs of cheese into masterpieces like a mayoral bust and the Three Little Pigs since 1986. There are magazines like Culture: The Word on Cheese and Cheese Connoisseur. And the Guinness World Record holder for the largest cheese sculpture was made in Louisiana, depicting an alligator chef cooking a turkey, which weighed over 3100 pounds. That's right — over 1 1/2 tons of cheese. 
There also happens to be a British eatery that is completely devoted to cheese. A miraculous thing, indeed.
The eatery started as a cheese truck
After starting its life as the Cheese Truck, a food vendor on wheels that famously dished out beloved grilled cheese sandwiches, it has now transformed into a full-on brick-and-mortar eatery that, according to TimeOut, now serves "all manner of cheese-based delights." Welcome to The Cheese Bar. With a menu that boasts five-cheese macaroni, cheesy truffle fries, grilled British Halloumi, cheese puffs, and an impressive selection of cheese boards, a tolerance for lactose must surely be required.
When they say "cheese," they mean it. And they don't use the term "bar" lightly either. Replete with a healthy selection of wines, beer, and cocktails, you are bound to find the perfect pairing for your cheese-centric dish. Named one of the best restaurants in Camden and one of the best places to buy cheese in London by Eater, this dairy-based utopia is quickly making a name for itself. And on the heels of The Cheese Bar's success, they have opened two more dining establishments. The Pick & Cheese boasts the "world's first cheese conveyor belt" and The Cheese Barge is a double-decker boat that includes a roof-top terrace (via The Pilgrm). 
While there are plenty of opportunities on this side of the Atlantic to satiate your craving for cheese, it's hard not to be tempted by a restaurant dedicated solely to this dairy product. Plus, it may 'brie' a 'grate' way to have a gouda meal (eye rolls welcome).