7-Eleven Might Have '3,000 Ways' To Customize Your PSL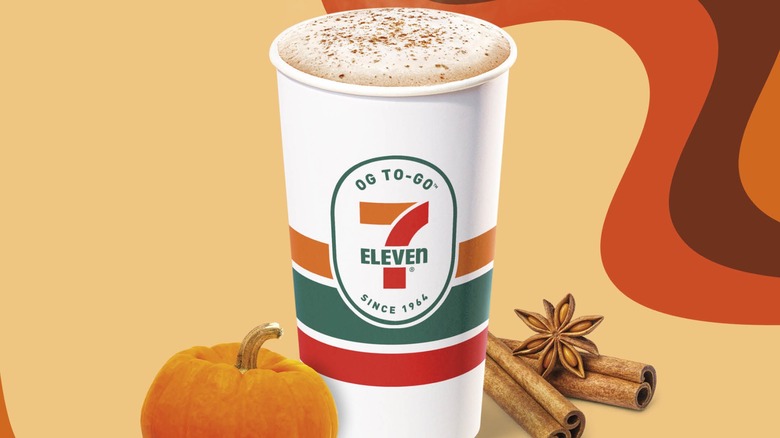 7-Eleven
As the weather starts to get cooler and the leaves start to fall, people's taste-buds start to salivate for all the comfort foods related to long nights indoors. The very words pumpkin spice might even bring you a sense of relaxation — you can almost smell the cinnamon in your nostrils and taste the sweetness on your tongue.
It's also the time of year that just about every coffee house out there competes for customers with their pumpkin-spiced lattes. Of course, for those who are bewildered by why people seem so addicted to this concoction, it might help to understand that despite the name, there's no actual pumpkin in any of these drinks, per Better Homes & Gardens. The name comes purely from the spice mix that is used in pumpkin dishes such as pumpkin pie. The most prominent spices in this mix are cinnamon, ginger, and nutmeg.
You may be surprised to hear that it's been almost twenty years since the signature Starbucks Pumpkin Spice Latte debuted, which caused an explosion of other outlets to produce similar tasting products for their customers. Now, 7-Eleven has a new spin on the classic that could change everything
Start your pumpkin spice latte season early at 7-Eleven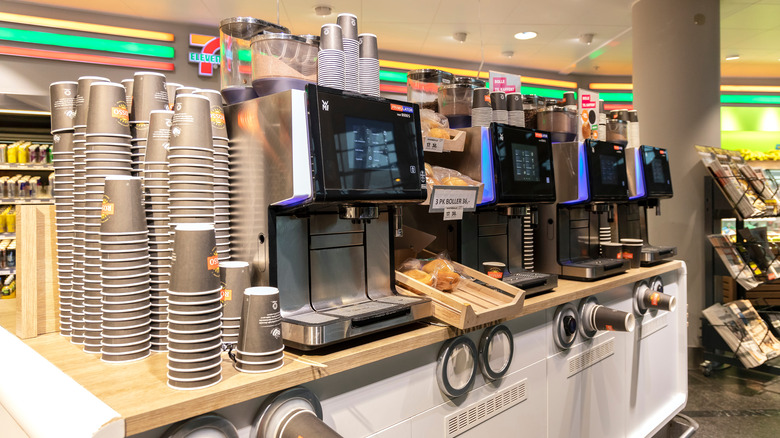 jukurae/Shutterstock
One of the big advantages of getting your Pumpkin Spiced Latte at 7-Eleven is not only the price but the fact that you become your own barista and customize that drink any way you like it. Dennis Phelps, 7-Eleven's Proprietary Beverages Senior Product Direct said, "We like to take the Pumpkin Spice Latte one step further by encouraging our customers to take their cup of joe into their own hands with more than 3,000 ways to customize their beverage" (via FoodSided).
Oddly enough, despite these spices being available year-round, most coffee houses hype them up for pumpkin spice latte season. During Last Week Tonight, John Oliver said, "Pumpkin spiced foods seem to grow — inexplicably — more omnipresent every year ... The worst part is no one wants anything pumpkin flavored from December through August, and here's how I know that — you can have it whenever you want" (via YouTube).
For those who are looking forward to the offering, the return of 7-Eleven's fall coffee drinks is here to help. From August 5th, the store has both the Pumpkin Spice Latte and Pumpkin Spice Coffee for a limited time, per a press release.