This Might Be The Exact Date 7-Eleven's Fall Coffee Drinks Return In 2022
Although winter may bring flavors of peppermint and summer offers strawberry-flavored bliss, many people are most enchanted by the seasonal flavors of fall. Of course, while food brands like Pop-Tart find themselves getting in on the limited-edition fall flavor fun, the taste of autumn is most renowned for being sipped in coffee cups.
Many coffee fans look to the likes of Starbucks and Dunkin' for their fall-inspired drinks. But coffee fanatics can't count out 7-Eleven as a prime hookup for autumn-influenced flavors. After all, the convenience store sells more than 1 million cups of to-go coffee drinks every day (per the South Florida Reporter); it's obvious the chain is a pretty big contender in the coffee game.
And each year, 7-Eleven pleases its customers with its pumpkin spice latte and pumpkin-flavored coffee. The only question is: When will it bring its well-adored fall drinks back this season? Fortunately, 7-Eleven's fall coffee fans will no longer have to endure not knowing when their favorites will return to tantalize their taste buds. After carefully reviewing the dates that 7-Eleven has brought its drinks back in the last three years, we have a solid estimate of the exact day the chain's pumpkin coffees will be back in stores.
Prepare to delight in 7-Eleven's fall coffee drinks on the first day of autumn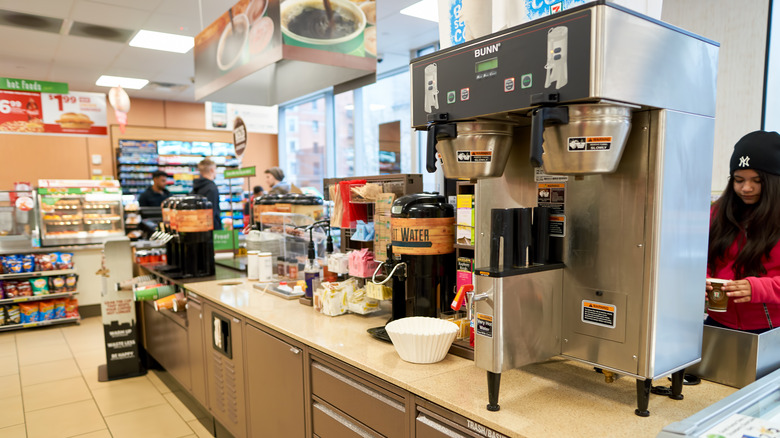 Sorbis/Shutterstock
According to a press release from the company, 7-Eleven's pumpkin flavored coffees came back on August 14 in 2019. But the next two years, 7-Eleven seemed to backtrack and saved the autumn favorites for further into the fall. Per Delish,the limited-edition coffees made their triumphant return on September 2 in 2020, and Thrillist noted that they were available in 2021 starting on September 16.
With all of this in mind, it seems that 7-Eleven has been consistently planning its fall drinks' return for a more seasonally appropriate date. And this year, fall begins on September 2 — the same day we expect 7-Eleven to start selling its pumpkin coffee flavors. It appears the chain has slowly been moving its release date closer to the actual beginning of fall each year. (Of course, only time will tell if our suspicions are on the mark.)
But while you're waiting for September 22, you can still enjoy 7-Eleven's sips of summer. In April, 7-Eleven released three new slushies: Vitaminwater XXX: acai-blueberry-pomegranate, Mango Lemonade, and Blood Orange, that may be able to satisfy eager fans until the fall rolls around.