Why You Should Think Twice About The Cherry Pie Filling At Cold Stone
Cold Stone Creamery has been a major competitor known for tasty ice cream since its inception in 1988, per the company's website. Founded by Donald and Susan Southerland, the frozen dessert chain creates all of its ice creams in-house, making it super simple to request exactly what your taste buds require from the base to those all-important mix-ins. As the brand revealed via PR Newswire, the most popular flavors in 2020 (in order) were Cake Batter™, Chocolate, French Vanilla, Sweet Cream, Cheesecake, Coffee, Strawberry, Mint, Classic Cookie Dough, and Cotton Candy. In January 2022, the company began offering its first vegan flavor, Silk Chocolate Almondmilk, a collaboration with Silk brand dairy-free milk (per VegNews).
With so many flavors to choose from, there has to be one that's not as big of a hit to customers. A worker for Cold Stone Creamery decided to reveal what it is and why you shouldn't order it.
One Cold Stone crew member shared a warning on Reddit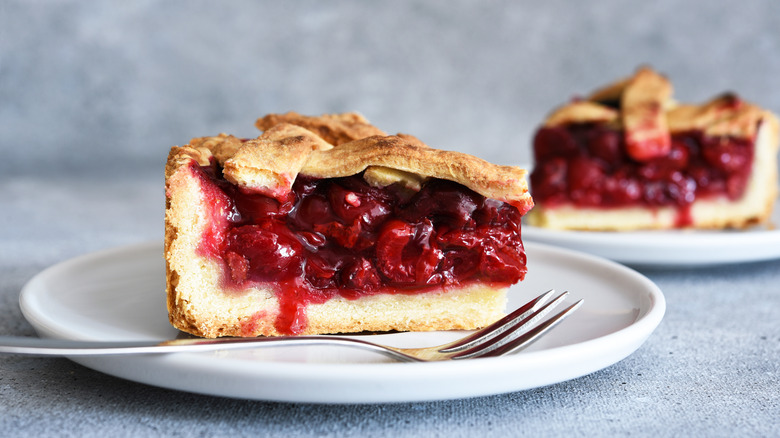 zefirchik06/Shutterstock
When a Cold Stone Creamery lead employee created a Reddit post prompting readers to ask them questions, one person commented, "What is the least popular topping? Which in your opinion is the least appealing?" The Redditor replied, "Cherry pie filling is the least popular and least appealing. Being it's the least popular it will sit out the longest." They also advised that ingredients that aren't meant to be in the batch sometimes fall in, such as "pie crust" and "almonds."
The Cold Stone worker seemed to stick with the idea that flavors that sit out the longest shouldn't be ordered. When one commenter asked, "Is Heath Bar or Butterfinger the best ingredient?" they responded, "Butterfinger is one of the least ordered so I would go with heath." They also shared that their personal favorite ingredient is "whipped topping mixed in." For fans of the brand: worry not. Cold Stone Creamery is busting at the seams with toppings and fillings, so chances are you'll find one that you enjoy. But if they're out of your favorite flavors, don't resort to violence as one customer did in Grosse Pointe, Michigan (per Fox 2 Detroit).