Barely 5-Ingredient Yellow Rice Recipe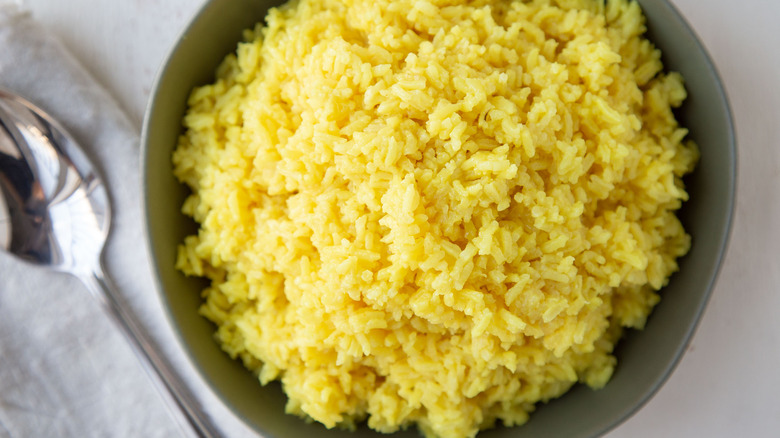 Kate Shungu/Mashed
There's no doubt that rice is a jack of all trades. First off, rice goes well with every single protein on the planet. It can be a base for a great main course but also works as a side. Even if you just want a healthy serving of vegetables, guess what it goes well with? Rice, of course! We should also mention that rice is really affordable. This recipe is superb because it amps up the flavor without amping up the hassle out of making rice, requiring just five ingredients. Even with a grocery list you can count on one hand, the dish still boasts a great taste (and color), and it's also plenty filling.
Recipe developer Kate Shungu is the mastermind behind this rice, and she shares her favorite part. "I love how simple the rice is to make, yet it looks really impressive. People always wonder how it gets so yellow!" Shungu says. "I recommend serving this as a side dish for chicken, fish, pork, or beef. I personally like serving it with chicken kabobs on the grill." Like we said — the possibilities are endless.
Gather the (barely 5) ingredients for this yellow rice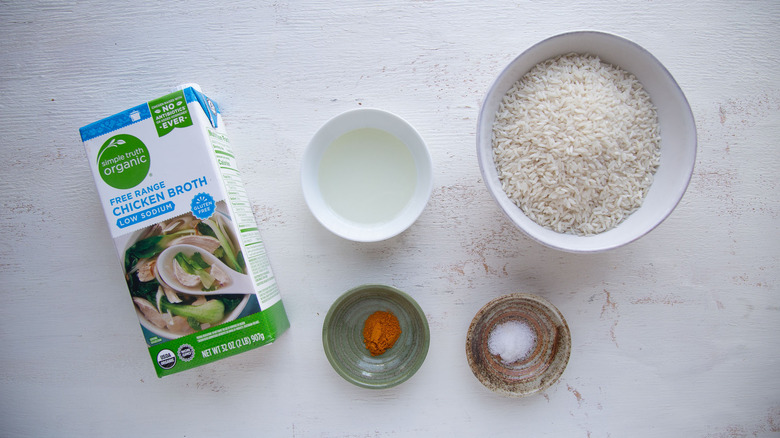 Kate Shungu/Mashed
You don't need a lot for this recipe, but make sure you have it all before starting. For this recipe you will need white rice, vegetable oil, low-sodium chicken broth, turmeric, and salt. "Most yellow rice recipes have much longer ingredient lists. this one has only three (if you don't count the oil and salt!)," Shungu notes.
Rinse the rice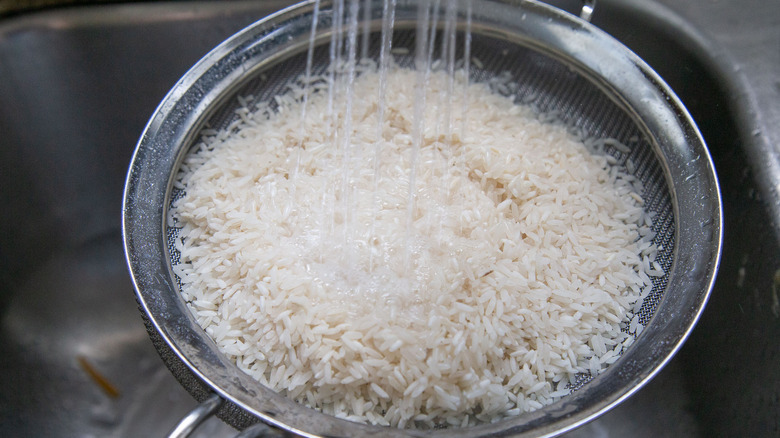 Kate Shungu/Mashed
Dump the rice into a mesh strainer and give it a good rinse under the sink. This will remove any impurities as well as some excess starch. Be sure to let the rice drain before you move on to the next step.
Toast the rice in oil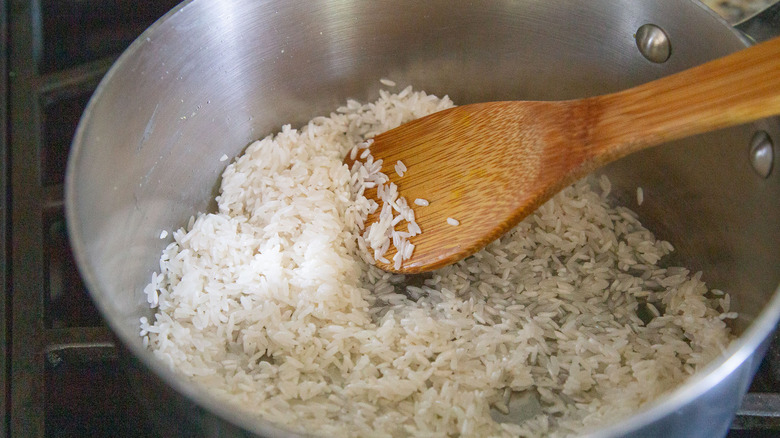 Kate Shungu/Mashed
Next, you will need to grab a saucepan and place it on your stove. Drizzle in the vegetable oil and then turn the heat to medium. Toss in the rice and cook the 2ingredients together for about 2 minutes. Make sure to stir every now and then, letting the rice get lightly toasted.
Add the chicken broth and turmeric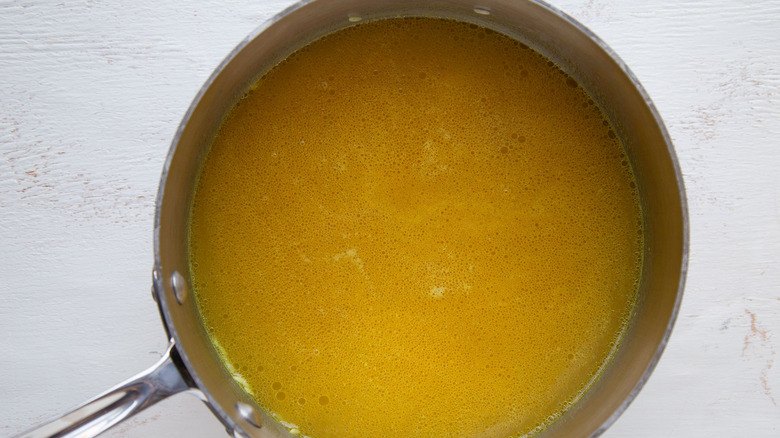 Kate Shungu/Mashed
There are still a few more things that you will need to add to the mix. Add the chicken broth first, followed by the turmeric and salt. "Water can be substituted for chicken broth. Increase the salt to 1 teaspoon if using water," Shungu advsises.
Bring the mixture to a boil. Once you see bubbles at the top, reduce the heat to low. Pop a cover on the saucepan and let the rice cook for about 20 minutes.
Remove from heat and serve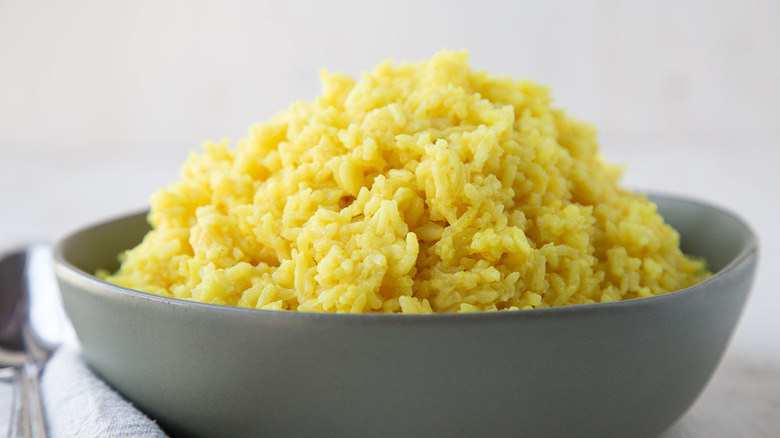 Kate Shungu/Mashed
Once the 20 minutes have passed, remove the rice from the heat and let it sit for an additional 5 minutes. Use a fork to fluff the rice, and then serve it.
Have leftovers? They'll keep for about 4 days, and Shungu has a trick to reheat them: "Reheat it in the microwave with the ice cube trick. Place a pile of rice on a plate, top with an ice cube, cover, and microwave for 1 to 2 minutes. The ice cube won't melt and instead steams the rice perfectly."
Barely 5-Ingredient Yellow Rice Recipe
A certain spice is responsible for the vibrant yellow hue that this rice takes on as it cooks. Other than that and the rice, you'll just need 3 pantry staples.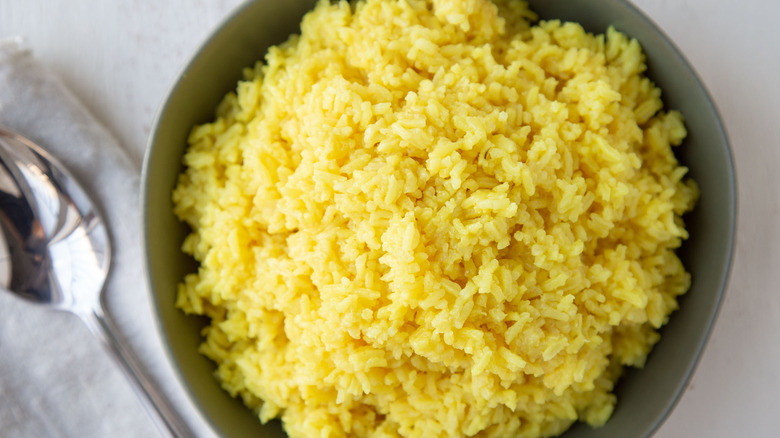 Ingredients
2 cups white rice
2 tablespoons vegetable oil
4 cups low-sodium chicken broth
½ teaspoon turmeric
¾ teaspoon salt
Directions
Place the rice in a mesh strainer and rinse. Let drain.
Pour vegetable oil into a saucepan and heat over medium heat. Add the rice and cook for 2 minutes, stirring occasionally, until lightly toasted.
Pour in the chicken broth, then add the turmeric and salt. Stir to combine. Bring the mixture to a boil, then reduce the heat to low and cover.
Allow rice to cook undisturbed for 20 minutes.
Remove from the heat and let sit, still covered, for 5 minutes. Uncover and fluff with a fork. Serve immediately.
Nutrition
| | |
| --- | --- |
| Calories per Serving | 302 |
| Total Fat | 6.0 g |
| Saturated Fat | 0.7 g |
| Trans Fat | 0.0 g |
| Cholesterol | 0.0 mg |
| | |
| --- | --- |
| Total Carbohydrates | 53.7 g |
| Dietary Fiber | 0.1 g |
| Total Sugars | 0.2 g |
| Sodium | 339.4 mg |
| Protein | 7.5 g |