The Real Reason Olivia Newton-John Went Vegan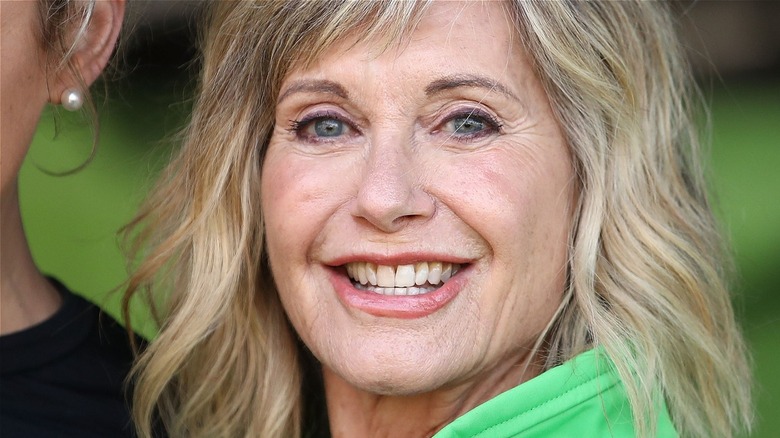 Scott Barbour/Getty
Following a 30-year battle with breast cancer, the multi-faceted pop singer Olivia Newton-John died at her Southern California ranch at 73. Initially diagnosed in 1992, the same weekend she lost her father to cancer, Newton-John went into remission before her cancer resurfaced again in 2017. Her death was announced by her husband, John Easterling, on August 8 (via the New York Times).
The four-time Grammy winner is well known for her role as Sandy, the girl-next-door turned sex kitten in the musical "Grease." The 1978 movie broke box office records, while the best-selling album still has fans belting out "Hopelessly Devoted To You." Following her success with "Grease," Newton-John sat at the top of Billboard's "Hot 100" with her hit "Physical" and solidified her image of health and strength as she danced around the gym in her leotard in the song's music video.
After undergoing a partial mastectomy with breast reconstruction, the Aussie actress tried aggressive treatments like chemotherapy and radiation to battle her cancer. Once cancer returned, Newton-John turned to alternative therapies like herbs, meditation, and medical marijuana, thanks to the cannabis farm her daughter, Chloe Lattanzi, owns. According to Veg News, Lattanzi also influenced her mom's diet. Newton-John adopted Lattanzi's vegan lifestyle, eating a plant-based diet. She told Closer Weekly, "now I'm eating vegan and feeling very good."
Newton-John's plant-based lifestyle led the singer and her husband, John Easterling, to launch the "Olivia Newton-John Foundation Fund," which supports plant-based medication research to give cancer patients more treatment options.
The medical benefits of a vegan lifestyle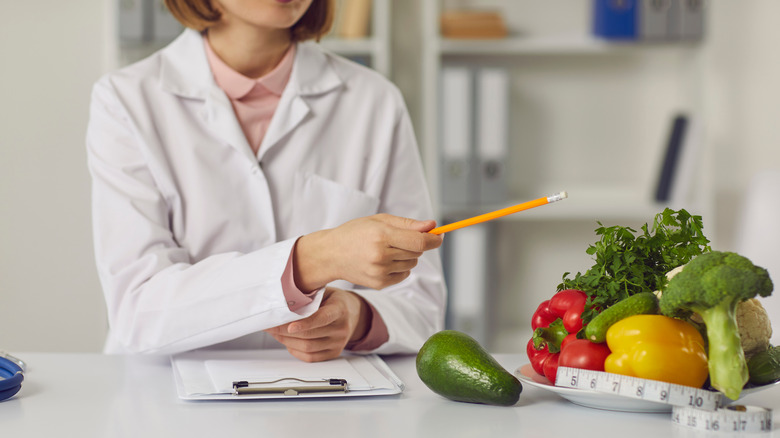 Studio Romantic/Shutterstock
Researchers have tried to find a correlation between cancer and our diets for decades. That could mean some cancers could be preventable by adopting a healthier diet and lifestyle compared to the current medical model where the disease is treated. Although the medical community thinks more research is needed, a study conducted with 70,000 U.S. volunteers found that those who don't eat meat had a lower rate of cancer than meat eaters. Furthermore, those with vegan diets (not eating animal bi-products like meat, fish, and dairy) had the lowest cancer rate of any diet (per Mayo Clinic). 
Similarly, a 2021 study by the Catalan Institute of Oncology, the World Health Organization, and the Imperial College in London analyzed the effects of meat, dairy, and processed sugar on the bodies of 318,686 females, over a year. The study concluded that these inflammatory-inducing foods increased a woman's risk of breast cancer by up to 12%. On a smaller scale, with more alarming statistics, a study by the International Journal of Epidemiology found that consuming a glass of high-fat dairy can increase women's chances of breast cancer by more than 50%.
Although these studies are promising, convincing Americans to stop eating meat is problematic. The American diet is centered around animal bi-products, with the average person consuming 274 pounds of beef annually. In addition to a plant-based diet, Physicians Committee for Responsible Medicine suggests limiting alcohol, exercising, and maintaining a healthy weight to minimize cancer risks.