In Tom Colicchio's Career, One Recipe Stands Above The Rest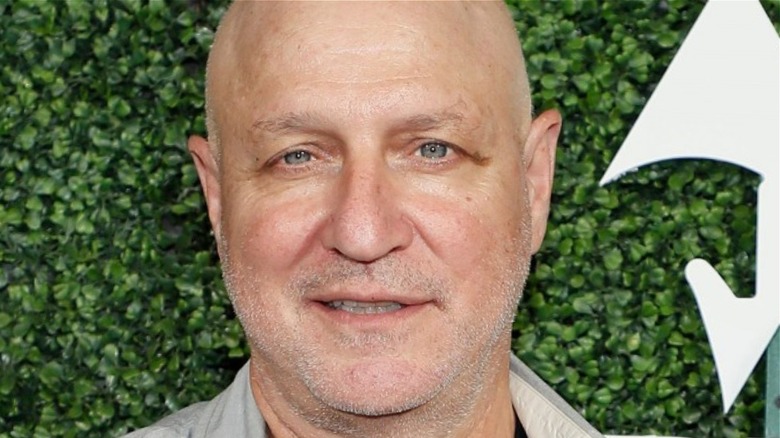 Paul Morigi/Getty
After a long day, many people take comfort in putting on fuzzy slippers and eating a bowl of mac and cheese while curled up on the couch. Tom Colicchio, celebrity chef, restaurateur, and "Top Chef" judge since 2006, however, has said that his "ultimate comfort food" is steak. That's no surprise coming from a man whose restaurants in New York and Las Vegas boast meat in a starring role on their menus.
Other dishes Colicchio is known for, based on his eateries' offerings, are Italian-leaning dishes with a New American influence, such as risotto, pasta, and seafood. He also wrote the book (literally) on making the perfectly balanced sammie: ""wichcraft: Craft a Sandwich into a Meal — and a Meal into a Sandwich." Still, one dish stands out as his signature, according to TheRecipe. The simple plate — made from a relatively inexpensive cut of meat with a high fat content — features techniques by Colicchio that take it to the next level.
Braised short ribs are Colicchio's specialty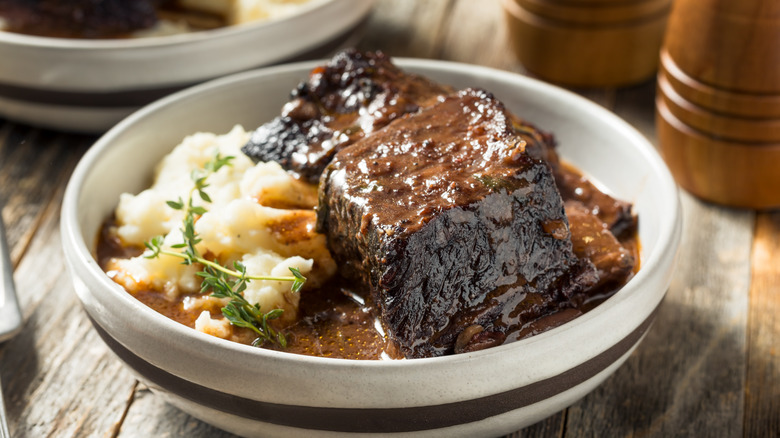 Brent Hofacker/Shutterstock
TheRecipe names Colicchio's braised short ribs as his signature dish, and it's not hard to see why. First, according to Food & Wine, the "Top Chef" star is "a master with meat," and his short ribs are a popular order at his Craft restaurants in various cities. What makes Colicchio's short ribs different from the rest, the article says, is that he marinates the browned meat and mirepoix (onion, carrot, and celery) in wine and herbs overnight, then swaps out the marinated vegetables for fresh ones during the braising process. Braising meat in a flavorful liquid for hours causes it to fall off the bone in tenderness, whether you're working with lamb shank or pork shoulder.
After a little over two hours in the oven, Colicchio's short ribs are ready to be served just like your other favorite braised meats: over risotto, mashed potatoes, polenta, or even shredded up and tossed with pasta — anything creamy and neutral to appreciate the deeply savory flavor of the beef. If you want to try it at home, food blogger and Mashed contributor Mikayla Marin has shared Colicchio's braised short ribs recipe with a twist, anticipating fall by adding turnips and swapping out Colicchio's carrots for butternut squash.