Flavorful Steamed Crab Legs Recipe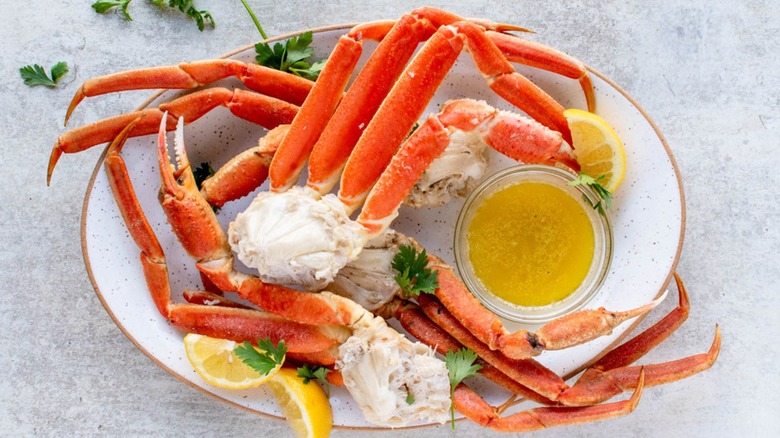 Michelle McGlinn/Mashed
While there are a number of different types of crab you can eat, usually when you see a restaurant offering all-you-can-eat crab legs, these are likely to be snow crab, which is the kind we're using here. (King crab legs, while similar, tend to be a lot pricier.) Recipe developer Michelle McGlinn calls steaming crab legs "an easy, delicate method to cook [them]," and says that the wine and tarragon she adds to the steaming liquid "impart ... a delicious flavor into the crab legs." Tarragon, she says, adds "a beautiful, floral flavor when paired with dry white wine," and says that making these additions "certainly feels fancy."
As for why she likes to steam crab legs as opposed to boiling or broiling them, she says "no method is better or worse for crabs; it just depends on your preference in the taste and texture." She does say, though that she feels "steaming offers a more delicate taste and texture" and makes for "a softer crab that [is] great for pairing with compound butters and herby toppings." She also notes that "steaming is an easy method that allows for foolproof cooking, so you will not have under or overcooked crabs."
Mouth watering yet? Read on to find out how to make these delicious crab legs.
Here's what you need to make steamed crab legs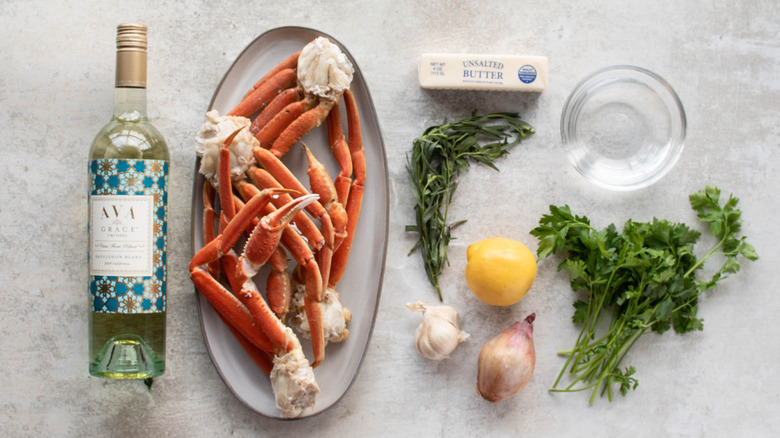 Michelle McGlinn/Mashed
As mentioned, the crab legs you'll be using here are from snow crabs — sold pre-cooked. If the only ones you can find are frozen, that's okay as long as you thaw them before steaming. You will also need butter, a shallot, fresh garlic, white wine, water, and tarragon for the broth. While McGlinn uses fresh tarragon, she says you can use the dried stuff if necessary. She does point out, though, that "it is actually a stronger flavor and should be used more sparingly," suggesting that 2 tablespoons of dried tarragon should be sufficient to season the broth.
The recipe begins with seasoned broth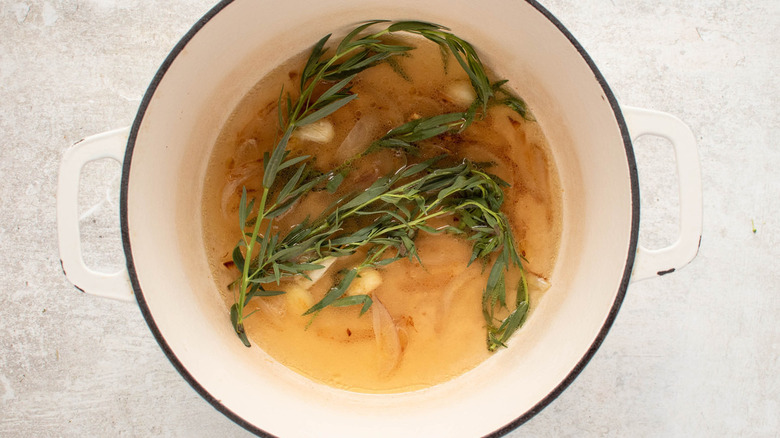 Michelle McGlinn/Mashed
Melt 2 tablespoons of the butter over medium heat, then sauté the garlic and shallots, stirring all the while, until they begin to soften and smell garlicky (and shalloty, if that's a thing). Deglaze the pan with the wine, being sure to scrape up all the browned bits from the bottom. Add the water and tarragon, then bring the liquid to a simmer.
Steam the crabs over simmering broth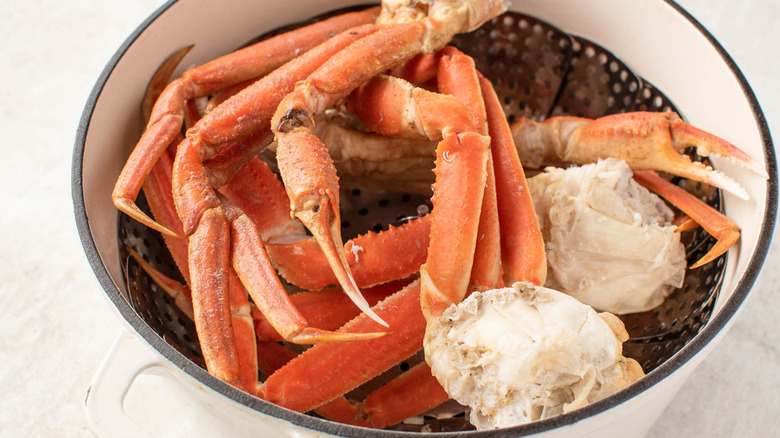 Michelle McGlinn/Mashed
As the broth starts to simmer, wipe the crab legs with a damp cloth. While McGlinn notes that crab legs are generally pre-cooked and thus unlikely to have any unwanted gunk clinging to them, she says, "I like to clean them just in case there is any leftover sand, dirt, or ocean debris."
Put a steamer basket in the pot and fill it with the crab legs. Cover the pot and let the crab legs steam for 5 to 7 minutes. There's no need to worry that the pre-cooked crab will be underdone, but you do want it to be warmed up. As McGlinn advises, "Check for doneness by smelling for fresh crab aroma or cracking open a small leg and checking for steam."
Eat the crabs with melted butter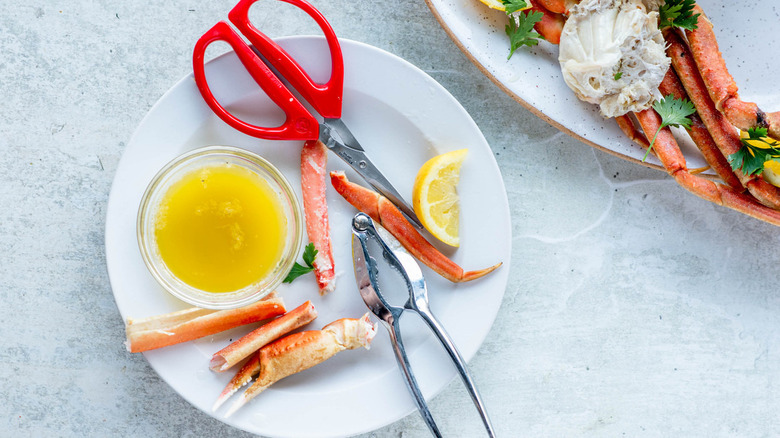 Michelle McGlinn/Mashed
Melt the rest of the butter and use it for dunking the crab legs after you crack open the shells. You can also sprinkle the crab legs with parsley and/or squeeze some fresh lemon juice over them. While these latter two ingredients are optional, McGlinn really recommends the lemon in particular, as she says it "makes a big difference and pairs really well with the tarragon, wine, and shallot used in the steaming."
McGlinn notes that "crabs aren't super filling," so she suggests you either use them as an appetizer or pair them with hearty sides such as fries or pasta. In fact, if you opt for pasta, she points out that the steaming broth could be put to good use as a base for a sauce.
Flavorful Steamed Crab Legs Recipe
Steaming crab creates a more delicate taste and texture than other heating methods. And when you flavor that steaming liquid with tarragon? Even better!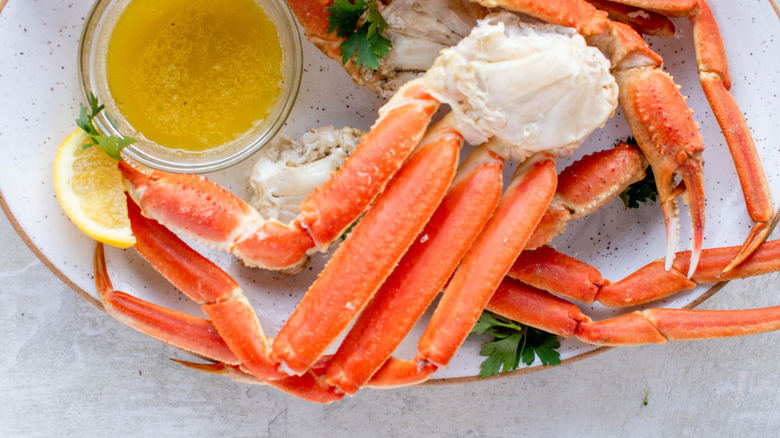 Ingredients
6 tablespoons butter, divided
1 shallot, peeled and sliced
4 cloves garlic, peeled and crushed
½ cup dry white wine
½ cup water
4 sprigs fresh tarragon
2 pounds snow crab legs (about 4 to 6 clusters)
Optional Ingredients
½ lemon
parsley, roughly chopped
Directions
Melt 2 tablespoons of butter in a large pot over medium heat.
Sauté the shallot and garlic for 3 to 4 minutes until softened.
Deglaze the pan with the wine, scraping any browned bits from the bottom.
Add the water and tarragon to the pan and bring the liquid to a simmer.
Wipe the crab legs with a damp cloth.
Set a steamer basket over the simmering liquid and place the crab legs in the basket.
Cover the pot and steam the crab fo 5 to 7 minutes until they are warmed through. To check for doneness, crack open a small leg and check for steam.
Melt the remaining butter in a separate bowl.
Cracked open the crab legs and serve with melted butter for dipping, adding a squeeze of fresh lemon juice and parsley if desired.
Nutrition
| | |
| --- | --- |
| Calories per Serving | 395 |
| Total Fat | 19.9 g |
| Saturated Fat | 11.5 g |
| Trans Fat | 0.7 g |
| Cholesterol | 222.7 mg |
| | |
| --- | --- |
| Total Carbohydrates | 5.2 g |
| Dietary Fiber | 0.7 g |
| Total Sugars | 1.5 g |
| Sodium | 672.9 mg |
| Protein | 42.1 g |