What Happened To Bon Affair After Shark Tank?
"Shark Tank" helps aspiring entrepreneurs take their inventions to the next level. Promising entrepreneurs must pitch their ideas and be ready to answer hard-hitting questions from the Sharks (aka investors). The show has a pretty high success rate, even without the entrepreneurs securing a deal. Hustle Story reported that 80% of businesses in Seasons 5-9 made a profit.
Jayla Siciliano pitched her company, Bon Affair, to the Sharks in Season 5, episode 28. The show aired on May 9, 2014 (per Shark Tank Products). Mark Cuban was the sole shark interested in investing and offered Siciliano exactly what she asked for: $135,000 for a 35% stake in the company. 
Before Siciliano entered the tank, she'd only sold $11,000 worth of product. (Granted, she had only been selling her product for six weeks.) Her wine was sold at 10 Whole Foods locations throughout California prior to the show, according to the Shark Tank Blog. But how is Bon Affair doing now?
A better-for-you wine spritzer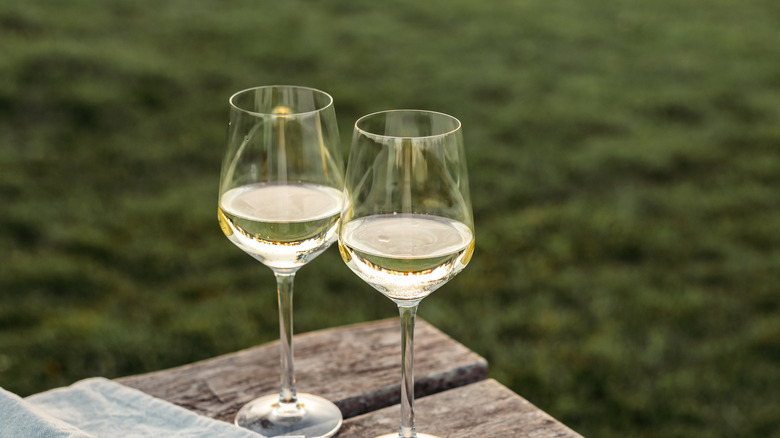 Slava Zolotko/Shutterstock
The concept behind Bon Affair's products was to provide a wine spritzer that has half the calories of a glass of wine and is filled with electrolytes that won't leave you feeling sluggish. Siciliano wanted a wine to fit her health-conscious lifestyle, per the Shark Tank Blog.
Siciliano developed the wine after working as a product expert for Burton Snowboards. She attended many work functions and began adding soda water to her drinks to not feel hungover the next day. She loved the feeling the spritzers gave her, but not so much the taste. According to Wine.com, Siciliano set out to create her own wine spritzer with added electrolytes.
The two wine flavors are a white wine Sauvignon Blanc and a red wine Syrah; her wine has no added sugars and a 6.5% ABV. Total Wine and More describes the white wine spritzer as light and refreshing with notes of citrus, pear, and peach.
Bon Affair remains a strong contender in the alcoholic beverage space
After appearing on "Shark Tank" in 2014, Jayla Siciliano appeared on "Beyond the Tank" in 2016. This show follows up on those who snagged a deal and those who were not so lucky to see how they're faring post "Shark Tank."
By 2016, Bon Affair had a 500% increase in sales. The problem was that all of the money needed to be reinvested, rendering the business not profitable. When Siciliano re-appeared on "Beyond the Tank," she was gearing up to meet with a large winery that could help her with the distribution. The problem? She'd need to devalue the other investors' shares to offer equity to a new investor. Mark Cuban advised her to offer the distributor the equity on the condition that the new investors meet a sales requirement. Even though she was nervous, she talked with the distributors, eventually reaching a deal.
According to Startup Entrepreneurship, the company is still going strong, raking in an annual revenue of $5 million. Bon Affair's sauvignon blanc is available for purchase on Drizly and Total Wine and More's websites. However, the wine appears limited or unavailable in certain parts of the country.