Eva Longoria Reveals Her Secret To Avoiding Hunger During A Red Carpet Event - Exclusive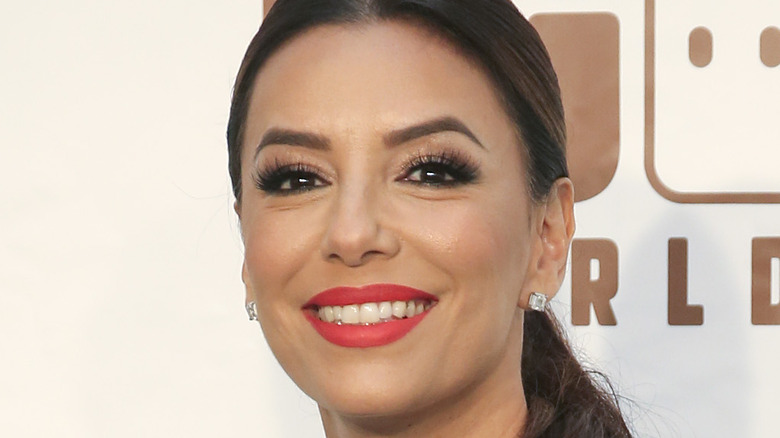 Daniel Perez/Getty Images
We may receive a commission on purchases made from links.
Eva Longoria is a veteran when it comes to walking the red carpet — the actress has appeared in dozens of television shows and movies, like "Desperate Housewives" and "Dora and the Lost City of Gold." Longoria also works behind the camera as a producer and director, which means she's attended many events for her various projects. While promoting the 2022 Pillsbury Bake-Off that ends on August 14, she told Mashed in an exclusive interview that getting ready for these red carpets can take multiple hours, which can leave her feeling very hungry.
The style icon admitted that because of this, she's recently changed her go-to snack before an event. "I used to eat pizza right before a red carpet because you don't eat for like seven hours," Longoria revealed. "There's no food and you're like, 'I'm starving,' so I would load up on carbs. Now, I can't do that, because then my dress doesn't fit. Usually I have a Snickers bar or something in my purse to last me through the night."
When she's not owning the red carpet, the Golden Globe nominee is also a whiz in the kitchen — and she let us know some of her favorites there, too.
Longoria shares her favorite Pillsbury recipes to make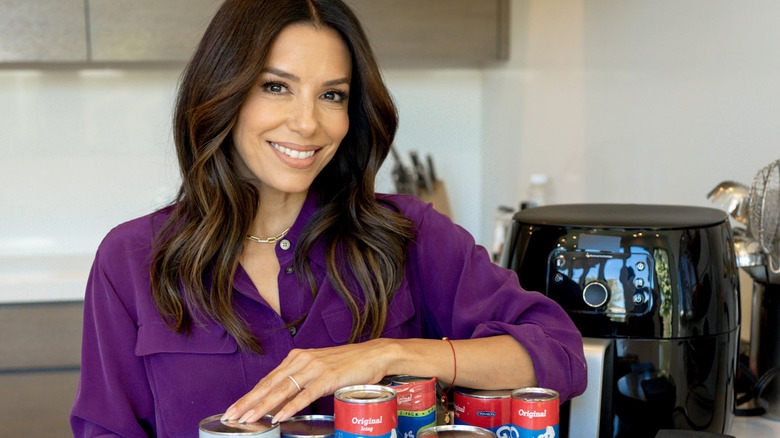 Pillsbury
Eva Longoria revealed that she grew up with Pillsbury and was excited to partner with them this year for their contest, where participants can win $50,000 by submitting an original recipe that uses an alternative cooking method like an air fryer, grill, griddle, or slow cooker. The actress said her favorite foods to make with the iconic brand are her crescent roll quesadilla pockets, which she makes in the air fryer, and cinnamon rolls with a cream cheese glaze that she cooks in the waffle iron, which her 4-year-old son loves.
"It's Santi's favorite, because he likes waffles," Longoria said. "I've always loved the cinnamon rolls and that frosting that comes with it. To use the waffle iron, it was so easy, so fast, [and] you feel like you're a gourmet chef."
The producer revealed that if you win the competition, you also have a chance to donate to a good cause. "As long as you use a Pillsbury product outside of the oven, you have a chance to win $50,000 as a cash prize, as well as $50,000 to donate to a participating charity of your choice," she said. "I was like, 'Wait, I get to cook and eat and win money and donate money?' It was a win-win-win."
To participate in the Pillsbury Ovens Off Bake-Off Contest you can visit their website. Eva Longoria's cookbook "Eva's Kitchen: Cooking with Love for Family and Friends" is available on Amazon.