Beat Bobby Flay Is Celebrating A Major Throwback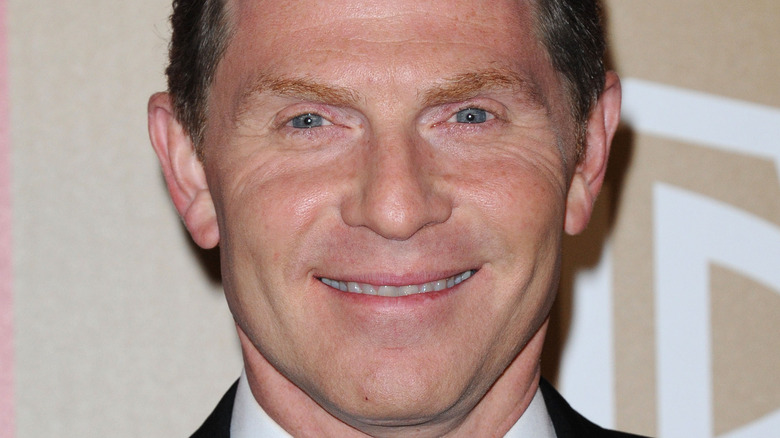 DFree/Shutterstock
For more than two decades now, Bobby Flay has been a food industry icon. His Food Network shows have included "Grillin' and Chillin'," "Hot Off the Grill," "Boy Meets Grill," "Beat Bobby Flay," "Bobby Flay's Barbecue Addiction," and "Brunch @ Bobby's." In addition to hosting his own shows, Flay has also appeared on "Food Network Star" and "Iron Chef Gauntlet."
The first season of 'Beat Bobby Flay" aired in 2013. Each episode pits two talented chefs against each other, the winner moving on to battle Bobby Flay himself. Per IMDb, the show has been judged by many of our other favorite chefs, including Sunny Anderson, Alex Guarnaschelli, and Michael Voltaggio.
Episode 4 of season 32 airs on August 11 at 9/8c and promises to be memorable. In homage to the first episode, the show is bringing back the first two judges. So who is hoping to take down Bobby Flay this time?
2 more Food Network stars join Bobby Flay
Beat Bobby Flay's pilot episode in 2013 introduced us to chefs Sarah Grueneberg and Alberico Nunziata. These chefs, who have since both gone on to become executive chefs, were judged by two familiar faces: Alex Guarnaschelli and Jeff Mauro.
The latest episode of "Beat Bobby Flay" brings back these two judges, this time to join chefs Kathy Fang and Natascha Hess in a pickle-themed cooking competition (via Food Network). Food Network announced the news on Twitter, with a clip of Flay introducing Guarnaschelli and Mauro as "two chefs that want to see me crash and burn."
At the end of the clip, Flay shares a flashback to the first ever episode, when Grueneberg was crowned champion. Guarnaschelli says to Mauro, "You and I really beat Bobby Flay because we picked the right person." It's pretty safe to say that Guarnaschelli and Mauro are looking to take Flay down again for a second time.