How Diva Q And Sweet Baby Ray's Dave Raymond Became Friends — Exclusive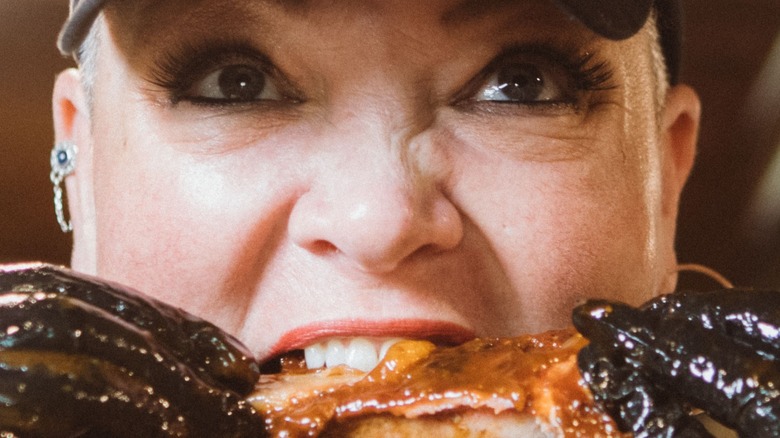 WhistlePig Whiskey
These days, if you catch her warming up by a fire, sipping on something stiffer, it'll be Diva Q who's dishing out BBQ wisdom to beginners in the industry. But back 12 years ago, it was Diva Q who was asking the questions. "When I started, there was no Instagram. There was no YouTube series. There wasn't any of that, so you learned by word of mouth," Diva Q exclusively recalled to Mashed. "To be honest, the best times I ever learned were at night sitting beside a fire pit, drinking whiskey. I'm dead serious because people went, 'Well, let's talk about barbecue.'" 
Travel Channel hadn't discovered Diva Q yet. "BBQ Crawl" was still an idea — probably half-formed — waiting for the world to give it the perfect host. Diva Q was still Danielle Bennett, and not everyone took her seriously. "When I first started at barbecue, I was dismissed at the first, part[ly] because I was Canadian and I was female," she told Mashed. "There's two hits right there. I didn't grow up with barbecue in a traditional sense ... They knew that I loved barbecue, but a lot of times people dismissed me." Sweet Baby Ray's Dave Raymond did not make that mistake. 
Diva Q and Dave Raymond are still in touch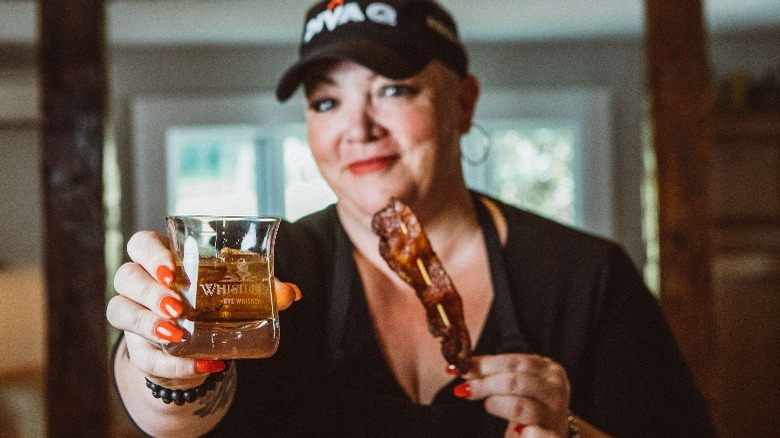 WhistlePig Whisky
Dave Raymond, the genius behind Sweet Baby Ray's, and Diva Q met well before Bennett made her move to Florida. "I was still living in Canada at the time," Diva Q told Mashed. "I met him at a national barbecue conference and he sat down and started talking to me ... This is at least 12 years ago, if not a lot longer."
They kept on talking at fire pits — Bennett asking the questions that would eventually earn her over 400 barbecue awards. "We would sit there until the wee hours in the morning, sipping whiskey," Diva Q dished. "It's some of my fondest memories with people like Dave Raymond and other luminaries in the barbecue world." To this day, Bennett says that she and Raymond have maintained their friendship. "We always have a chance to keep in touch. We email back and forth about three or four times a year ... Sometimes, we'll get on the phone," Diva Q told Mashed. "He has always been supportive of me in my career and truly one of the most sincere gentlemen ... and absolutely encouraging. The world needs more people like Dave."
One of Diva Q's favorite whiskeys is WhistlePig SmokeStock. When you pick up a bottle of SmokeStock, you'll find more recipes and discover how SmokeStock is crafted via a QR code on the back of each bottle. SmokeStock is now available online and in stores for $72.99 MSRP per 750 ml bottle. Stay tuned for a line of must-have consumables from Traeger x WhistlePig coming later this fall!