Dunkin' Just Unleashed An Unexpected Fall Collab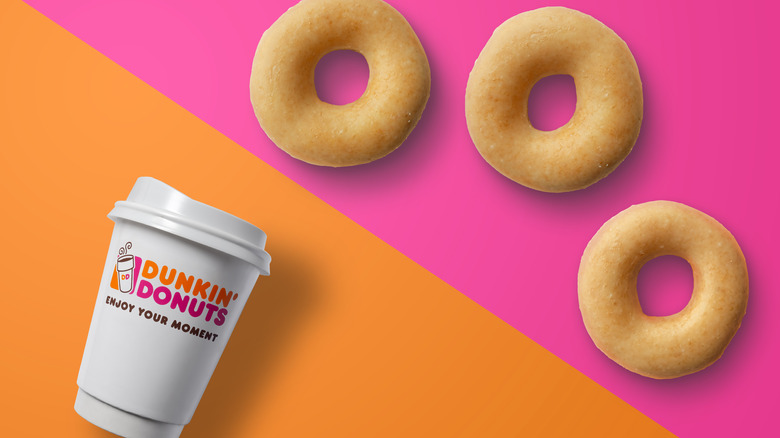 Nixx Photography/Shutterstock
There's no doubt that summer has a stronghold on many peoples' hearts. However, when it comes to Americans' favorite time of year, most prefer when it's a bit cooler outside. Per People, a 2020 survey by One Poll found that 33% of U.S. citizens prefer fall to any other part of the year. Additionally, 56% said they felt the happiest during leaf-peeping season – and it's not hard to see why. There's a lot to look forward to once autumn finally rolls around, including football, Halloween, and Thanksgiving. And then, of course, there are all of those cozy sweaters you get to bundle up in when there's suddenly a chill in the air.
With Time and Date reporting that the average temperature throughout the country this month has been 77 degrees, it, unfortunately, looks like we may still be a few weeks away from being able to rock our chunky knits. And while that may come as a bummer to fall fans, there will be plenty of pumpkin spice-flavored goodies popping up as we wait for the weather to reach Americans' ideal autumn temp of 53 degrees (via People).
Pumpkin spice has already returned to Krispy Kreme and is set to infiltrate Dunkin' menus tomorrow – but coffee isn't the only fall-themed treat coming from the chain this year. According to a press release sent to Mashed, Dunkin' has also teamed up with another beloved brand for a somewhat unexpected fall collab.
Goldfish Dunkin' Pumpkin Spice Grahams will hit shelves next month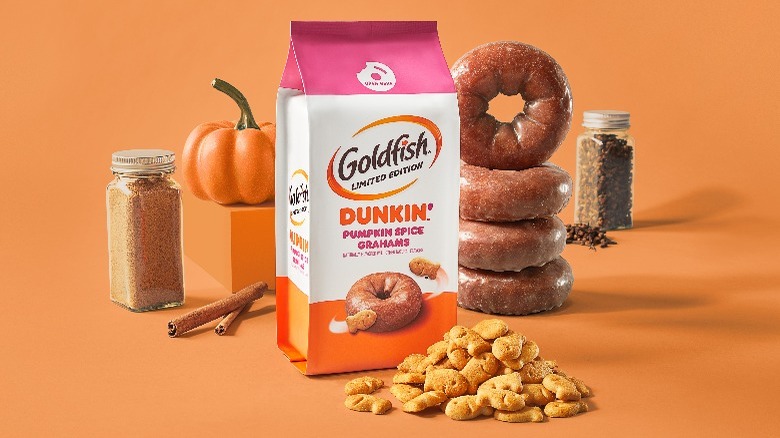 Goldfish
America runs on Dunkin', and, apparently, Goldfish do too. According to a press release sent to Mashed, the snack that smiles back is teaming up with the Boston-based coffee giant for a surprising fall-themed collaboration – and no, it's not a Goldfish cracker-topped donut like a number of Redditors predicted. Rather, the iconic brands have joined forces to create Goldfish Dunkin' Pumpkin Spice Grahams, which are set to hit shelves wherever Goldfish crackers are sold on Thursday, September 1. The limited-edition snack features "notes of pumpkin, donut glaze, and warm spices" and is said to be a "perfect pairing" for Dunkin's upcoming fall menu items.
After teasing the collab for the last few days, Goldfish finally announced its partnership with Dunkin' in an Instagram post this morning that has already caught many users' eyes. Some were a bit uneasy about the bite-sized treat, though an overwhelming number of people expressed excitement to get their hands on a pack. "So excited," one user commented, while another said they "want so bad!!"
Fortunately for these Instagrammers and others who may be salivating at the thought of this snack, it won't be entirely unavailable before the official launch next month. Starting this Thursday, August 18, Goldfish and Dunkin' will be offering fans the chance to grab the new Goldfish Dunkin' Pumpkin Spice Grahams via TikTok. As Instagram user @forgoodness_jake wrote, "The God of Autumn givith." The God of Autumn givith, indeed.