Twitter Is Impressed With Duff Goldman's 'Cake Of The Week' Pick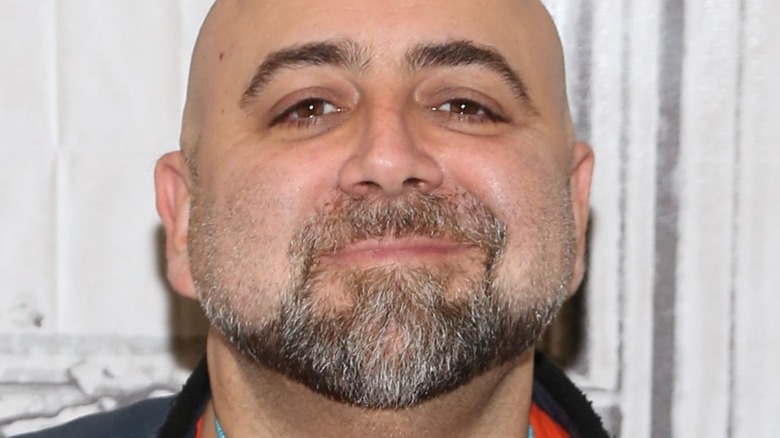 Manny Carabel/Getty
Charm City Cakes has made a big-time name for itself, even serving its goods at Barack Obama's 2008 inauguration (via its official website). Chef Duff Goldman founded the business in 2002, and the first wedding cake it created was for the bassist of Clutch, his favorite band. After gaining popularity, Charm City Cakes eventually appeared on the Food Network due to its out-of-this-world ability to create unique cakes.
Upon looking at Charm City's photo gallery, you'll see a plethora of cakes, including ones that resemble gas pumps, basketballs with sneakers, "Harry Potter" books, and a bag of Doritos chips. Along with custom cakes, the shop sells small cakes, wedding cakes, and treats that are ready to order, such as cupcakes and cakes in a jar. For the biggest fans, they even have a merch store with shirts, hats, aprons, and more.
It's safe to say the employees at Charm City Cakes are full of talent. Earlier this week, Goldman posted an image to Twitter highlighting some of that talent, showing off an amazing cake.
This peacock cake wowed the internet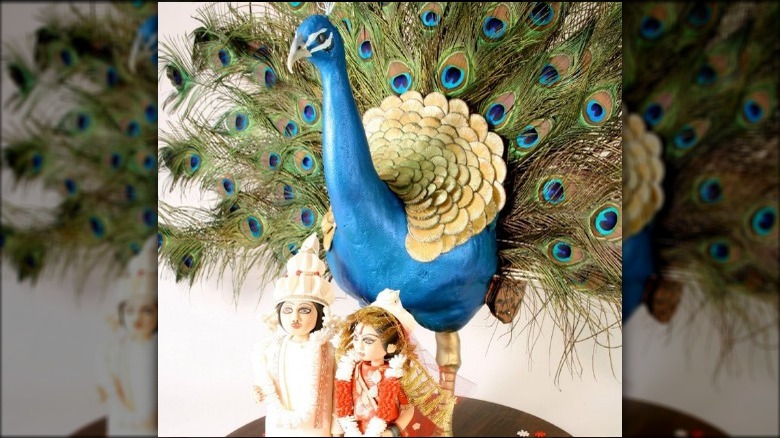 Twitter
On August 12, Duff Goldman posted a photo on Twitter of an impressive cake his bakery made this week. The cake resembled a lifelike peacock complete with blue and green feathers and statues of two individuals at its base. "Look at these details, Great job team! #cakeoftheweek," the post read.
One commenter was shocked that the creation was actually edible, exclaiming "Wait that's a cake?" Others echoed their love for the cake, tweeting "Wow!! That's amazing!" and "Wow, that's impressive!" The cake seemed to spark memories for another Twitter user in particular. "This reminds me of looking at my parent's wedding album, right up to the moment they were visited by a magical giant peacock," they joked.
Charm City Cakes also created a post on Instagram raving about the achievement. "Cakes really do come in every size and shape, don't they?" read the caption. The comments on this post were similar to the ones on Duff Goldman's Twitter post.
If you ever wanted to try a Charm City Cake, you can order one on Goldbelly, although you might not be able to get a custom peacock. The cakery also offers classes for those interested in learning more about cake decorating, per the website.