Buffalo Wild Wings' New Menu Item Combines Pizza And Wings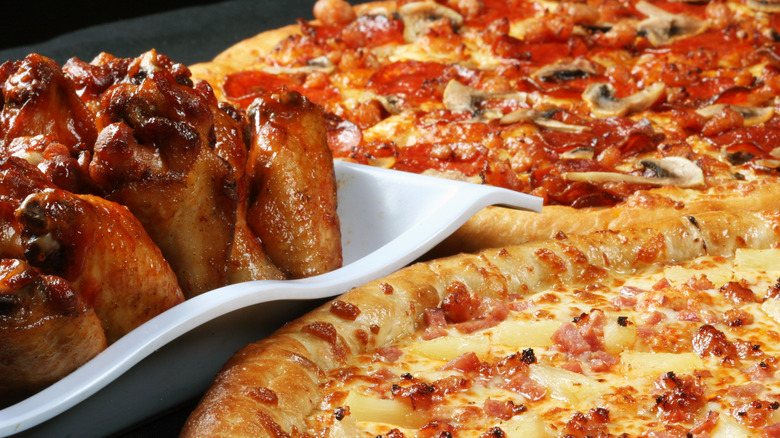 witty234/Shutterstock
Watching or attending a sporting event may not be everybody's favorite pastime, but we can probably all agree that indulging in a meal made up of traditional gameday fare doesn't make the experience any worse. Hot dogs, for example, just seem to taste better when you're munching on them during a baseball game, and who doesn't enjoy eating ice cream out of a tiny plastic baseball cap?
Now, if you're one of those sports fans who mainly shows up on gameday for the snacks (no judgment here), you may not have realized that the 2022 NFL pre-season kicked off earlier this month on Thursday, August 4. Therefore, you may also not have realized that it's time to start transitioning from snacking on peanuts and Cracker Jacks to the classic football food pairing of pizza and chicken wings. The combo is a fairly common find at pizzerias, but if you and your jersey-clad pals are headed to a wing-centric sports bar to watch your favorite team, it may be a little bit tougher to get your hands on both of these particular finger foods — or, at least, it was until now.
According to Food & Wine, the popular gameday hot spot Buffalo Wild Wings will be diving into the world of pizza this football season with the launch of its new Boneless Bar Pizzas, which combines wings and 'za together into a single dish.
Will BWW's Boneless Bar Pizzas score big with customers?
After successfully transforming its chicken into a hot dog-inspired dish called Bird Dawgs, Buffalo Wild Wings has now figured out a way to combine its poultry with pizza just in time for the start of football season. Starting today, August 17, Food & Wine reports that customers nationwide can now head to the sports bar for one of its new Boneless Bar Pizzas for a limited time.
Featuring a "crispy thin-crust," the hybrid dish will be sold at a price of $9.99 and will be available in two flavors: Buffalo and Honey BBQ. Both will come topped with boneless wings in their respective flavors, as well as a few other toppings like pickled hot peppers, green onions, and a variety of cheeses. Noticeably absent from the toppings list is a traditional marinara sauce — but don't expect Boneless Bar Pizzas to be dry. Per Food & Wine, each version will also come with a hearty drizzling of one of Buffalo Wild Wings' signature wing sauces, as well.
While Buffalo Wild Wings claims its newest menu item is its first venture in pizza, CNN reports that the chain has actually sold flatbread 'za in the past — though, as exemplified by YouTuber Regg Reviews' 2014 review, they fell a bit short with some customers. As the eatery's new Boneless Bar Pizzas have just hit restaurants today, only time will tell if the chain will score a touchdown with customers this time around.