What Happened To Snacklins After Shark Tank?
When pitching to a group of millionaire and billionaire investors on ABC's "Shark Tank," being unprepared is simply not an option. The tank means business, and according to Shark Tank Products, there are many requirements you must meet before you can be considered for the show. For one, you can't be running for a government office actively or within the year of your appearance. As far as work requirements, nobody in your family (or you) can be employed at any of the shark's companies or companies associated with their brands. You also cannot be a convicted felon.
The Official Beardo company, which appeared on the show and took a joint deal, shared on its website some preparation tips. Before your pitch, you need to calculate all your important numbers, such as gross sales, net profit, sales to date, and more. You should also research the investors to play on their interests. With all the necessary facts, the owner of Snacklins Crisps, which did not make our list of best foods we've seen on "Shark Tank," pitched to the sharks in season 11, looking for a deal (via Shark Tank Blog).
Meet the meatless pork rind
Long before the company's appearance on the tank, Snacklins owner Samy Kobrosly had a conversation with a friend regarding a meat-free alternative to pork rinds (per the Snacklins website). Due to his Muslim upbringing, Kobrosly couldn't partake in the traditional, crunchy snack. A former chef, he decided if he couldn't find a substitution, he would make one himself. His recipe eventually settled on yuca, mushrooms, and onions, making for a low-calorie, grain-free, and vegan alternative. Per Shark Tank Blog, the veggie rinds are fried in sunflower oil to create a crispy bite that resembles original pork rinds.
Kobrosly appeared on "Shark Tank" in 2019 requesting $250,000 for a 5% stake in his company. At the time, the snack was sold in more than 1,000 stores, and he expected to garner $2 million in sales by year's end. Even though the sharks enjoyed the taste, most were concerned with some of his ideas, leaving only one investor to offer a deal.
Mark Cuban takes the bait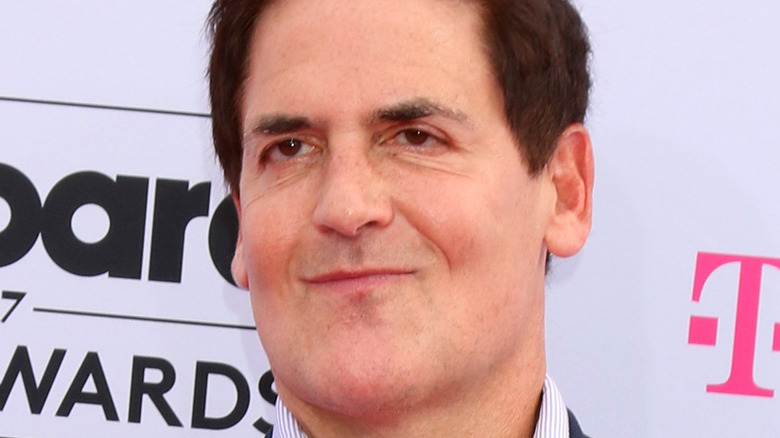 Kathy Hutchins/Shutterstock
After the other sharks dropped out, Mark Cuban took a bite, offering $250,000 for 5% of the company plus 5% advisory shares (per Shark Tank Blog). Two seasons later, the company appeared on an episode update where Samy Kobrosly announced that Snacklins had made its way into 2,500 stores, including Whole Foods and Walmart. In 2020, the company's revenue was $3 million, and in 2021, it was projected to hit $10 million. The next year saw even greater success, bringing in $13 million.
Snacklins Instagram account has fared pretty well, as it's verified with that coveted blue check and currently has 17,500 followers. With a quick scroll, you'll find a few giveaways, a video of Cuban promoting the snacks at H-E-B, and other marketing tactics.
Today, a pack of six 0.9 oz. Snacklins sells for $14.99, per the Snacklins website. The packs come in a variety of sizes and consumers can also purchase family-size bags. The crisps come in a total of six flavors, including Barbeque, Chesapeake Bay, Nacho, Teriyaki, Sea Salt & Vinegar, and Cinnamon Churro.