What Happened To Aura Bora After Shark Tank?
Over the course of the series, the reality hit "Shark Tank" has introduced audiences to innumerable entrepreneurs and hundreds of hopeful products. Every episode, a new crop of inventors are given the chance to present their seemingly winning ideas to a panel of business bigwigs to see if those ideas really are winners. If the investors like the pitch, they'll offer the entrepreneurs fat stacks of cash for equity in their company on the spot. These investors draw from a core group consisting of Lori Greiner, Mark Cuban, Daymond John, Barbara Corcoran, Kevin O'Leary, and Robert Herjavec (as per All Shark Tank Products). 
Some of those products go on to be big successes, meaning they continue to bring home the bacon of their own accord thanks to the boost the sharks give them, like what happened to Souper Cubes after Shark Tank. And sadly, some flounder when they get out in the big wide ocean. Did Aura Bora from season 12 sink or swim (via Shark Tank Blog)? Let's find out.
What Aura Bora brought to the table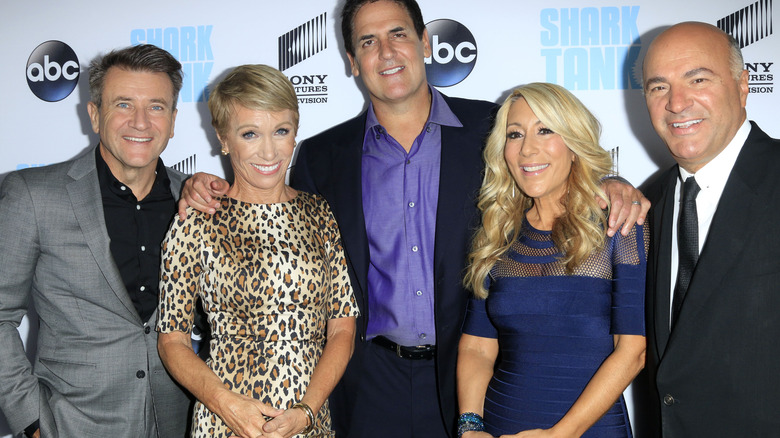 Kathy Hutchins/Shutterstock
Avid sparkling water fans Paul and Maddie Voge invented Aura Bora at home using their home soda stream (as per All Shark Tank Products). So, one should add experimentation to the list of tricks every soda stream owner should try at least once. But don't think you can just make these drinks at home on your counter.
The Voges were concerned with the lack of transparency in sparkling water flavorings, which can be natural, artificial, or mixed. Even if the flavors are naturally sourced, the sources can be summed up with the dubious phrase "natural flavorings." As USA Today reported, the FDA does not require "natural flavorings" to be further delineated and the term covers a list of over 80,000, including 3,000 chemical additives. So the Voges set out to make beverages with a limited number of carefully selected, fully disclosed, sophisticated natural flavors.
The couple requested a modest $150,000 for a 5% stake in their company and made a deal with shark Robert Herjavec for $200,000 for a 15% stake (via Youtube).
Where is Aura Bora now?
Entrepreneurial duo Paul and Maddie Voge went on "Shark Tank" hoping to one of the sharks would help them take their sparkling water beverage national, but in the end, shark Robert Herjavec had other plans for the fledgling company (as per YouTube).
The whimsically packaged beverages have more than quadrupled their footprint since partnering with Herjavec. The brand went from being carried in 488 stores to being carried in over 2,500, including 7-11, Whole Foods, Walmart, and online at Amazon (via Business2Community & Forbes). 
After raising an additional $3 million from private investors, the Voges were able to build up their brand to its current valuation of over $20 million. Before you know it, this rising brand may be on a new list of sparkling waters, ranked worst to best. The couple made the 2022 Forbes 30 under 30 list for Food and Beverage. How many "Shark Tank" contestants can claim that they went on to be featured in Forbes magazine? It's basically an entrepreneur's dream, and Aura Bora is living it.