The Real Reason Pumpkin Spice Became The Beloved Flavor Of Fall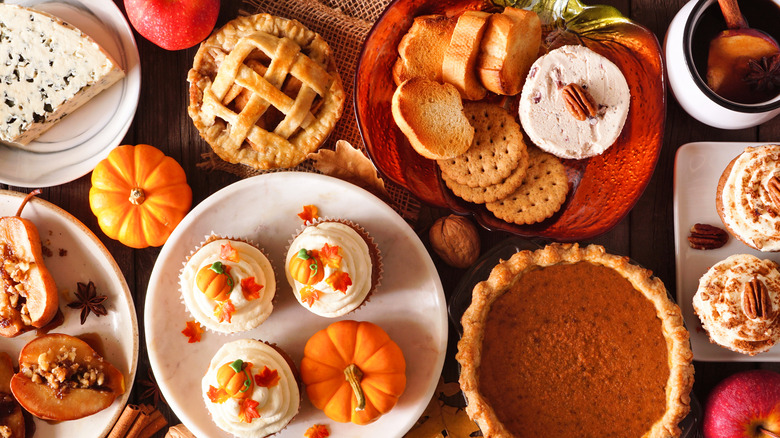 JeniFoto/Shutterstock
Falling leaves, cooler weather, and spooky fun are among the many touchstones that help define the spirit of autumn. But there's one special kitchen ingredient that excites fall fanatics more than anything else — pumpkin spice. A $500-million industry (per MarketScale), pumpkin spice is celebrated for its versatile and delectable flavor profile that fuses the earthy taste of pumpkin with the warm kick of cinnamon.
From Starbucks' iconic pumpkin spice latte to lesser known recipes like pumpkin spice macarons and pumpkin spice ramen, the seasonal ingredient has countless applications. While it may seem like it only burst onto the food scene in the last decade, pumpkin spice has a long history dating back to 1934, when McCormick and Company introduced the spice in an effort to sweeten up holiday pumpkin pies (via CNN). Starbucks first rolled out their pumpkin spice latte in 2003 and it's only grown in popularity, as the coffee giant has sold over 500 million PSLs since its inception (per CBS News). But despite its irresistible taste and versatile appeal, there's quite a bit more to pumpkin spice.
Pumpkin spice is more than an ingredient – it's a symbol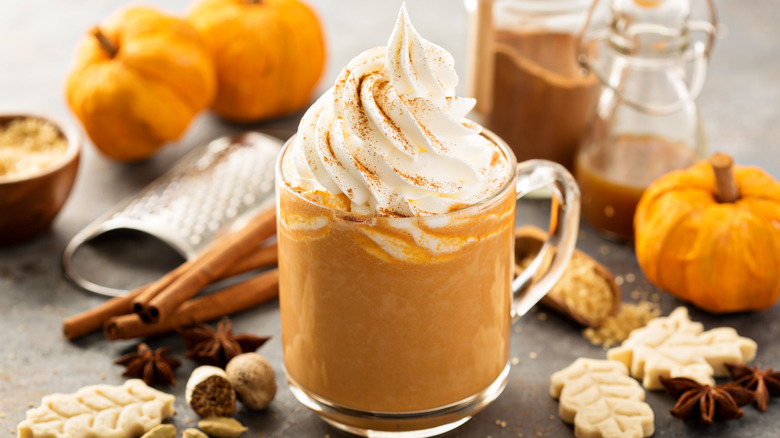 Elena Veselova/Shutterstock
The transition to fall marks a particularly difficult time for the 10 million Americans who suffer from seasonal affective disorder — depression caused by changes in season (per Boston University). The bright, bustling days of summer are hushed by vacant beaches, 5 p.m. sunsets, and a frost-bitten climate that makes it impossible to leave the house.
But like most things in life, it's the small stuff that means the most. Pumpkin spice is a beacon of hope -– a symbol that we cling to as we cope with the painful passing of summer. Megan Baumler, program director for nutrition and dietetics at St. Catherine University tells CBS News that, "if we can latch onto something, it makes it easier to transition."
Live Science adds to this notion, saying that another reason pumpkin spice is so popular has to do with reactance theory. Reactance theory argues that unique motivational behaviors emerge when people experience a threat to their "free behaviors." In the case of pumpkin spice, marketing tells consumers that these pumpkin-themed items are only available for the fall season. A limited-time indulgence, consumers are quick to purchase as much pumpkin spice as possible before the ingredient ceases to exist for yet another 365 days. But as we know, there are many pumpkin recipes for any time of the year.