Easy Homemade Queso Recipe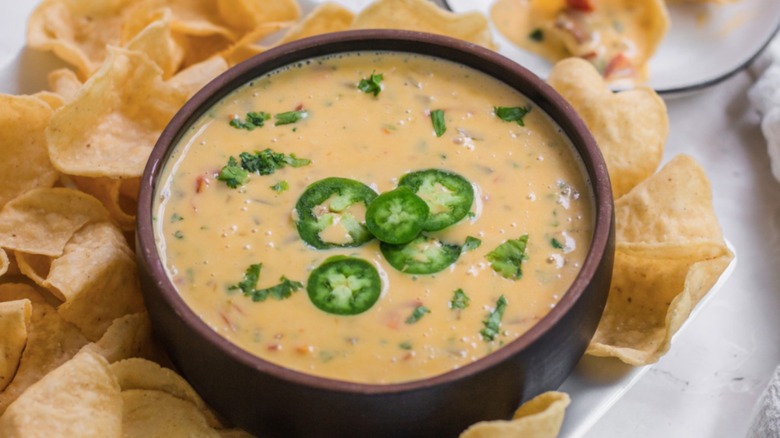 Jaime Shelbert/Mashed
Whether you're a diehard football fan, or you spend your year counting down the months 'til March Madness, the World Series, or really, any other big, party-worthy event, there's always a reason to have a menu of go-to party foods. We love trying out new recipes to make when hosting a crowd. Recipe developer and registered dietitian nutritionist, Jaime Shelbert RD, brings us a recipe for a crucial party treat: homemade queso.
Shelbert has a trick for achieving homemade queso with the perfect texture. She says "the secret to the perfectly velvety smooth queso, sans the Velveeta, is using blocks of cheese and shredding them yourself. Rather than buying pre-shredded cheese that may contain anti-caking and other ingredients, buy the cheese blocks from the deli, which contains stabilizers for smooth melting."
While this is obviously a great dip to enjoy simply with tortilla chips, Shelbert also suggests other uses for this dip. She tells us "queso isn't only for dipping chips, but can be used as a sauce for topping dishes such as nachos, chili, tacos, and enchiladas. You can top fries or even make a Tex Mex-inspired macaroni and cheese with it. It's also a tasty dip for soft pretzels."
Gather your ingredients for homemade queso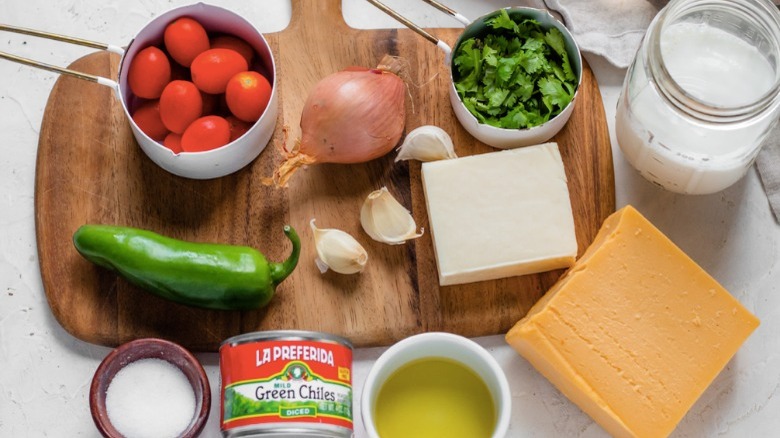 Jaime Shelbert/Mashed
To make this easy homemade queso, you can start by gathering your ingredients. For this recipe, you will need extra virgin olive oil, a shallot, jalapeno pepper, garlic cloves, blocks of Monterey Jack and American cheese from the deli, milk, salt, a can of green chilies, a tomato, cilantro, and an optional garnish of additional jalapeno slices.
Saute the aromatics
Jaime Shelbert/Mashed
In a saucepan over medium heat, add the olive oil. Once hot, add in the shallot and cook until it begins to soften and becomes translucent. Then, add in the diced jalapeno and minced garlic. Saute these flavorful aromatics together until they become fragrant, which should take about 2 minutes.
Sprinkle in both types of cheeses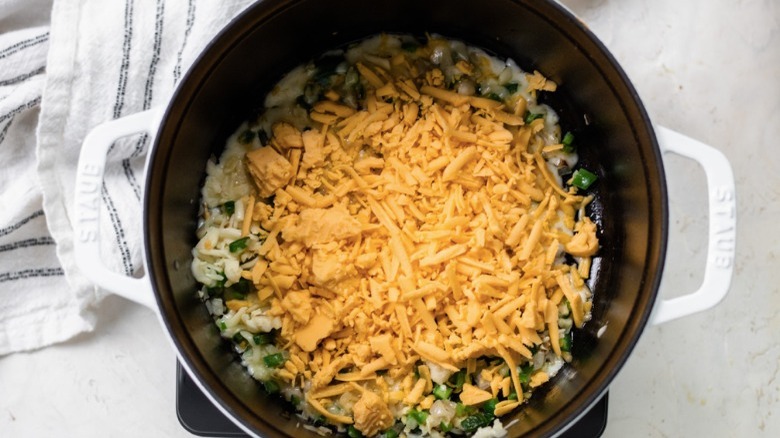 Jaime Shelbert/Mashed
Then, lower the heat to medium low before adding in the shredded cheeses. Make sure to only add a bit at a time and stir until each round of shredded cheese has melted. Shelbert recommends breaking this up into 3 rounds of cheese additions. By gradually adding in the cheese, instead of dumping it all in at once, you ensure that the cheeses can fully melt and avoid burning.
Add the remaining ingredients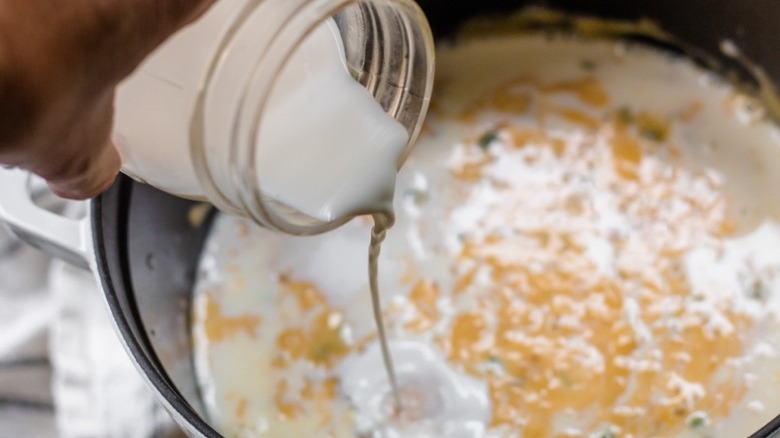 Jaime Shelbert/Mashed
Once the cheeses have melted, add in the milk slowly, making sure to stir. This will help the milk fully incorporate into the melted cheese. Then, add the salt, chilis, and diced tomatoes. Give this mixture a good final stir, before adding in the chopped cilantro. If you want to perfect your queso presentation, top it with sliced jalapenos. Shelbert advises to "store leftover queso in the refrigerator for up to 5 days."
Easy Homemade Queso Recipe
Stop using boxed Velveeta cheese to make subpar queso! Instead, use this simple (and delicious) recipe for easy homemade queso.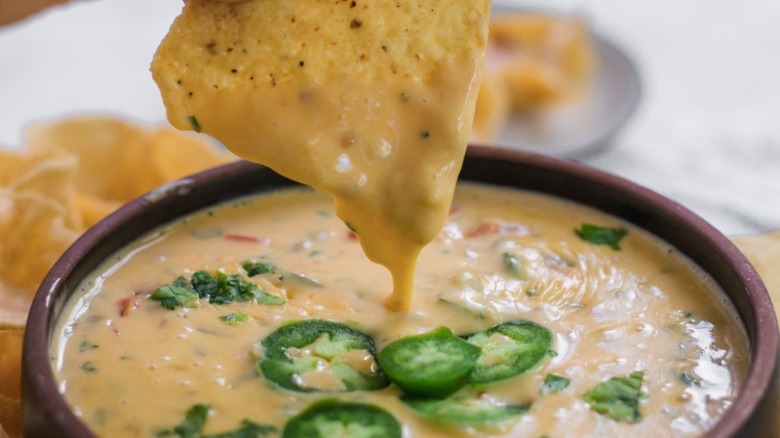 Ingredients
1 tablespoon extra virgin olive oil
1 shallot, diced
1 jalapeño pepper, ribs and seeds removed, diced
3 large cloves garlic, minced
4-ounce block Monterey Jack cheese, shredded
12-ounce block American cheese, shredded
1 cup milk, 2% or whole
pinch of salt
4-ounce can green chilis
1 medium tomato, diced
¼ cup cilantro, chopped
Optional Ingredients
jalapeno slices, for garnish
Directions
Heat the olive oil in a saucepan over medium heat. Add the shallot and sauté until softened, about 3 minutes.
Add the jalapeño and garlic and sauté 2 minutes more.
Lower the heat to medium-low and add the cheeses a bit at a time, stirring until melted after each addition (do this about 3 times).
Slowly add the milk, ½ cup at a time, stirring after each addition.
Add the salt, chilis, and tomato to the cheese. Stir until thoroughly combined.
Add in the cilantro and stir. Serve warm with jalapeño slices as garnish, if desired.