The Unexpected Reason Duff Goldman Loves Being A Chef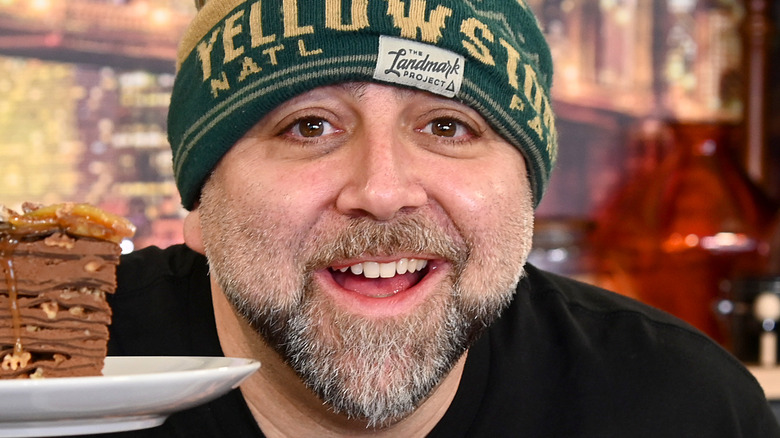 Dave Kotinsky/Getty Images
Celebrity chef and baker Duff Goldman seems like one of those gifted and talented people who can do just about anything. It helps that he's well-rounded, having graduated from college with degrees in history and philosophy before enrolling at the Culinary Institute of America at Greystone in California (per Food Network). We know and love him as a master craftsman of butter, flour, and sugar on Food Network's "Ace of Cakes," but Goldman also dabbles in music, sculpting, and graffiti art. He plays the bass and drums, and his band even opened for big names in the music industry like Linkin Park (per The Sporkful).
Goldman got his start in the food business with his first job at a bagel shop (he was nearly dismissed for making the sandwiches too big) and worked at McDonald's, too, where he liked to give the fries extra time in the fryer for color and crispiness. At a restaurant in Baltimore, he was tasked with making nothing but cornbread and biscuits, which sparked his love of baking. He eventually graduated to the elaborately constructed, work-of-art cakes we associate with Charm City Bakery and TV's "Ace of Cakes." And we wouldn't be surprised if Goldman decided to add science teacher or professor to his culinary resume — he already has, in a sense.
Duff Goldman loves the science part of being a chef
What does Duff Goldman love best about being a pastry chef of the highest order? Let's just say he's not the only mad scientist in the realm of celebrity chefs (we're looking at you, Alton Brown). He sees the kitchen as a laboratory and he loves the science of his art and sharing what he has learned with others (per The Orange County Register). If you (and your kids) have watched Goldman and his puppet friends on the Discovery+ series "Duff's Happy Fun Bake Time," you know that Goldman is a good teacher and revels in explaining the "why" behind things. Why do cakes need eggs? Why is patience the most important ingredient in baking bread? Why do sweet and salty foods taste so good? The chef reveals that he loves to make people think (via YouTube).
"The science part of cooking is one of the things about being a chef that I find really rewarding," Goldman told a fan on Twitter earlier this year. "I like knowing why things happen." In an interview with The Center for Family Engagement, Goldman elaborated on how science makes cooking and baking work. "I think that cooking should almost be a STEM subject, because it really takes a bunch of different disciplines (math, physics, chemistry) and gives them a real world application." What a great suggestion from the celebrity chef!