You Will Never Guess Duff Goldman's First Job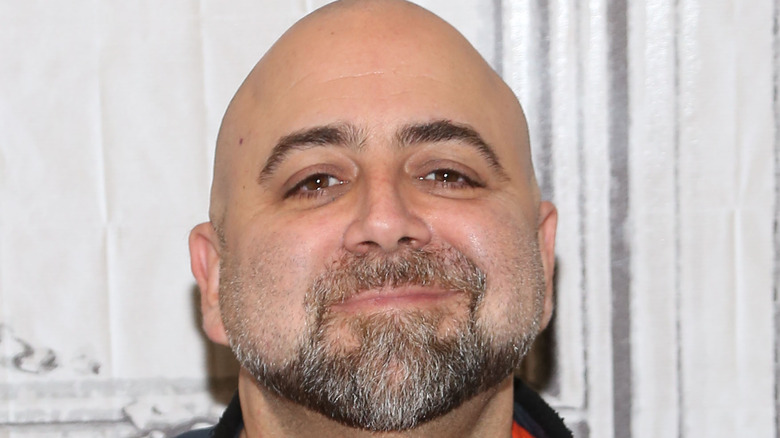 Manny Carabel/Getty Images
Duff Goldman not only has a big personality, but he also creates big vision cakes. The "Ace of Cakes" host lit up the Food Network with his impressive cake decorating skills and ingenious creations during the show's 10 seasons, giving us incredible cakery at which to marvel. It has been quite a ride for the baker, who serves as a judge on both the "Holiday Baking Championship" series as well as the "Spring Baking Championship" (via Food Network). Lately, we've been eating up the photos he shares on his social channels of his newest family member, baby Josephine, whom Goldman and his wife welcomed into their lives in January 2021 and announced on Instagram.
But have you ever wondered how Goldman got his start? Everyone starts somewhere, and Goldman is no different. It may be difficult to believe but he hasn't always been creating cakes for the premiere of a Harry Potter movie or making life-size R2-D2 cakes for George Lucas, a cake that incidentally turned out so well that Goldman has shared it's the one he's most proud of. So what coveted job set Goldman on his path to becoming one of the most revered cake makers?
Duff Goldman's first job was a bagel sandwich maker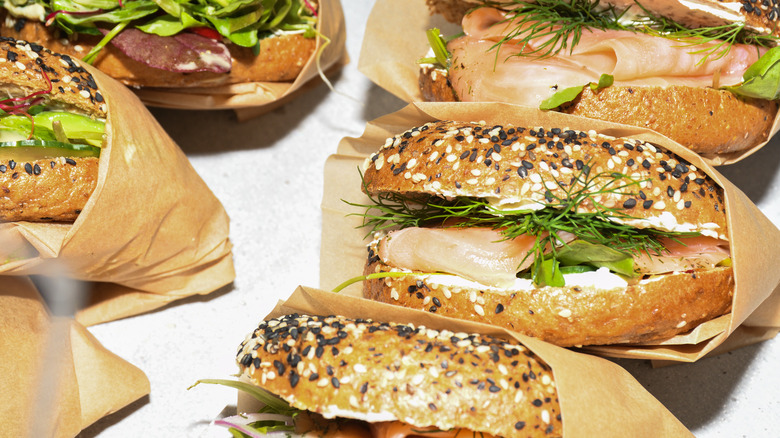 Cristina.A/Shutterstock
According to Goldman's Food Network bio, he got his start in the culinary biz when he was just a teenager, 14 to be exact, by working at a bagel shop. He learned some important life lessons working at that bagel joint; specifically, don't make the bagel sandwiches too big or it might get you fired. While he earned his degree from the University of Maryland, the celebrity cake maker never lost that zest for creating and went on to attend the Culinary Institute of America at Greystone in California. Goldman earned his stripes at restaurants like the famed French Laundry before trying his hand at being a personal chef, but that just didn't satiate Goldman's appetite. He decided to quit his job and open up his Charm City Cakes and well, the rest is sweet history.
However, Goldman's employment experience making bagel sandwiches has not deterred him mentally or gastronomically. He still loves bagels and if he is going to make one it is going to be epic. He wrote on Twitter, "Bagels are great. Toasted everything bagels. A little bit burnt on the edges. At least a half inch of cream cheese. Super thin sliced smoked salmon. Wrapped in wax paper. And coffee in a paper cup. (Sorry, my diet is going great, I just can't stop thinking about food)."