Why You Should Make Ravioli In Your Air Fryer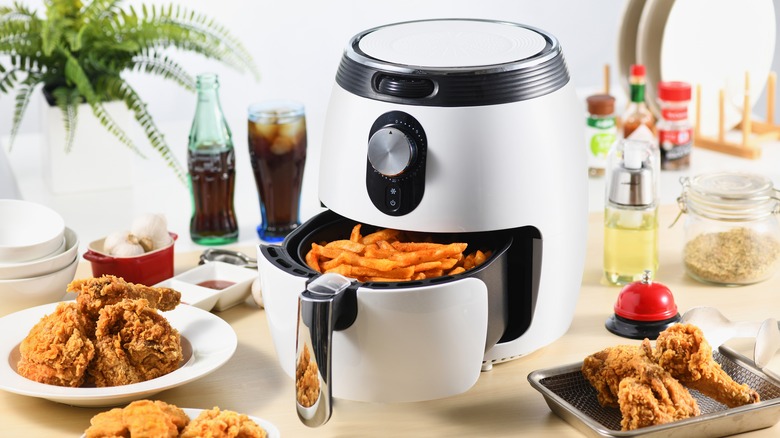 kamikaze85/Shutterstock
In 2010, Philips introduced us to a new form of cooking, the air fryer, initially designed for crisping up French fries, per the brand's website. According to Exnovate, the patented invention of Rapid Air Technology used for the air fryer was created by Fred van der Weij from the Netherlands years earlier. The air fryer became a kitchen must-have in 2017, with sales boosted again during the pandemic and increasing as home cooks adapt recipes for the device (via The New York Times).
According to The NPD Group, a market research firm, U.S. sales of air fryers rose 76% since 2020, with 25.6 million units sold from January 2020 through December 2021. Although the name implies the food is fried, this is what an air fryer actually does: As air circulates food in a basket, the food develops a crisp exterior with a few tablespoons of oil versus the cups required in deep frying.
Social media posts from Instagram flood bloggers @airfryeraddcits and food manufacturers adding air fryer instructions to their packaging are more evidence that the hype for the air fryer is taking over (via Katie Couric Media and Tyson). There are specific hacks to be used with an air fryer, and recipes like fried ravioli are just one of many. This handheld, crispy, cheesy deliciousness can be your next cocktail party must-have.
Air fried is the unconventional easy way to cook ravioli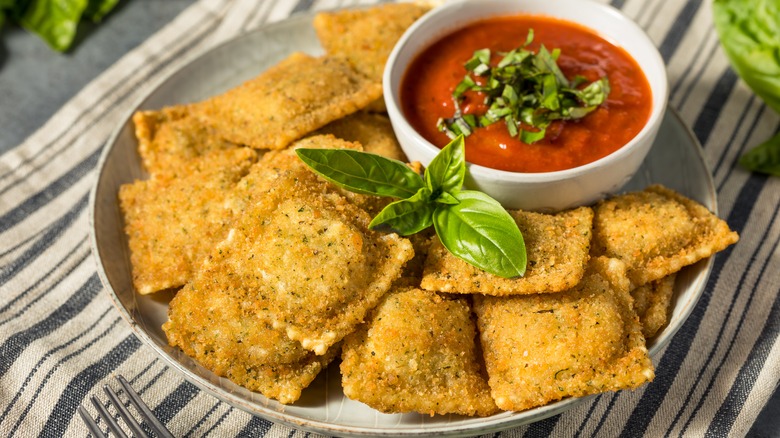 Brent Hofacker/Shutterstock
With over 4 billion views on TikTok, #airfryer produces videos of home cooks air frying everything from donuts to chicken thighs. However, there are two schools of thought when it comes to perfecting your air fryer ravioli recipe. Some cooks treat the ravioli like a chicken cutlet and bread the outside (via The Fresh Cooky). Other versions skip the breading and season the ravioli instead for a low-carb version. TikToker Kim Pauckner opts for the latter (via TikTok). In the video, she coats the frozen ravioli in olive oil and sprinkles garlic powder before air frying. Although the ravioli has no coating, the pasta gets golden brown and crispy.
Either way you decide, here are some simple steps to make your first batch of ravioli with an air fryer. Start by preheating it to 400 degrees. If you decide to go for the breading method, make a breading station with one bowl of beaten eggs and another containing your favorite seasoning. When placing the ravioli in the basket, be sure to do it in a single layer to avoid overcrowding. The air needs to circulate the food to get that fried texture we desire. Spray the ravioli with cooking spray or drizzle olive oil on top before air frying for seven minutes, flipping the pasta at three minutes.  
Serve the ravioli with homemade or store-bought marinara dipping sauce, and watch them disappear.