Traditional Garibaldi Cocktail Recipe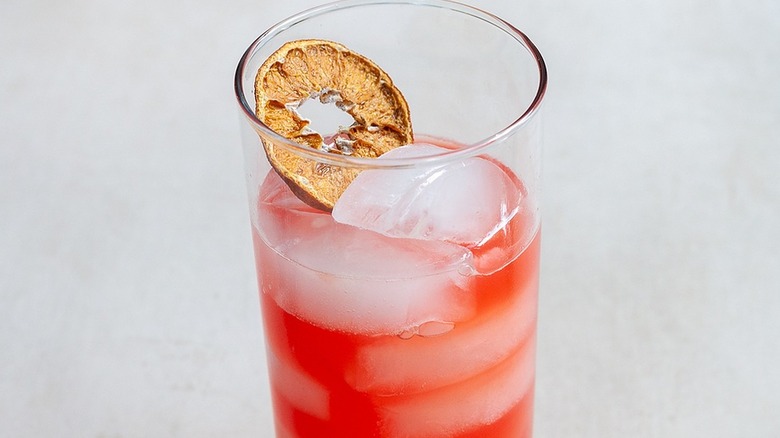 Christina Musgrave/Mashed
The Garibaldi, a once-obscure drink that was named after a 19th-century Italian revolutionary leader, received a boost in popularity when it was adopted as a signature drink by a trendy New York bar, according to Liquor.com. An oft-told tale, to be sure, and one that has no doubt revived numerous other cocktails in recent years.
One reason the Garibaldi is now in fashion may be its simplicity. As recipe developer Christina Musgrave describes it, it's "a classic cocktail with two simple ingredients of fresh orange juice and Campari" and she says the flavor is "a good combination of bitter and sweet." Of course the Garibaldi is not quite as easy to throw together as say, the screwdriver, as the orange juice is supposed to be not only fresh-squeezed but also frothy. The Garibaldi, however, does have another strong point in its favor — Campari, like the similar aperitif Aperol, has a modest level of alcohol (nearly half that of hard liquor), so mixing it with juice makes for a fairly low-ABV cocktail that is good for occasions when you don't want to overdo it on the booze. As Musgrave tells us, "I'd serve this for a brunch drink or as a pre-dinner cocktail," and it might also be a good choice for holiday parties, as well.
Gather the Garibaldi ingredients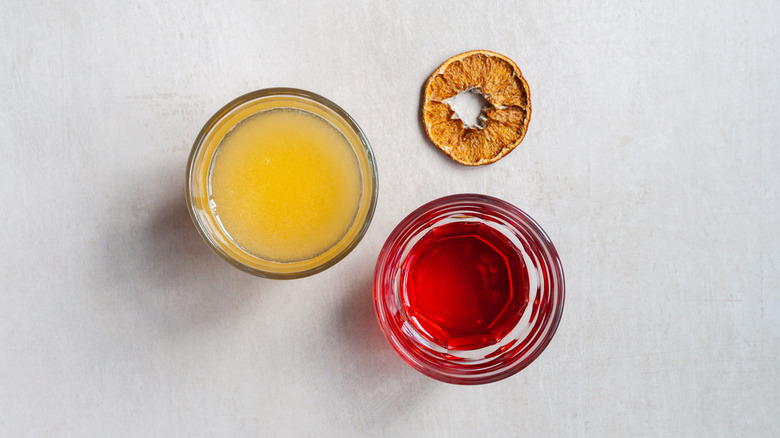 Christina Musgrave/Mashed
It won't take you too long to collect the necessary ingredients: an orange or two for squeezing, a bottle of Campari, some ice cubes, and that's pretty much it. For a garnish, you may wish to use a dried orange slice as shown here, although other options are possible and will be discussed below.
Froth the orange juice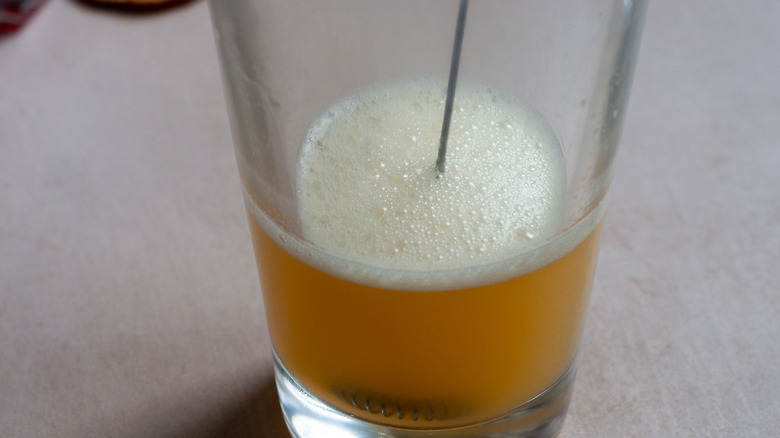 Christina Musgrave/Mashed
The first step in making the drink is to squeeze the orange(s) and measure out the necessary amount of juice. Once that is done, you need to make it frothy. Some bartenders use a blender to stir up the orange juice, some will dry-shake it (no ice is used), and others will use a handheld milk frother as Musgrave does here. However you do it, Musgrave says, "The point is to just introduce air into the orange juice so it's frothy."
Mix the drink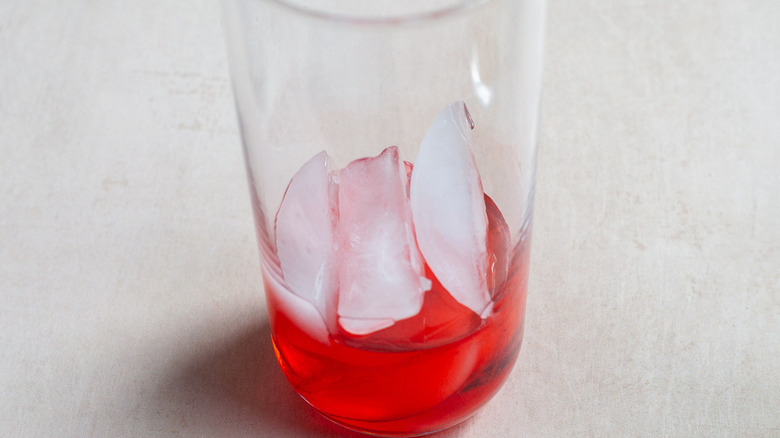 Christina Musgrave/Mashed
Fill a highball or similar tall glass with ice cubes, the pour the Campari over the ice. Add your frothy juice and stir the drink to combine the two types of liquid.
Garnish the drink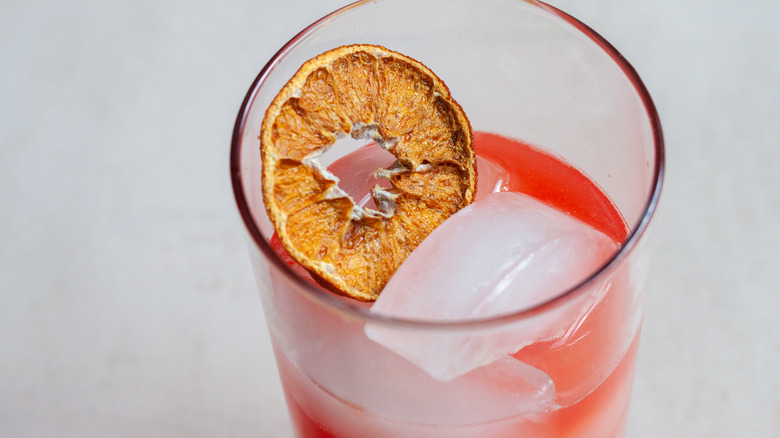 Christina Musgrave/Mashed
While Musgrave is using a dried orange slice as a garnish for the drink pictured here, she says this isn't your only garnishing option. As she tells us, "You could definitely use a fresh orange slice or a lemon slice" instead. You can also cut your fruit into wheels or wedges, as per your preference.
Traditional Garibaldi Cocktail Recipe
This traditional Garibaldi cocktail is pretty light on the alcohol, but bursting with flavor.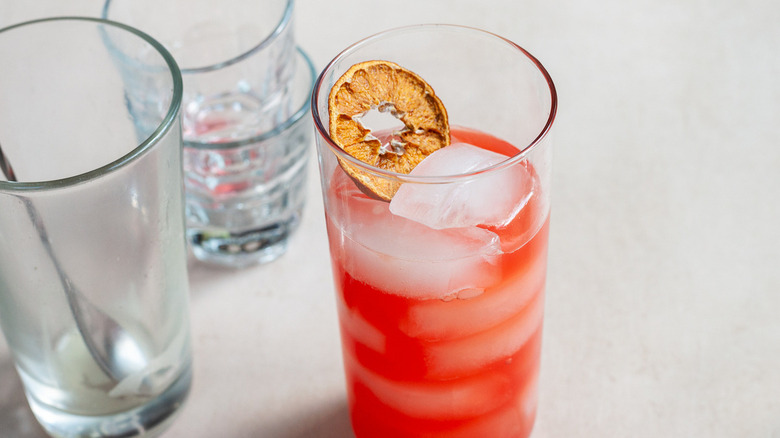 Ingredients
4 ounces freshly-squeezed orange juice
1 ½ ounces Campari
1 dehydrated orange slice, for garnish
Directions
Shake the orange juice in a shaker or froth with a milk frother.
Fill a highball glass with ice. Add the Campari, then top with orange juice.
Stir and garnish with a dehydrated citrus slice.
Nutrition
| | |
| --- | --- |
| Calories per Serving | 158 |
| Total Fat | 0.3 g |
| Saturated Fat | 0.0 g |
| Trans Fat | 0.0 |
| Cholesterol | 0.0 mg |
| | |
| --- | --- |
| Total Carbohydrates | 14.1 g |
| Dietary Fiber | 0.7 g |
| Total Sugars | 11.4 g |
| Sodium | 1.6 mg |
| Protein | 1.0 g |