Strawberry Banana Smoothie Recipe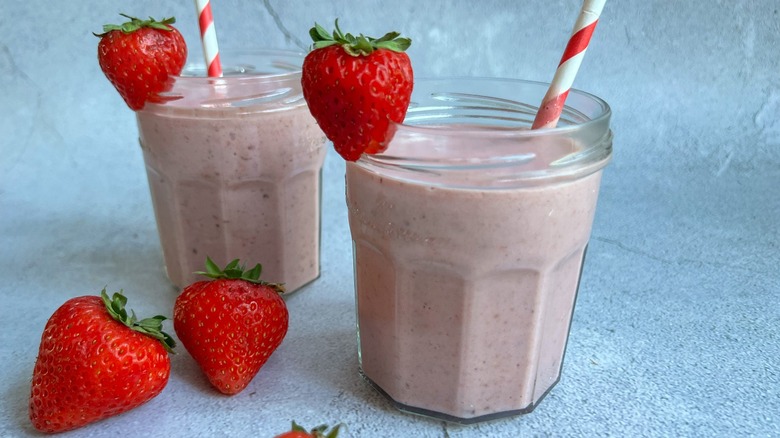 Ting Dalton/Mashed
Smoothies are one of life's simple pleasures. They're simple to make, usually involving a handful of basic ingredients and whatever blender you have at home, be that a Magic Bullet or a high-powered Vitamix. Sure, you can shell out for a smoothie from a shop like Smoothie King or Tropical Smoothie Cafe, but in the time it would take you to do that, you can easily make your own ice-cold, fruity creation at home. Ting Dalton's strawberry banana smoothie recipe is a simple, tasty, and affordable way to do just that.
"We love smoothies in our household and because they're fruity and sweet, my kids drink them, and I'm happy knowing they're having lots of fruit," Dalton explains. "This combination sees our favorites — strawberries and banana." This smoothie recipe in particular gets its sweetness from a unique source: medjool dates. "They're not only a fabulous natural sweetener with a caramel flavor, but they're full of fiber and healthy. [A] great alternative to using honey or syrup," Dalton adds. Here's how to whip up your own.
Assemble your smoothie ingredients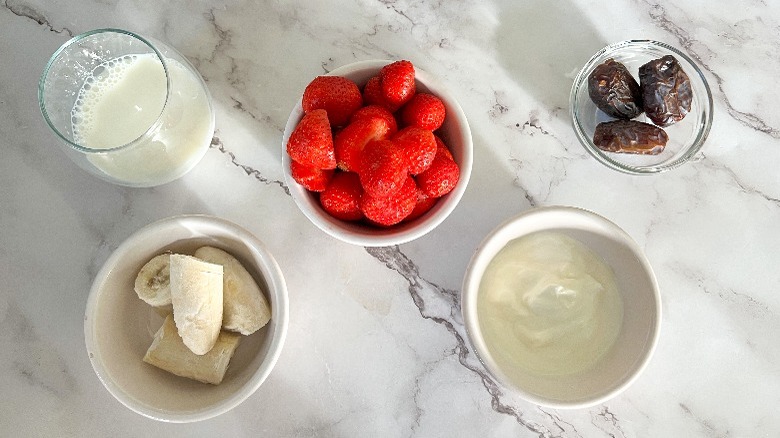 Ting Dalton/Mashed
Unsurprisingly, this strawberry banana smoothie recipe starts with strawberries and bananas. You have the option of using fresh or frozen fruit here — more on that later. You'll also need Medjool dates, Greek yogurt, and milk. 
"If you're looking for a lower fat version, use almond milk instead of whole milk and reduced fat yogurt," Dalton suggests. She likes almond milk in particular because "its flavor is quite delicate so [it] doesn't really detract from the fruit."
Fresh vs frozen fruit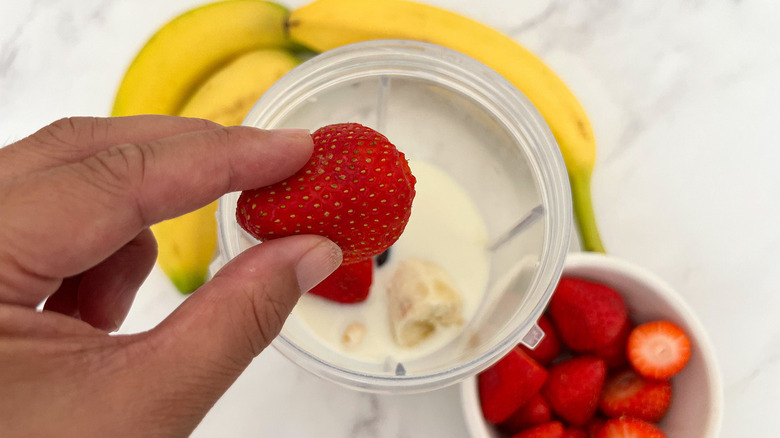 Ting Dalton/Mashed
Frozen fruit is just as nutritious as fresh fruit, so either way, you're getting the benefits of the strawberry and banana in this smoothie. In her recipe, Dalton recommends using frozen banana and fresh strawberries, which she says "makes the smoothie cold without using ice — which adds extra liquid." If you have frozen strawberries, you can use those too, but use a non-frozen banana. 
Dalton advises against using both frozen bananas and frozen strawberries at the same time here: "If you use too much frozen fruit (like ice) the smoothie can become quite watery and liquidy, rather than thick and creamy. If you are short on time, and only have frozen fruit, go for it — it just won't have such a thick and creamy texture."
Combine and blend your ingredients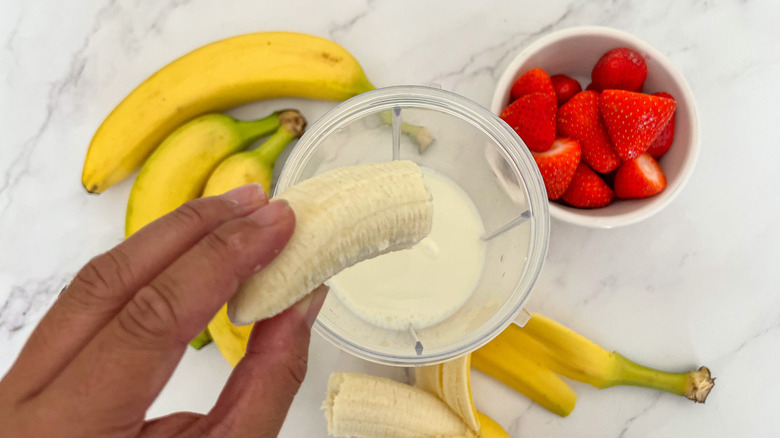 Ting Dalton/Mashed
It's now time to get out your blender. This part's easy: Just add all your smoothie ingredients and blend, blend, blend until your desired consistency!
Sip on a fresh, sweet smoothie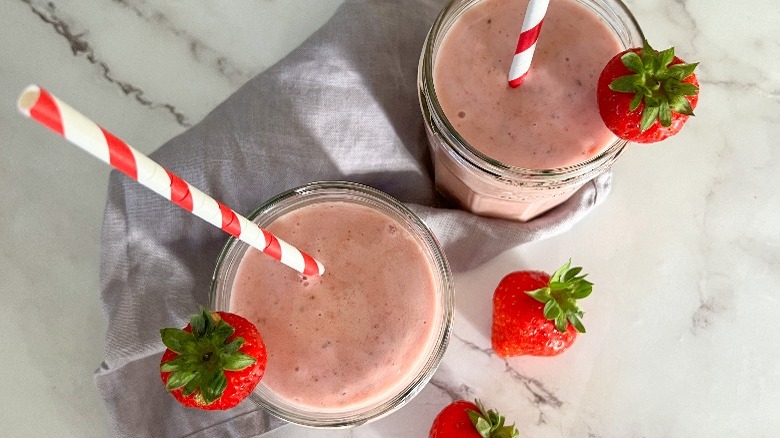 Ting Dalton/Mashed
Once your fruit, yogurt, and milk has combined to become a creamy, ice-cold, refreshing strawberry banana smoothie, all that's left to do is pour it into two glasses and enjoy! Whether you're starting your day with one or sharing a smoothie with a loved one as a mid-afternoon break, you can't go wrong with the classic, nostalgic, simple combination of strawberries and bananas.
Strawberry Banana Smoothie Recipe
Cool down with this refreshing strawberry banana smoothie.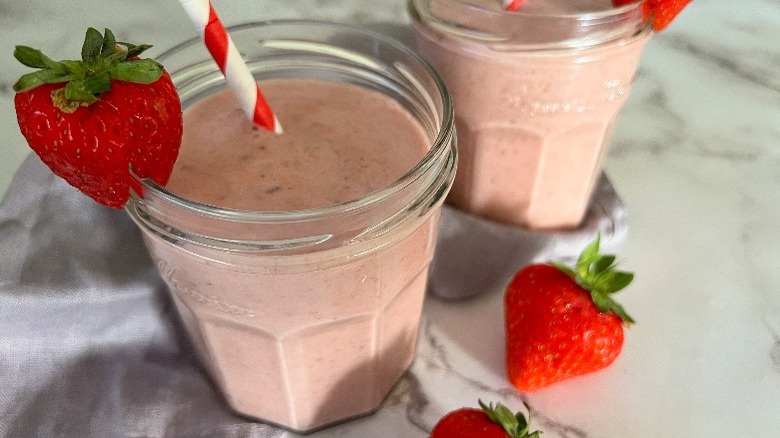 Ingredients
1 banana, frozen
2 cups fresh strawberries, halved
3 Medjool dates
½ cup Greek yogurt
½ cup milk
Directions
Add all ingredients to a blender, and blitz until smooth.
Serve in glasses.
Nutrition
| | |
| --- | --- |
| Calories per Serving | 300 |
| Total Fat | 6.5 g |
| Saturated Fat | 3.6 g |
| Trans Fat | 0.0 g |
| Cholesterol | 15.7 mg |
| | |
| --- | --- |
| Total Carbohydrates | 57.2 g |
| Dietary Fiber | 7.0 g |
| Total Sugars | 43.9 g |
| Sodium | 62.3 mg |
| Protein | 9.5 g |