Does This Restaurant Really Have The Best Chicken Nuggets?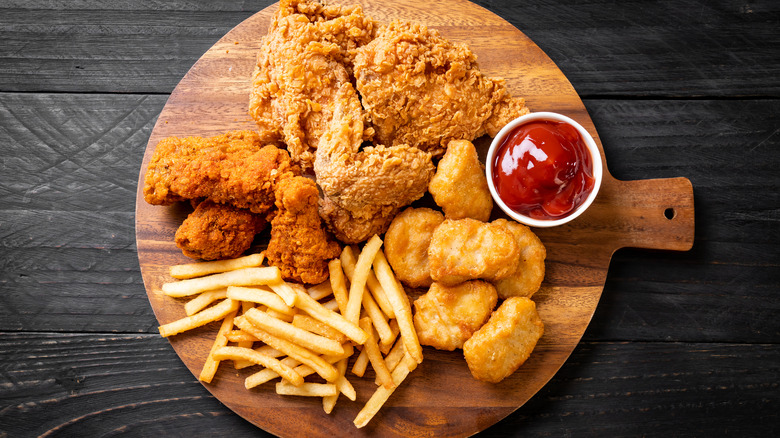 gowithstock/Shutterstock
Ah, chicken nuggets. Those little breaded pieces of chicken that are a favorite food of kids (and adults) all across America. It's no wonder they are a key menu item at just about every fast-food restaurant in the country. What Happy Meal is truly happy without a side of McNuggets with those apple slices? How would Chick-fil-A fare without selling boxes of those addictive little nuggets? Chicken nuggets, or as some prefer to call them "popcorn chicken," are a staple poultry item that remains a cornerstone of the fast food industry alongside chicken tenders and chicken sandwiches.
But where exactly can you get the "best" chicken nuggets? The answer is relative. Business Insider, for example, claims that Wendy's nuggets beat out even McDonald's and KFC in terms of flavor, breading, and juiciness. Thrillist, on the other hand, claims that Arby's chicken nuggets beat the rest thanks to their breading-to-chicken ratio. The answer to the question of whether one single nugget out there is the "best" differs from person to person. Taste is relative after all.
One restaurant, however, claims to have the best chicken nuggets you'll ever have. But odds are you may have never heard of this restaurant or the supposedly "best" nuggets it claims to serve. Are these claims true, or are these nuggets truly diamonds in the rough?
What makes Garden Catering's nuggets so popular?
According to its history, Garden Catering began life in the 1970s as Garden Poultry, a deli/restaurant operated by Lou Iandoli. The original Garden Poultry operated in Greenwich, Connecticut, until the restaurant's flagship location opened in 1978 on Sound Beach Avenue. The restaurant quickly became famous for its fried chicken, growing to have eight locations around the areas of Connecticut and New York. But what makes its nuggets so famous? While Garden Catering boasts that the nuggets are hand-cut daily with 100% white-meat chicken, what sets them apart from the rest?
A review on Tripadvisor goes into detail about Garden Catering's nuggets, claiming that they are a far cry from the "fast food mystery meat" one would expect chicken nuggets to be made of. The reviewer claims that the nuggets are "always made-to-order" and they are seasoned with a "Lawrys-type" of spice mixture that gives the meat a kick. Other Tripadvisor users rallied around the nuggets, noting that even the gluten-free alternatives were delicious on their own. Mostly Healthy Food Reviews raved that these were indeed the best chicken nuggets one could have, reporting that the nuggets not only had a light crispy skin but a juicy and tender interior. He even went so far as to say that Garden Catering's nuggets "puts McDonald's to shame.
If you would like to try Garden Catering for yourself, but do not live in Connecticut or New York, you can order their "famous" nuggets from Goldbelly.