Califia Farms Just Unveiled A Brand-New Pumpkin Creamer
When it comes to dairy substitutes, there's no doubt the food industry has come a long way. There are now more plant milk options on the market than ever before, meaning there's something for everyone to enjoy. Even so, the dairy-free milk market is continuing to grow, and at the rate it's going, it's projected to make up 30% of all milk sales by the end of 2026 (via The New York Times).
There are endless possibilities for plant milk products (like soy milk, almond milk, and even pea milk), but one of the most beloved varieties, by far, is oat milk. In just a few short years since its emergence, oat milk is now the second most popular plant milk on the market (via Food Dive). With its creamy texture, neutral flavor profile, and high marks in sustainability, it really does check all of the boxes for a top-tier plant-based alternative. And now — as if we couldn't love it enough — oat milk is going through a major upgrade to celebrate the arrival of the fall season on behalf of Califia Farms.
Fall in love with the seasonal specialty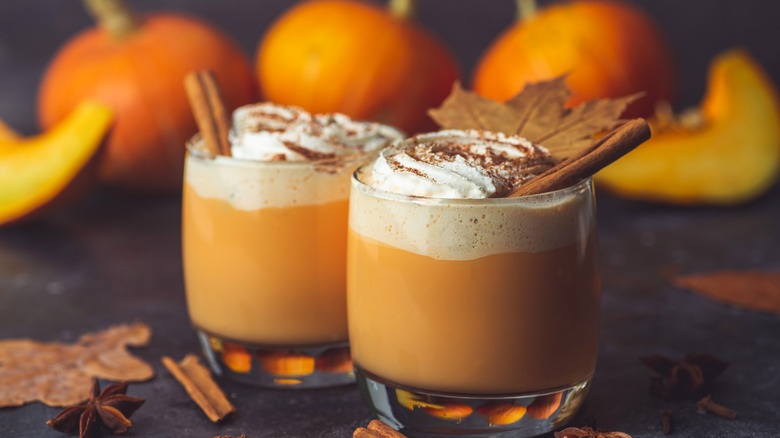 vovidzha/Shutterstock
Known for their broad selection of plant-based milks and creamers, Califia Farms is now adding a new limited-edition milk product that's bound to become a fan favorite: the Pumpkin Spice Oat Barista Blend (via PR Newswire). Most of us foodies can agree that pumpkin spice is the (unofficially) official flavor of fall, so this spicy-sweet concoction is the perfect ingredient for a homemade oat milk latte on an autumn afternoon. The Barista Blends are designed to froth, foam, and steam like traditional dairy milk, making them an ideal non-dairy latte substitution.
The Barista Blend product was announced along with two other seasonally-offered items: a Pumpkin Spice Latte Coffee, made with almond milk, and a Pumpkin Spice Almond Creamer. If you want to experience the warm, cozy hug in a mug that these products guarantee, make sure to look for them in grocery stores (particularly Target and Whole Foods) while the fall season lasts.