The Sicilian Marzipan Treats That Are As Beautiful As They Are Tasty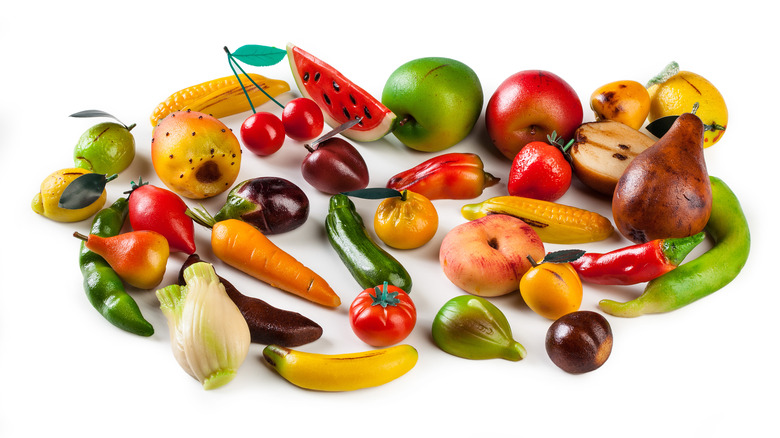 Italian Food Production/Shutterstock
How much do you know about Sicily? The largest Italian island prides itself on having beautiful small villages, ancient ruins, nice beaches, and some of the best Italian food (per Hotels.com). The cuisine of Sicily is rich and complex, as it's been influenced by Greek, Arabic, Spanish, and French cuisines (per Italy2Eat). And whether you're in the mood for savory or sweet dishes, there's something for everyone in Sicily. 
The Culture Trip lists some of the Sicilian foods everyone should try, including delicacies such as sfincione, a cross between a pizza and a flatbread that's topped with tomato sauce, caciocavallo cheese, onions, and often additional ingredients such as anchovies, salami, or capers. On the other hand, traditional arancini are breaded and fried rice balls stuffed with meat sauce and mozzarella. Delicious. And for vegetarians, there's caponata, the Sicilian aubergine-heavy take on ratatouille. 
But Sicily has more to offer for those with a sweet tooth.
Frutta di Martorana are eye-popping Sicilian marzipan treats shaped to look like fruits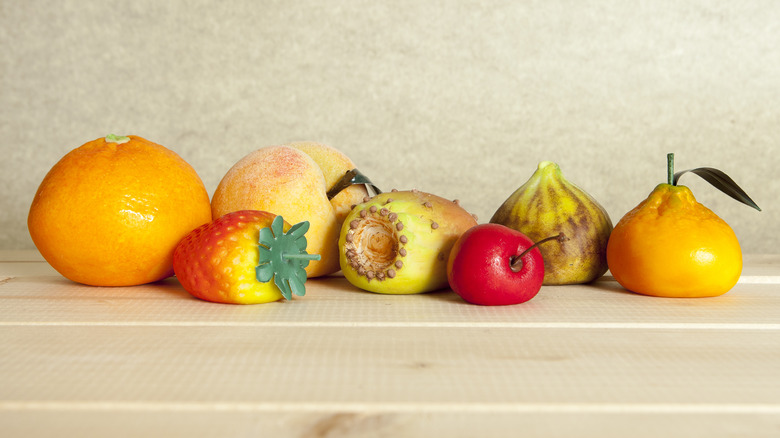 agata.lagati/Shutterstock
Sicily is famous for its sweets, such as cannoli, granita with brioche, cassata cake, or the popular Sicilian chocolate from Modica (per Untold Morsels). And in Palermo, frutta di Martorana is a staple of pastry shops. La Cucina Italiana reports that these iconic Palermitano sweets were traditionally made on November 2nd for the Day of the Dead feast. Nowadays, they can be found in pastry shops throughout the year. Although frutta di Martorana resemble beautiful fruits such as bananas, cherries, oranges, and apples, they're actually made of almond paste that is placed into molds to look like fruit. Once painted with food coloring and dried, these little works of art are displayed on stands or in pastry shops. 
According to Visit Sicily, these sweet treats were initially made in the 12th century by the nuns in the local convent. An archbishop was visiting the convent in early November, and the convent's typically lush garden had no fruit, so the nuns decided to make fruit-shaped marzipan desserts, hung them on tree branches to impress the archbishop, and that's how these delicious treats came to be. 
If you have the time and patience to make them yourself, you'll need only almonds, sugar, water, food coloring, and gum arabic. Or, visit Sicily if you can, and you'll discover many other foodie wonders that this big Italian island offers.