The Popular Olive Oil Brand That's Dipping Into The Pasta Sauce Game
According to Secolari EVOO, three quarters of the United States olive oil supply originates in California, a state known for its higher-quality and healthy, olive oils which are free of Growth Modification Organisms (GMOs). To safeguard this reputation, olive producers in the state have established the Olive Oil Commission of California, which sets the standards all California olive oils must adhere to, per Food Navigator. This set of standards has worked so well that brands which grow olives outside the state have still sought to benefit from using the name "California" in their labeling, as noted by Olive Oil Times. 
One such brand, California Olive Ranch, is one of the biggest olive oil makers in the U.S., per Specialty Foods Association. The company's reputation is solid, as indicated by the numerous Gold, Silver, and Best of Class awards it has received (via California Olive Ranch). One of its latest accolades is being named "Best Overall Olive Oil" by New York Magazine. And now, California Olive Ranch is expanding into pasta sauce.
Getting into pasta sauce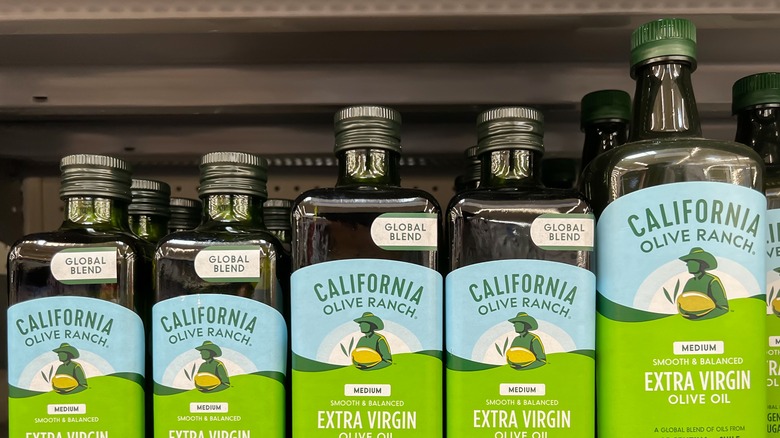 JHVEPhoto/Shutterstock
California Olive Ranch is a privately owned company founded in 1998. Since its founding, it has been steady in its delivery and has built a reputation for itself. In 2015, it acquired Italian olive oil importer Lucini, per Specialty Food Association, and in April 2021, it sold off 2,285 acres of California land for $37.8 million, per Global Ag Investing. 
The olive oil company has also begun to expand its portfolio. California Olive Ranch launched a range of marinades in April 2022, per Nosh, that are not only of the same trusted quality but also plant-based and suitable for keto diets, per California Olive Ranch. 
More recently, it added five types of pasta sauces to its repertoire, namely: California Style Marinara, Roasted Garlic, Garden Basil, Parmesan Vodka, and Portobello Mushroom, per LA Weekly. "We are giving at-home cooks across the nation a new go-to that is steeped in natural, high-quality ingredients," says the brand's CEO Michael Fox (via Food Business News). The company uses vine-ripened tomatoes and its reputable extra virgin olive oil as ingredients in its delectable new range.