The Unique Way Wendy's Makes Halloween Happy For Trick-Or-Treaters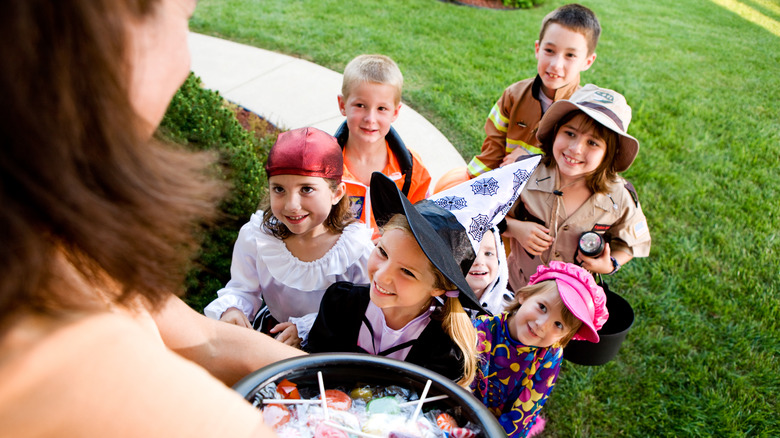 Sean Locke Photography/Shutterstock
Wendy's firmly believes that a creamy Frosty is a superior treat to Halloween candy, and it just might be true. When the fast-food chain developed its Frosty "secret recipe" in the 1960s, founder Dave Thomas knew it had to be perfect. "The idea of mixing vanilla into chocolate was a general idea to make the chocolate a bit smoother and give it more of a malty flavor," (via Wendy's). It's no secret, though, that this inventive cross between a milkshake and ice cream has become a fan-favorite ever since its introduction, selling an eye-popping 300 million every year. Whether you savor each spoonful slowly to cool off on a hot day, or you dip your deliciously salty Wendy's fries into it, Frostys always hit the spot.
Coupon books used to be a huge thing for shoppers that aren't around much anymore, but the Ohio-based burger franchise has featured spooky coupon books for their Frostys annually since 2003. Starting in September, you can buy some of the company's "Boo! Books" for just one dollar, which will score you five free Jr. Frostys and a free serving of crispy fries. It's a pretty sweet deal, but there's a wholesome twist to using the coupon books that makes it even sweeter.
What's so special about Wendy's Boo! Books?
Not only will you get some tasty freebies using your Boo! Books coupons for Frostys and fries, but the proceeds go directly to the Dave Thomas Foundation for Adoption. Dave's foundation is a non-profit charity that works closely with adoption recruiters to ensure that children in the U.S. and Canada are adopted out of the foster care system. So, why not opt to pass out these handy little booklets for trick-or-treaters this Halloween instead of spending loads of money on candy? Little ghosts, ghouls, and goblins can then use these cheap coupons to share Wendy's famous Frostys with the whole family, while also serving a good cause.
According to Wendy's, you can get your Boo! Books "in-restaurant, in drive-thru, through self-order kiosks and in the Wendy's app or online." They expire on the last day of the year, so you've got a few months to use them, up until 12/31. You can even buy them in bulk once they become available in September so there's enough to go around on Halloween night. The scariest thing about this special deal is the sheer amount of Jr. Frostys you'll be consuming this spooky season, so prepare to enjoy them a little too much.