Adam Richman's Worst Experience On Man V Food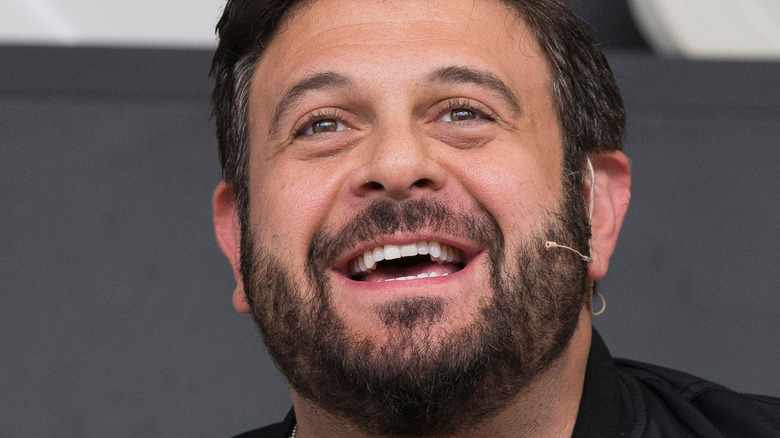 Sterling Munksgard/Shutterstock
Watching "Man v. Food" from the viewing stands at home, one might think that Adam Richman had the best job on Earth: Eat massive meals and get paid for it. Richman, a food enthusiast and former actor (per The Guardian), traveled to a smorgasbord of American cities, took in the sights, spoke with residents and restaurant owners, and sat down for an over-the-top meal in each place he visited. Seventeen hot dogs dressed with chili sauce and mustard in Raleigh, North Carolina? No problem. Fifteen dozen oysters in New Orleans? Easy in the Big Easy. A 3-foot coil of bratwurst in Minneapolis, MN? Yup. He scarfed that sausage down (per Man vs Food Locations).
"To watch Adam Richman on Man v. Food is to briefly wish you were Adam Richman," Stuart Heritage opined in The Guardian.
Looks can be deceiving, and Richman has said that none of the food challenges he successfully completed for the Travel Channel series left him wanting more of that particular food (per Richman, on Reddit). But there was one challenge that he considers to be the best, and that's the Kodiak Arrest Challenge at Humpy's Great Alaskan Alehouse in Anchorage. It's still on the menu: Crab nuggets, reindeer sausage, and Alaskan king crab — plus sides and dessert (per the restaurant).
Breakfast burrito in Denver didn't agree with Man v. Food host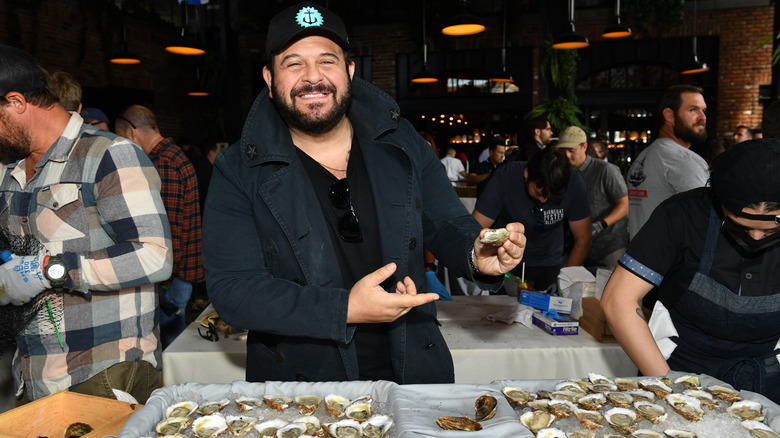 Noam Galai/Getty Images
As for experiences that left a lingering bad taste in Adam Richman's mouth during his run as host of "Man v. Food": There were plenty of them. Richman has made clear that spicy food is not his cup of tea and has said the "Fire in the Hole" challenge at Munchies 4:20 Cafe in Sarasota, Florida, set the Scoville Scale on fire — and nearly killed him.
His worst experience, meanwhile, was in Denver, the Mile High City. There, Richman sat down to do battle with Jack-N-Grill Cafe's seven-pound breakfast burrito (per The Richest). The burrito starts with a mountain of potatoes and fire-roasted chiles, a pound of ham, and 12 eggs (per YouTube). The problem wasn't the food itself, though Richman said the pepper and ham in the overweight burrito didn't agree with him. The host should perhaps have taken a sick day before visiting the restaurant and sitting down before the cameras. He had a fever of 101 degrees and was fighting a sinus infection, as well.
Richman didn't make it onto the Jack-N-Grill Wall of Fame, needless to say. And the restaurant has since closed (per Eater).