The NYC Pastry That Has Everyone Talking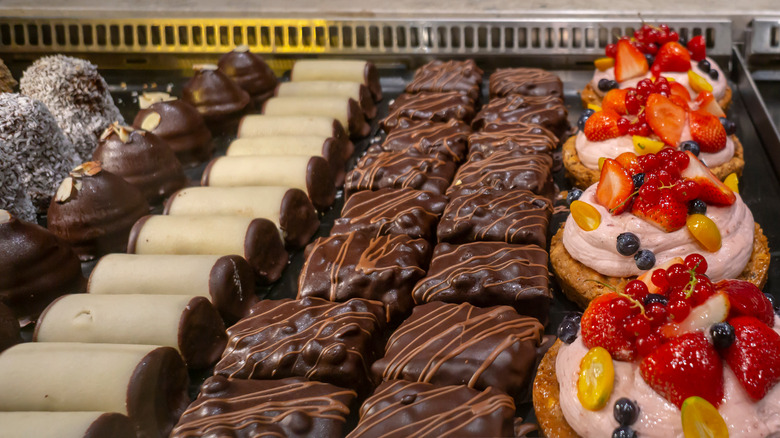 rblfmr/Shutterstock
Is it even considered getting breakfast if you didn't wake up at the crack of dawn, wait in line for hours, and post a TikTok about the whole experience? Okay, for most of us, probably yes! Grabbing a quick bacon, egg, and cheese on the go may be more than adequate to quell those early morning hunger pangs, but some curious New Yorkers (and visitors!) wouldn't dream of missing the opportunity to find out first-hand if the latest viral pastry is worth the hype.
According to the New York Post, people have been lining up outside of Lafayette Grand Café and Bakery in the NoHo neighborhood of Manhattan recently in hopes of tasting the restaurant's most talked-about creation: the Suprême. The Post explains that the bakery first introduced the pastry back in April — it's now baking up to 240 Suprêmes a day. The delectable treats are sold in two batches, first at 8 a.m., and then again at noon. But, what exactly is a Suprême?
Suprêmes are round pastries filled with goodness
If you somehow missed the Suprême buzz, you're in luck, because you're about to get filled in on this trendy treat. As Lafayette Grand Café and Bakery pastry chef Scott Cioe explained to "Today Show" hosts Hoda Kotb and Jenna Bush Hager, a Suprême is made by baking croissant dough in a mold "so it's round." From there, the dough is cooled and piped with a filling similar to pastry cream (via Today). After giving the Suprême an on-air taste test, the hosts seemed pleased with the in-demand baked good. (Granted, they didn't have to wait in line!)
Though chocolate is always a Suprême option, there's also a rotating monthly flavor, per the New York Post, and those have included a variety of options like rose berry spritz and peaches n' crème. Over on TikTok, one user tried a few Suprêmes, determining the pistachio flavor has "incredible flavor and texture." He even revealed that the Suprême was one of the best pastries he's ever had. 
If you're feeling generous enough to wait in line to grab a box of these beauties for your co-workers, you might have to think again. As the restaurant informed one eager inquisitor on a Instagram, "We allow one per person so as many guests can get one!" Don't feel too guilty though when you show up late to the office after indulging in that Suprême you snagged for yourself — it's the thought that counts.