The Surprising Place You'll Find A Steak 'N Shake Location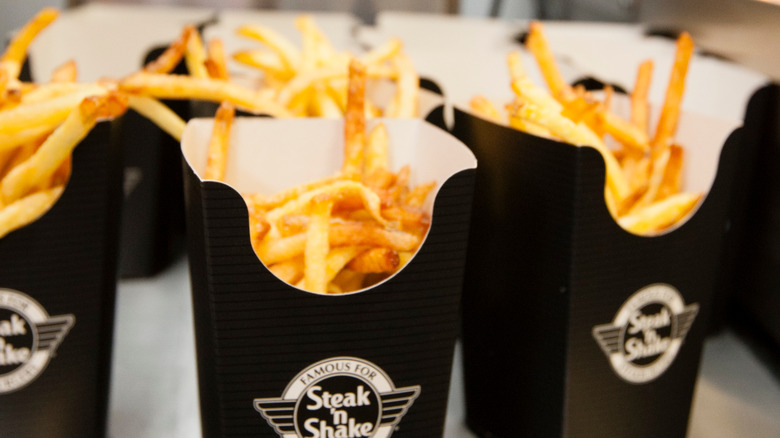 Andre Roque Almeida/Shutterstock
All over the world, restaurants can be found in strange places that you wouldn't likely expect. One of these eateries is in Michigan underneath an old mental hospital, per Narcity Detroit. Named Trattoria Stella, the restaurant doesn't only serve Italian food; its design is based in Italy as well. The building, as you might expect, is said to be haunted. Another option is Café in the Crypt, a restaurant in London that serves food inside a brick-lined crypt with authentic tombstones, according to St. Martin in the Fields.
Stepping away from the morbid theme, another example is that of Burgermeister in Germany (via Atlas Obscura). This late-night restaurant is placed inside the restroom of an old train station. Though it may not sound too delightful, the eatery's surroundings offer an authentic and beautiful Berlin experience. Fast food places pop up in cool spots as well; recently, individuals were awestruck to learn of a Steak 'n Shake location situated somewhere Twitter users definitely didn't expect.
Race on over
Earlier this year, the official Twitter account for college football on Reddit (RedditCFB) posted a photo of a Steak 'n Shake location at the Monaco Grand Prix. The post read, "Steak 'n Shake having a trackside location in Monaco is just incredible." One Twitter user who had been to the location was highly impressed with it. "I've been in that Steak 'n Shake and it's incredibly classy. Like the nicest architecture of any restaurant I've ever seen," they wrote. Another user has dreams of doing the same thing. "What if my dearest ambition in life is to eat at the Steak and Shake in Monaco?" their comment read.
Consumer reviews for the location on TripAdvisor were more mixed. One positive review read, "If in Monaco you have to try this place! It's located right in front of the harbor so you got to enjoy a beautiful view while enjoying your burger. Burgers are the best ever and at affordable price!" Another poster didn't enjoy the long wait. "Waited well over an hour for our drinks to arrive, after asking staff numerous times why there was such a [hold up] for simple drinks. We were told that they were 'busy' but the restaurant was hardly full at all."
Either way, it's quite exciting to find yet another food location located in an unexpected place.