Instagram Is Raving Over Rachael Ray's Scrumptious Tuscan Vacation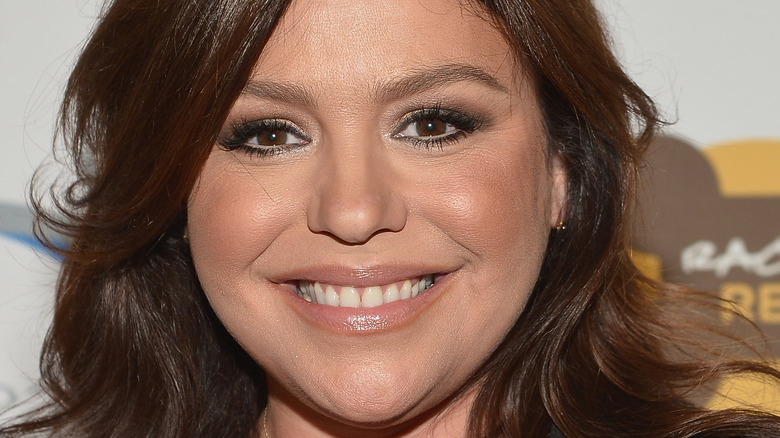 Mike Coppola/Getty Images
Most of us know Rachael Ray best for her bubbly personality and her popular cooking show. However, there's more to her than meets the eye, including her Italian roots. Ray is Italian on her mother's side, and she credits her Sicilian grandfather with her love of cooking (via Biblio). Since she grew up hearing stories about Italy, Ray always dreamed about buying a house in the Tuscan countryside. Her dream finally became a reality in 2018, according to the Rachael Ray Show, when she and her husband John bought a rundown house that didn't even have electricity or running water.
The time-consuming project was finally completed in 2021, and a happy Ray gave fans a peek inside her Italian dream home on Instagram. Since then, the Massachusetts native, her husband, and their dog have been enjoying the fresh air and delicious food of Tuscany. Ray recently shared some of this food with her Instagram fans, who, of course, wanted to try a bite of everything she was sampling on vacation. 
Rachael Ray's Italian Instagram posts are making everyone hungry
On August 23, Rachael Ray shared some photos of her recent Italian-inspired recipes on social media. Naturally, Instagram immediately started salivating, both over the food and the gorgeous backdrop of Tuscany, Italy. Per Ray's caption, the recipes included potato chips with crème fraiche, caviar, and chives; prosciutto and melon; zucchini gazpacho; eggplant rollatini; cheese with pistachio spicy pesto, and several others. We can only hope she'll drop another cookbook soon so we can all enjoy these recipes at home.
Many of her fans commented on how beautiful Tuscany looked, as well as how yummy the food must have been. Others joked that they were on their way to Italy to join her. Another person poked fun at Ray's feast, asking, "Do you ever relax?" Several others congratulated her on the house, saying she's "living the life everyone wants when they retire, before you actually retire" and calling it "well deserved." We don't know about you, but we're booking our flight to Italy right now!