The Celebrity Guy Fieri Was Most Nervous To Cook For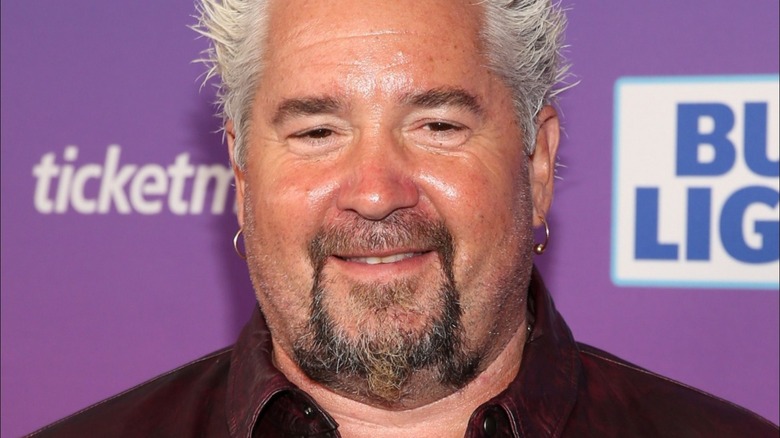 Jesse Grant/Getty
Guy Fieri is no stranger to rubbing elbows with the rich and famous. In fact, Fieri has even invited them to hang out on camera. Stars like Matthew McConaughey have tagged along on "Diners, Drive-Ins, and Dives." Adam Sandler, Chris Rock, and Kevin James got together with the spiky-haired food star to promote "Grown Ups 2" (via Vanity Fair). Fieri even went into the tequila business with longtime friend Sammy Hagar of Van Halen fame, which the duo discussed in an exclusive interview with Mashed.
Simply put, he has gotten to do a lot of elbow-rubbing with famous faces. In fact, Entertainment Tonight shared that in late August, Fieri is debuting a new show for fans called "Guy's Ultimate Game Night," which will feature more of his celebrity friends going head-to-head in a series of cooking challenges while raising money for charity. Given all the experience he's had hanging out with movie and rock stars, one might assume that the only sweat Fieri usually breaks with them is due to the spiciness of the food they're eating. But the Mayor of Flavortown Fieri struggled to keep calm when he met and cooked for one of his biggest movie idols.
Guy Fieri was excited and nervous to cook for Al Pacino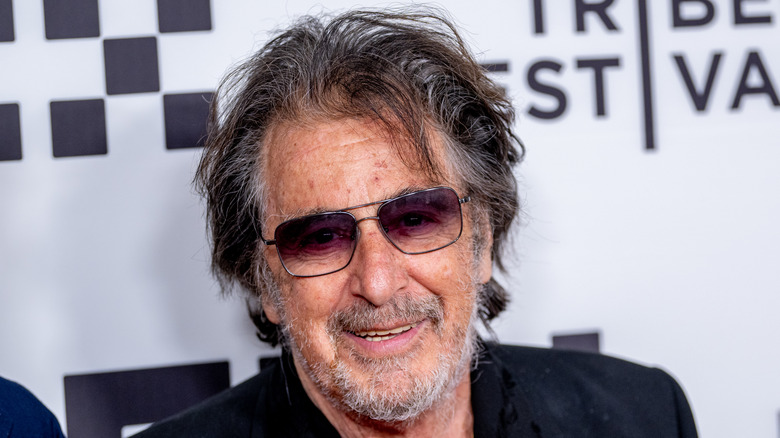 Roy Rochlin/Getty Images
In an interview with The Ringer (via YouTube), Guy Fieri explained that he was invited to watch a fight at the home of Sylvester Stallone. A dream-like experience ensued. Not only did Stallone show Fieri the original "Rocky" script, according to Fieri but, per an Instagram photo, he had invited the likes of Sugar Ray Leonard, Arnold Schwarzenegger, Bill Burr, and David Blaine. But the person who filled Fieri with nerves was Al Pacino, whom Fieri called his "all-time favorite." He was a huge fan of "The God Father," 'Scarface," and other Pacino films.
Stallone recorded part of the meeting with Pacino and posted the footage on Instagram. While Fieri appeared calm and cordial, it turns out that he was completely starstruck. And as he told E! News, having Pacino try his food was "going to be the make it or break it moment." He had brought over some wagyu beef, prosciutto, lobster, and other delicacies to prepare food in Stallone's kitchen. Fortunately, Pacino was a big fan of Fieri's cooking and even let Fieri know with his iconic "Hoo ah!" Though it was a nerve-wracking experience, cooking for the famed actor was a treasured memory that Fieri said still gave him goosebumps when he talked about it.