Why Convenience Stores In Taiwan And Japan Are So Different From US Stores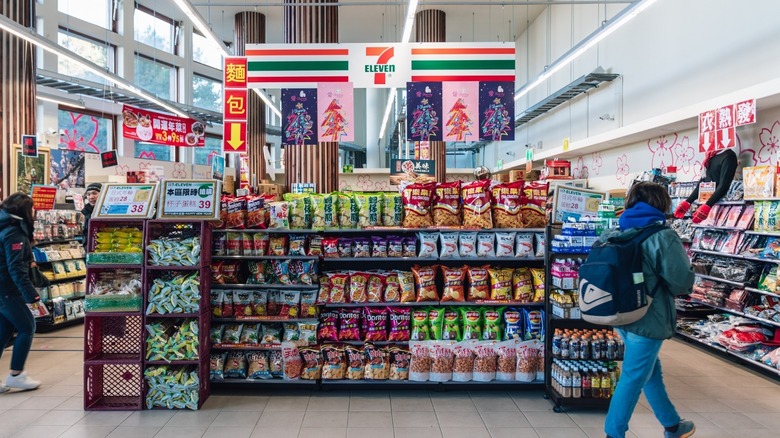 Artit Wongpradu/Shutterstock
Convenience stores always provide a place of respite for weary travelers or commuters looking to grab a quick bite to eat before work or fill up on gas for the next leg of their journey. And with the rise in popularity of made-to-order sandwiches at chains like Sheetz and Wawa, U.S. convenience stores are steadily becoming more than just a place to grab a bag of chips and some lottery tickets. Quick and easy is what busy Americans are looking for when they head into a convenience store. However, in countries like Taiwan and Japan, these stores are akin to mini supermarkets, where you could end up spending more time grocery shopping and grabbing the necessities (via Euroview).
It's hard to go anywhere in Japan's capital city and not encounter a konbini, also known as a convenience store, according to Live Japan. There are 7,000 konbini operating in the bright and bustling city of Tokyo alone out of Japan's 50,000 total convenience stores.  You can order event tickets, pick up a package, or sit back and relax as you use the free Wi-Fi. Due to the vast amount that are spreading across Japan, every store is in competition with one another, offering immaculately clean environments and unique services to customers, as per Euroview. Then there's Taiwan, which has over 11,000 of these stores, the most popular chain being 7-Eleven. Though, their version of America's favorite convenience stores is much different than what you're used to seeing in the U.S. 
What makes overseas convenience stores stand out?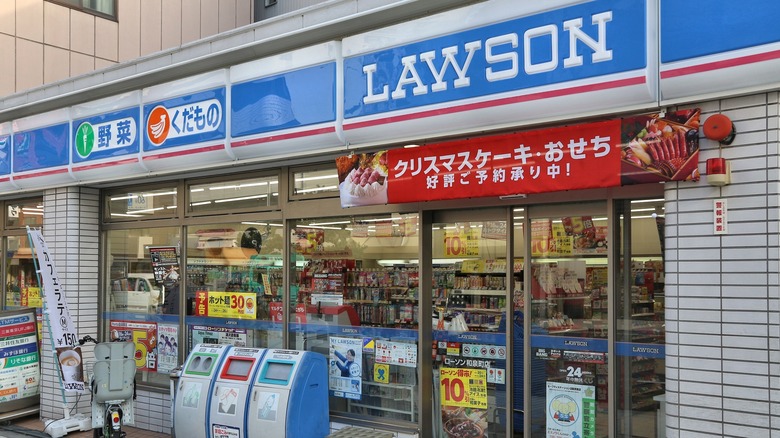 Tupungato/Shutterstock
Tokyo's most well-known konbini is Lawson, a major convenience store chain that's been thriving since 1939, which actually first opened its doors in Ohio (per Insider). If you're low on cash and need a place to horde delicious foodstuffs of all kinds, this is your stop. The walls are lined with hot food stations, where you can buy restaurant-quality Japanese food, like yakitori and oden stew. It's also common to see fast-food items, like fried chicken and pizza, but it doesn't stop there. Hot coffee, sandwiches, savory desserts, alcohol — the list goes on. Taiwan's convenience stores have an equally tantalizing array of items to choose from, even aisles with cosmetics and metro cards (via Insider). The country also has a few one-of-a-kind themed stores that make it an eye-catching family-friendly trip for all, according to The Smart Local.
Think about the sketchy boxed chicken or fruit cups left sitting out at 7-Eleven in comparison to the quality and massive variety you could be getting at any local store in Japan. Well, two friends did and now they broadcast the latest konbini news (per Fodors). Konbini enthusiast, Matt Savas, and friend, Michael Markey, started a podcast called Conbini Boys. Savas guaranteed the 7-Elevens in the U.S are a "dumpster" compared to those in Japan. Japanese and Taiwanese convenience stores are in another league entirely, and it will be exciting to see if American stores decide to follow suit and step up their game.